Bottles & Barrels
Views and Vines
Get Good Exercise and Tasty Wines on Santa Ynez Valley Bike Tour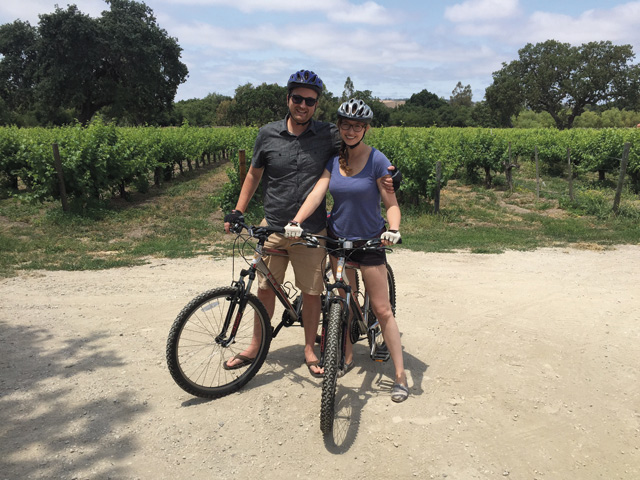 As a Santa Barbara city dweller, my outdoor time is almost always spent at the beach or in the foothills. When I do head to North County, it's usually to eat and drink; rarely am I outside a car or winery. (Cue the violins.) But this past Sunday, on a 10-mile bike ride past quiet horse farms and lush row crops, I finally realized what I'd been missing: the chance to immerse in a bucolic, clear-aired landscape different from any other weekend getaway on the South Coast.
Santa Barbara Adventure Company, while better known for its Channel Islands kayaking trips, also offers a mellower wine-country bike tour through the Santa Ynez Valley. Our trip began in an air-conditioned van with the guide, Caco, talking our group of eight through the basics and history of Santa Barbara winemaking ​— ​how a San Franciscan planted 20 varietals on Santa Cruz Island in the late 1800s, when the valley began blossoming in the 1970s into what's grown to more than 150 wineries, and why the area's east-west mountains and steady ocean breeze can grow both cooler chardonnays and pinots and warmer grapes such as syrah and cabernet.
We made our first stop at The Brander Vineyard on North Refugio Road. On our way up the peach-colored steps to the tasting room, Caco pointed out a pepper tree and bushes of rosemary and lavender. He grabbed a sprig of mustard and explained how missionaries in centuries past carried seeds in their worn packs that would sometimes trickle to the ground and create trails of the yellow-flowered plants between stops. Inside the winery, where a fat and friendly cat swished his bobbed tail on the bar, we sipped the white wines for which Brander is known. My easy favorite was the 2015 Mesa Verde Sauvignon Blanc, which tasted of apples and lemongrass.
From there Caco fitted us on our mountain bikes, handed out reusable water bottles, and pointed us in the right direction. We were off. The ride started relatively easy along rolling hills through dark-soil farmland. Red-tailed hawks wheeled overhead as California king snakes warming on the asphalt scooted toward the weeds. After a quick pit stop of water and PowerBars, we crossed Highway 154 and climbed a few steeper grades toward the tiny town of Ballard and its 1880 Little Red School House, coasting the rest of the way to Lincourt Vineyards on Alamo Pintado Road. It was a perfect distance and difficulty ​— ​enough to sweat and feel like we accomplished something but not too hard to put us out of the wine-tasting mood. The 2012 Lincourt Annie Dyer Pinot Noir was my top pick.
The day wrapped with a Trader Joe's picnic lunch overlooking grapevines and live oaks. The group ​— ​whose members came from Fresno, Michigan, Missouri, and Santa Barbara ​— ​carefully talked politics, lamented the drought, and looked forward to napping in the van. We agreed biking through the valley was the way to go and that next time we'd hit a couple more wineries before the day was done.
Book your own trip with the S.B. Adventure Company by calling 884-9283 or seeing sbadventureco.com.