News
Wildfire in Refugio Canyon
UPDATE: 1,200-Acre Scherpa Fire Evacuates Refugio, Venadito, Las Flores, El Capitan Canyons
[Update, Thursday, 10:35 a.m.]:Residents between El Capitan Canyon and Farren Road, where an evacuation warning is in place, should prepare to leave at a moment's notice, according to a Sheriff's Office announcement. They should head to the Wake Center (300 N. Turnpike Ave.), as the evacuation center at Santa Ynez Valley Union High School was placed on standby Thursday morning.
An air quality warning has been issued for South County, said the Public Health Department, due to smoke and particles from the Scherpa Fire. Everyone — especially older adults, children, and those with heart or lung disease — is encouraged to limit time spent outside.
[Update, Thursday, 9:27 a.m.]: At 1,200 acres, the zero-percent-contained Scherpa Fire is "still burning out of control," said County Fire Captain David Zaniboni. As sundowner winds reached over 50 miles-per-hour Wednesday evening, the fire was burning "quite aggressively." By 9 a.m. Thursday, winds had calmed down and ground crews were taking advantage of the light wind and cooler morning temperatures to make a direct attack on flames.
Five hundred personnel, as well as five air tankers and one DC10 are on scene, with 10-12 helicopters ordered and several currently making water drops.
Near the Las Flores oil refinery — around which brush has burned — firefighters are fending of smaller spot fires, according to the county's unified command. Sixty structures are potentially threatened, although none have been burned or damaged.
[Update, Thursday, 8:10 a.m.]: Highway 101 is now open in both directions, the CHP reported.
[Update, Thursday, 7:00 a.m.]: The fire — which has grown to 1,200 acres with no containment — was 20 yards from Highway 101 at Refugio Road southbound. Highway 101 remains closed from Buellton to Goleta. Motorists are being advised to take Highway 154, where traffic is slow.
Five hundred firefighters are on scene. County fire captain David Zaniboni said eight air tankers will be making drops at about 7:30 a.m. A dozen helicopters, including three heavy helicopters capable of 1,000-gallon water drops, are on the way.
Zaniboni added the fire has "laid down" because the wind has stopped this morning. Higher winds are predicted for tonight.
No injuries have been reported and no structures have been damaged. The fire burned right up against the ExxonMobil oil refinery but has stopped and is believed to be safe.
A press conference is scheduled for 11 a.m. Thursday at Dos Pueblos High School, the fire's incident command.
[Update, Thursday, 6:30 a.m.]: As of early Thursday morning, the fire had intensely grown to more than 1,100 acres, with 0 percent containment. Highway 101 remains closed from Winchester Canyon Road going north and Buellton going south. As of 6:19 a.m., the CHP reported traffic was extremely backed up at Winchester Canyon all of the way to Glen Annie. Traffic is also congested on Highway 154 and Highway 246.
A wind advisory has been issued in Santa Barbara through 9 a.m. Last night, winds blew at 40 mph.
[Update, 11:56 p.m.]: Independent photographer Paul Wellman is alongside County Fire spokesperson Mike Eliason on a ranch property at 12500 Calle Real. Wellman said the fire line is approximately 150 yards away and creeping toward barn structures. Firefighters were beginning to arrive at the scene. "It's hot and smoky and the wind is howling," Wellman said of the conditions. He said it wouldn't be long before a nearby stand of pine trees went up in flames.
[Update, 11:39 p.m.]: Forest Service officials report that a reverse 911 system has been set up for residents in evacuation areas. In addition to the Wake Center, an evacuation gathering area has been created at the Albertson's Shopping Center in Buellton for people getting off the freeway and needing a place to stay the night. They can also go to Santa Ynez Valley Union High School. As of 11:25 p.m., 250 fire personnel were still battling the blaze alongside eight air tankers, three heavy helitankers, three medium helicopters, and multiple DC10s. The cause of the fire remains under investigation.
[Update, 10:30 p.m.]: The Scherpa Fire continues to grow and is making a run toward the highway. The CHP is requesting the 101 be closed at Buellton and Winchester Canyon, with traffic diverted over the 154. County Fire currently estimates 250 acres are ablaze. Wind gusts are reported up to 43 mph by the National Weather Service, relative humidity 43 percent, and the smoke is visible on the NWS fog satellite images.
An evacuation center has been set up at the Wake Center, 300 North Turnpike Avenue. Horses are being taken to Earl Warren Showgrounds.
Residents in Mission Canyon reported the smoke was visible and streaming out to the Channel and down the coast as the sun set, and Los Olivos residents reported being able to see the glow of flames over the Refugio Pass.
Some confusion over the spelling of the name of the fire — either Sherpa or Scherpa Fire — has led to two Twitter feeds regarding the fire: #ScherpaFire and #SherpaFire.
[Update, 8:20 p.m.]: Shortly after 8:15 p.m., members of the Humane Society's Technical Animal Rescue Team were helping transport horses from a threatened ranch to Earl Warren Showgrounds. A spokesperson said the team had trucked eight horses so far, and expected to truck approximately 40 more from that particular ranch. The rescue efforts, she said, would likely run late into the evening.
[Update, 7:47 p.m.]: By 6:35 p.m., the fire had burned approximately 150 acres in the area of Rancho La Scherpa — Scherpa Ranch (2540 Refugio Road) — the same site where the Refugio Fire originated in 1955. Burning downhill and being driven toward the ocean by 20 miles-per-hour winds, the fire has drawn 200-250 firefighters, said Santa Barbara County Fire spokesperson Captain David Zaniboni.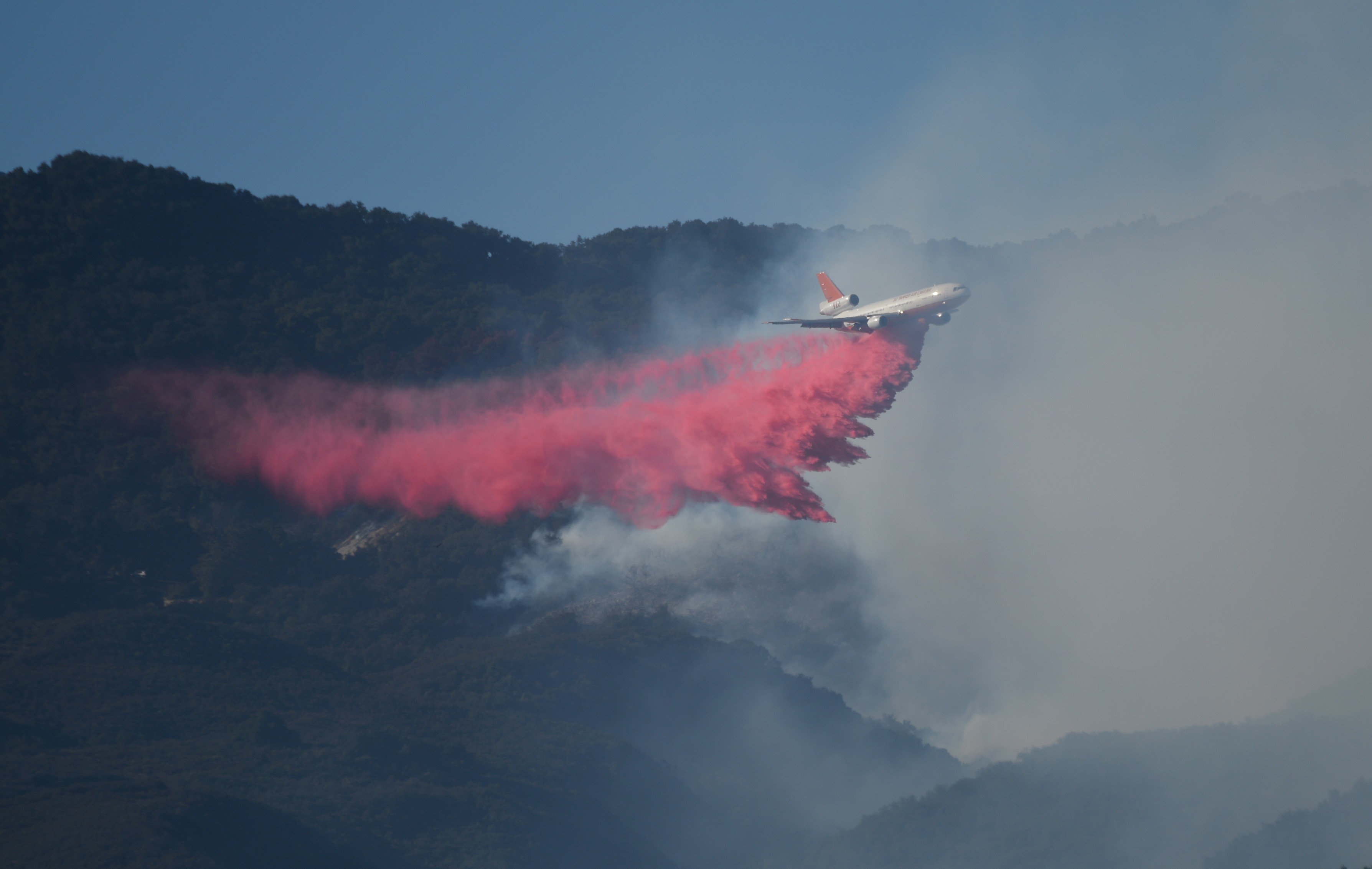 "They're trying to really attack this thing from the air as fast and as aggressively as possible and keep this fire under control prior to nightfall," said Zaniboni. "We are concerned there are sundowner winds predicted for this evening." With eight air tankers, three heavy helitankers, three helicopters, one air attack and one lead plane each on scene, as well as two "Very Large Air Tankers" en route, no injuries have been reported. The fire's cause has not been determined.
[Update, 6:18 p.m.]: Mandatory evacuations were issued for Refugio, Venadito, Las Flores, and El Capitan canyons, as well as El Capitan State Beach and ExxonMobil's Las Flores Canyon Facility, according to a Sheriff's Office Nixle alert sent to area residents just after 6 p.m.
[Update, 5:50 p.m.]: In a Tweet posted at 5:45 p.m., CAL FIRE described the Scherpa Fire as burning on Camino Cielo Ridge, located 11 miles north of Goleta.
[Update, 5:24 p.m.]: Andrew Madsen, spokesperson for Los Padres National Forest (LPNF), described the Scherpa Fire as having grown to 20 acres. Moving at a "rapid rate of speed," the fire is fueled by brush and chaparral.
According to Madsen, 10 fire engines, three helicopters, two dozers, and multiple water tenders are on scene, as well as two 20-person hand crews. Firefighters from LPNF, Santa Barbara County, San Barbara City, Montecito, Vandenberg Air Force Base, and the Santa Ynez Band of Chumash Indians are fighting the blaze.
According to radio communication, door-to-door evacuations are being ordered for Refugio Canyon, Las Flores Canyon, and south of West Camino Cielo Road. A northwest wind is traveling at 13 knots with gusts up to 20 knots.
The off-ramp for the 101 northbound at Refugio is closed, except to residents, as posted on the CHP's traffic incident website. The highway itself is clear.
[Original Story]: A brush fire broke out Wednesday afternoon two miles off Highway 101 near Gaviota's Refugio Canyon. Authorities via radio communication described the initially 5- to 10-acre fire, which was reported around 3:30 p.m. today, as "minor." As of 4:40 p.m., flames were headed toward the ocean at 15 miles per hour. The closest threatened person reportedly resides five miles to the east.