News
Advanced Leak Detection Ordered for Ruptured Plains Pipeline
Federal Agency Seeks Quicker Discovery of Oil Spills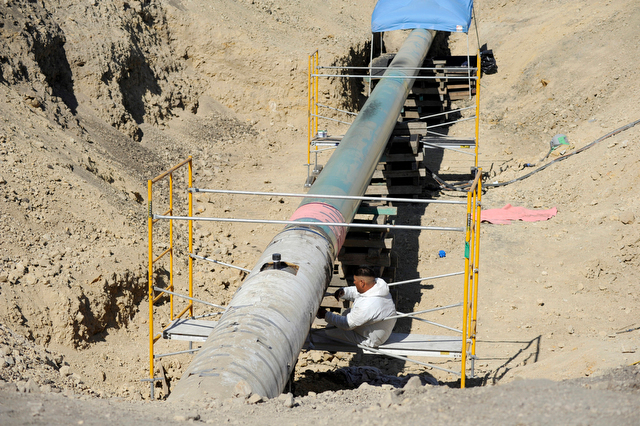 The federal agency responsible for regulating oil pipeline safety issued a new corrective order that will require Plains All American Pipeline Company to equip its national pipeline control room in Midland, Texas, with advanced leak detection equipment. Such new equipment, coupled with the installation of additional safety valves, would help Plains control room operators respond sooner to pipeline oil spills, like the one that happened last May to Plains' Line 901 located by Refugio Beach. In addition, the Pipeline and Hazardous Materials Safety Administration (PHMSA) ordered Plains to revise alarm threshold adjustments.
Last May's oil spill was caused by external pipeline corrosion that PHMSA has concluded Plains could and should have known about sooner; to that end, PHSHA ordered Plains to embrace a far more vigorous, frequent, and fine-tuned corrosion detection and prevention program. This is PHMSA's third corrective order in response to last year's oil spill. Plains All American was not available for comment, but the company must comply with a myriad of new terms and conditions before Line 901 — and portions of the nearby Line 903 — can be used. The Texas-based oil company also has the option of appealing. To date, Plains has not appealed any of PHMSA's prior corrective orders.
Congressmember Lois Capps applauded the order, noting it contained many of the more "stringent safety requirements" she has sought in the aftermath of the spill. Traditionally, advanced pipeline leak detection capability is not something PHMSA requires of pipeline operators, though the State of California does. Capps said she was encouraged that PHMSA is imposing tough new safety requirements and expressed hope that these requirements become more uniformly applied. State Assemblymember Das Williams also expressed satisfaction that the stricter leak detection and corrosion control measures will be required.
Among the emergency flow restriction devices that Plains All American may be ordered to install are automatic shut-off valves. Plains is the only pipeline company in the county not to have such devices on its pipelines, its predecessor having legally fought efforts by the county regulators in the 1980s to require automatic shut-off valves. County energy planner contend automatic shut-off valves — activated by sudden pressure drops caused by pipeline ruptures — would have reduced the amount of oil spilled at Refugio. "The order would require Plains to install emergency-flow restriction devices," stated PHMSA spokesperson Artealia Gilliard, "which includes valves that can be activated automatically or remotely from a control room."
In last year's spill, Plains lost nearly 3,000 barrels of crude oil when an underground pipeline near Refugio ruptured on the mountain side of the freeway. Much of it pooled and oozed its way through a nearby culvert that went under the freeway and railroad tracks. Some of it spilled down onto the beach and out into the ocean, precipitating a massive cleanup effort involving an alphabet soup of federal and state agencies and private mop-up crews. Since then, Plains has been the subject of multiple civil lawsuits and one criminal action filed jointly by the California Attorney General and the Santa Barbara District Attorney. The stretch of pipeline that failed was nearly 80 percent corroded. That's roughly twice as much as tests conducted by Plains All American two years before indicated. Had Plains All American abided by all the federal safety requirements, the criminal complaint alleges, the extent of corrosion would have been caught sooner. The complaint also contends that Plains' oil spill detection and response plans were either inadequate or inadequately executed. Plains has insisted in court that the pipeline spill was accidental and that the criminal charges are utterly unwarranted.
[Editor's Note: This story has been corrected to indicate that automatic shut-off valves could be included in the order.]