News
Federal Chumash Expansion Bill Moves Forward
Capps Votes Against: "These Are Issues Between Neighbors"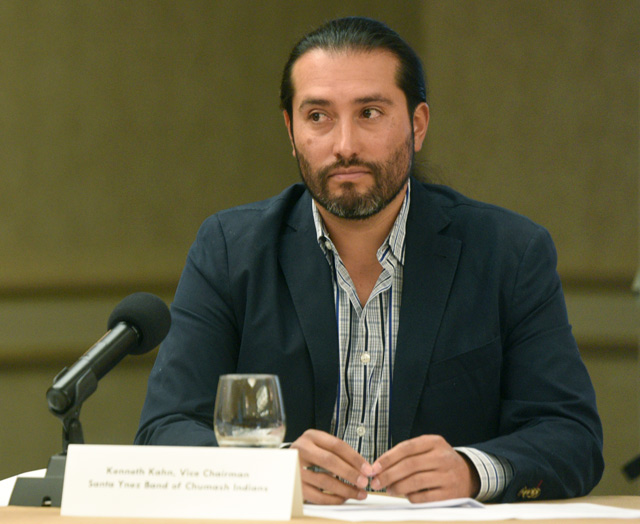 With an action sure to strain an already bitter relationship between Chumash leaders and Santa Barbara County officials, the House Committee on Natural Resources on Wednesday moved forward a federal bill that would allow the tribe to immediately annex Camp 4. Camp 4 is a 1,400-acre land the tribe bought outside its current reservation boundaries, on which they say they want to build housing. Representative Lois Capps was the only vote against the legislation, which is sponsored by Rep. Doug LaMalfa, who represents a congressional district 400 miles from Santa Barbara.
"Why would Congress interfere with the process now?" Capps said Wednesday at a hearing in Washington, D.C. "These are issues between neighbors."
Three years ago, Chumash leaders filed an application to annex Camp 4,  ​which would free it from the county's strict permitting process and remove it from property tax rolls.
If this bill, HR 1157, were passed by the House and Senate and signed by President Barack Obama by the end of the year, the Chumash could proceed with their plans immediately.
"From the tribe's perspective, we've been very patient," said tribal chair Kenneth Kahn, who took over last month after Vincent Armenta unexpectedly stepped down. "Today is later than we hoped." In May, Kahn told the Washington Times the tribe was "certainly working behind the scenes on this bill."
The issue has been the subject of hostility between neighbors and tribal leaders for years. The bill's movement this week angered opponents of reservation expansion, given that seven public meetings have occurred in the past year between county supervisors Doreen Farr and Peter Adam and the Chumash.
But Kahn argued, "HR 1157 is the only reason that Santa Barbara County sat down and negotiated with the tribe." At a congressional hearing last year, Rep. Don Young, chair of the Subcommittee on Indian and Alaska Native Affairs, threatened to move the bill forward unless county officials negotiated with tribal leaders. Three months later, monthly meetings commenced, and initially, attempts at congeniality existed on both sides. But a sense of progress dissipated at the March meeting, and the county supervisors decided to take a summer break.
"These meetings ​— ​despite the tribe's best efforts ​— ​appear to be a stalling tactic," said Kevin Eastman, a spokesperson for LaMalfa. "They are not addressing the issues in a timely fashion."
Farr and Adam, however, said in a June 5 letter that the break was intended so attorneys on both sides could hash out pertinent legalese ​— ​and "should not be construed to be the end of formal discussions." They urged the House committee to defer consideration of the bill.
Asked why the bill was coming back now, Eastman said, "It never left." The bill could make it to the House floor as early as September and then "will be sent to the Senate in a fairly timely fashion," he said.
Valley resident and realtor Mike Brady, who has been outspoken in his opposition of the Chumash annexation plan, contended 10 out of 20 of LaMalfa's top contributors this election cycle are Indian gambling interests, according to a letter he sent to the Red Bluff Daily News.
Though many county issues defy party politics, this one does so to a striking degree. County Supervisor Salud Carbajal, who is running for Congress as a Democrat, has consistently voted in support of tribal matters. Earlier this year, he opposed a motion to appeal the tribe's annexation for a two-acre property known as Mooney-Escobar, and last year, Carbajal voted against sending a county official to Washington, D.C., to oppose HR 1157.
The tribe has not endorsed anyone in the congressional race, but Kahn personally gave Carbajal $3,200, according to federal finance reports. When asked for an interview about his position on HR 1157, Carbajal was unavailable Tuesday, citing the Board of Supervisors meeting. Mollie Culver, his spokesperson, said Carbajal believes "it's important that we allow negotiations between County and the Chumash Tribe to continue without interference from Washington."
Asked again about his specific position on HR 1157, Culver said, Carbajal "has always felt and continues to feel that these decisions should be reached working through government-to-government negotiations." The previous vote against the county formally opposing HR 1157, she said, was prior to the current public meetings.
In an interview, Republican candidate Justin Fareed was more outspoken in his opposition to the bill, calling it a "classic example of political insiders overstepping their [bounds]. "This is something that needs to be dealt with at the local level," he said. Fareed, who recently traveled to D.C., said he has had many discussions about this issue. When asked whom specifically he met with, Fareed replied, "Just about anyone you could imagine." Though the negotiations have stalled for certain parameters, he said he was "optimistic."