Sports
UCSB's Cinderfella Coach Stays at Helm
Baseball Coach Andrew Checketts Signs Contract Extension with Gauchos Until 2022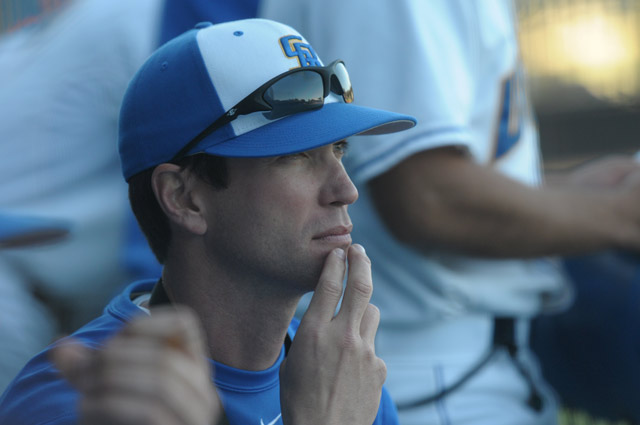 UCSB coach Andrew Checketts, a guy who defied expectations by taking his team to the College World Series, was this year's Cinderfella in college baseball. Because that made him a hot prospect for at least one opening at a college with the budget to offer him a huge pay raise, there were concerns that his storybook ride with the Gauchos could end after five years. But Checketts decided that the slippers fit in Santa Barbara — even if they're called flip-flops — and he has accepted a contract extension through the 2022 season.
A conversation with Checketts suggests it would have taken a king's ransom to dislodge him. He lives with his wife, Michelle, and three young children across Isla Vista from the campus. "It's a half-mile walk to work," he said. "I walk my daughter to school on the way. The weather is perfect. Being able to play ball in February is a big bonus. I pinch myself sometimes."
Gaucho fans had to pinch themselves watching a pair of pinch-hitters Checketts sent to the plate in clutch situations last month. They were both freshmen with limited at-bats: Sam Cohen, whose epic walk-off grand slam shocked No. 2–ranked Louisville, 4-3; and Ryan Cumberland, whose shot up the first-base line drove in two runs in the 5-3 victory that sent No. 3 Miami home from Omaha.
There was method to UCSB's magic. The Gaucho batters had been slumping prior to their arrival at the Nashville regional. "The day before [the opening game], we played an over-the-line tournament with Wiffle balls," Checketts said. "They were able to relax and let their swings go."
Pitching, the facet of the game that Checketts knows best, was at the core of UCSB's success. Led by right-hander Shane Bieber, who signed for $420,000 as a fourth-round draft pick of the Cleveland Indians, the pitching staff enabled the Gauchos to go 17-4 in one-run games.
Great pitching by Arizona shut out the Gauchos in their final game. The Wildcats went on to play in the best-of-three championship series, won by Coastal Carolina. The Chanticleers — like UCSB, a first-time participant in the College World Series — were somewhat less of an underdog. They had appeared in NCAA regionals 14 times in the last 16 years under longtime coach (21st year) Gary Gilmore.
The Gauchos have been to the regionals four times in the same span, three in the five years since Checketts took over the program. UCSB athletics director John McCutcheon said the extension of the coach's contract was necessary "to preserve the momentum Andrew has put behind the program. It's a real positive step."
McCutcheon and Checketts agreed on the next step: find a way to make Caesar Uyesaka Stadium, the home of the Gauchos, a facility befitting a top-10 baseball program.
"We're going to continue to work on it," McCutcheon said. "Andrew knows it's not going to happen overnight. We're not going to have a stadium like Louisville's, but we hope to make it more fan friendly with restrooms, lights, and improved concessions."
The playing field — as well as the diamond at the adjacent softball stadium — needs work, too. "Better maintenance of the fields is a concern," McCutcheon said. "We're talking to outside groups about a comprehensive management plan."
FORESTER FATE: UCSB's plans apparently will exclude the Santa Barbara Foresters, who have played their home games at Uyesaka Stadium every June and July since the early 1990s. "This will be their last season in the stadium," McCutcheon said. "It can't support this level of activity. The facility needs some down time before we come back in the fall."
That could put the Foresters among Santa Barbara's homeless, unless they can persuade the city and SBCC to share Pershing Park, where significant upgrades would be needed.
Bill Pintard, in his 22nd season at the helm of the Foresters, likes to point out that his summer collegiate team does more than play baseball. Their Hugs for Cubs program has benefited hundreds of children with cancer. Last Monday, the Foresters made their annual trek to an Angels game, taking 25 ailing children and their families to Anaheim.
This season is shaping up as one of the most eventful in the history of the Foresters. They played two games against Team U.S.A., comprising the nation's best undrafted college players, losing a 10-6 slugfest at Dodger Stadium and playing them to a 1-1 stalemate at UCSB. After their final home stand this weekend, they will get ready for their 23rd consecutive appearance in the National Baseball Congress (NBC) World Series at Wichita, Kansas.
The Foresters have come home with five NBC championships since 2006. Standing in the way of their sixth title next month will be the most formidable team, on paper, that ever played in the Wichita tournament, which dates back to 1935.
The Kansas City Stars have 24 former major-leaguers on their 25-man roster. Roger Clemens, a 53-year-old seven-time Cy Young winner, will headline a pitching staff that includes Tim Hudson, Josh Beckett, and Brad Penny. Other familiar names on the Stars include J.D. Drew, Dan Uggla, Rick Ankiel, Brandon Inge, and Carl Everett.
"They do some pretty interesting things back there," Pintard said of the NBC organizers. They have slotted the Foresters as the No. 3–seeded team in the August tournament. The defending champion Seattle Studs are No. 1, and the Stars No. 2.
The Foresters, 22-12-1 through last weekend, have come on strong late in the season, winning six of their last seven games. Six starters are hitting over .300, led by Tulane's Lex Kaplan (.362) and Hunter Williams (.344), and Texas's Bret Boswell (.337). "Our pitching staff is very deep; we're throwing our starters just four or five innings," Pintard said. "We're hitting our stride at a good time."
They hope to find out soon if it's a good time to face Roger Clemens or Tim Hudson.
GAME OF THE WEEK
7/23-7/24: Baseball: San Luis Obispo Blues at Santa Barbara Foresters The Foresters will recognize special people in their last two home games. Saturday is Lexi Brown Day, in honor of the young fan they lost to cancer last year. Sunday is Host Family Appreciation Day, commending those who provide the club's players a home during the season. On the diamond, the Blues will contest the Foresters for Central Coast bragging rights. Besides the two scheduled games, there will be the completion of a June game that was tied 2-2 when it was suspended because of darkness. Sat.: 5pm; Sun.: 1:30pm. Caesar Uyesaka Stadium, UCSB (parking fees apply). $1-$8. Visit sbforesters.org.