News
The Joys of Pedaling Recumbents
Easier on the Wrists and Seat, Laid-Back Riding Goes the Distance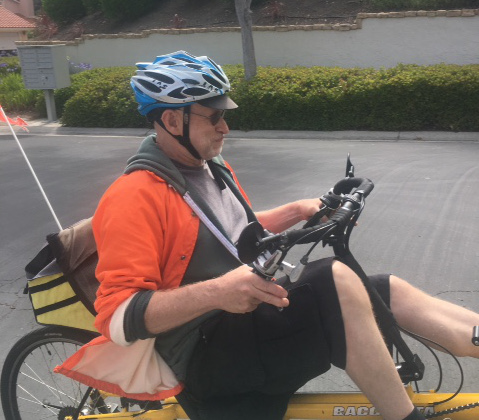 The joys and adventures of cycling should be accessible to everyone who chooses to bike. Most of us ride some version of a conventional road, mountain, cruiser, or BMX bike. Not everyone can easily ride an upright bike because of age or physical limitations. There are alternative solutions such as trikes or stand-up bikes such as the EliptiGo.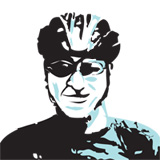 Claude Dorais and his fiancée, Lynda Nahra, have discovered the joys of riding recumbent bicycles. When not out riding, Claude is an attorney at Dorais, Polinsky & Reese, and Lynda is the president of the Central Coast Region for Pacific Western Bank. Recently, I spent a wonderful morning with the two talking about recumbent bicycles, their travels, and bike trips and taking a ride on their fleet of bikes.
Tell me about your favorite cycling trip together?
Our recent trip to Eugene, Oregon, where we stayed at a hotel on the Willamette River, was magical. The bike path was right outside our door, and the river was just on the other side of the path. We could do a 14-mile loop that followed the river on both sides without leaving the path and could connect to other paths that took us through neighborhoods and other parts of Eugene.
The river-path rides took us by parts of the University of Oregon campus, a beautiful rose garden, ponds, woods, parks, sculpture, homes, and office buildings right along the river. One day we loaded the bikes on the rack and took the short drive to Cottage Grove, and from there took the bike path that starts at Cottage Grove and ends 17 miles away after crossing through fields, wooded areas, by covered bridges, and along one side of the Dorena Reservoir.
Why did you decide to switch from traditional bikes to a recumbent?
Lynda: I enjoy the seating position. Even if my back is sore one day, it is fine to take my ride, and I come back none the worse. I had not ridden a bike since I was a teenager and took it up again at age 65. When I started, it felt like a big accomplishment to do one mile, but over time I have improved both speed and distance. On our recent trip to Oregon I did a personal best of 34.5 miles. It was fun the whole way. I am high enough off the ground to be visible but low enough to feel safe and secure in my ability to sit up and put my feet on the ground.
Claude: I had been riding a diamond-frame bike to and from work, about 13 miles a day, and wanted to ride longer distances on the weekends. I found it hard to do more than 15 miles without a sore seat, tingling hands and wrists, and a sore neck. I did some research and discovered recumbent bikes. From among the various types of bikes available, it appeared a compact wheelbase, two-wheeled recumbent would let me ride greater distances in comfort, with the limiting factor being my conditioning, not how long I was willing to be uncomfortable. I bought my first recumbent and have had fun ever since.
What were the challenges and joys of riding a recumbent?
Lynda: There is a learning curve with recumbents. It took me a while to feel comfortable, so I rode for a while only in places where there was little or no traffic and very low speed limits. Getting started from a stop is still sometimes a challenge, but I am enjoying riding my bike more than I thought I would. Lately, there are days when Claude might want to take a day off, but I want to ride. One time recently on a ride he was ready to call it a day, and I wanted to keep going. I thought that would never happen, and it made me feel great! Now the biggest challenge is finding time for long rides.
Claude: There is a learning curve, but it comes quickly. People say recumbents don't climb hills as well, and there is some truth to that. Because of the laid-back seating position, you can't stand on the pedals like you can on a diamond-frame bike, but riding a recumbent does not limit my ability to get up hills one bit — my limiting factors are the same ones I had on a diamond frame — weight, condition, and age! In over 10,000 recumbent riding miles, I have come across really steep hills I can't climb — the bike could climb them fine, the limitation is the rider.
Give me a brief description of each of your bikes, and tell me about why you bought it.
Lynda: My bike is a Bacchetta Bella. I bought it because it lets me ride in a position that is very comfortable and still have my feet close to the ground. I am more comfortable and feel more secure knowing how easy it is for me to sit up when I stop. It has a long wheelbase, so my turns are wider, but it also makes for a softer ride, which I like.
Claude: My first recumbent was an HP Velotechnik Street Machine with under-seat steering. Fully suspended, it is a great bike, and the suspension does not take away from pedaling energy — as it would on a typical diamond-frame bike. I bought it because it is, hands down, the world's best recumbent touring bike. It was my introduction to being able to ride what, for me, are long distances — 50 miles and up. My son, Cullen, likes the bike, too, and usually rides with us, so these days it is his bike.
My current daily ride is a Bacchetta Giro 20. It is stable, smooth, and responsive.
My other regular ride is a vintage Lightning P-38 made locally in Lompoc. It was made in the early '90s and bought very well used from Bici Centro. Designed by a true expert, Tim Bruenner, it shows its years but is still at heart a relatively light, very responsive, steel-frame bike. Long-term it is a restoration project, but I enjoy it even now with some rust and a lot of wear showing. I bought it because it is a classic, and the quality of the design and construction is still apparent, even 25 years after it was built.
Then we bought the tandem, which is a story in itself!
What's your next dream bike trip together?
We would like to ride through redwoods, and we want to see more national parks. Bike paths near water are always great, so we look forward to finding more of those.
It's time to roll. I climbed onto Claude's Bacchetta Giro. He adjusted the pedal length and assured me I would be fine. As I pedaled off, I thought about a recent comment I heard about bald eagles before they fledge: The reality is that the eagle can already fly; they just doesn't know it yet. They stretch the boundaries a little further each time until suddenly they just take the leap.
With Claude and Lynda's help I took the leap. Let's all keep pedaling on.
One last Pedal On shoutout to Elyse Williams who, riding solo, completed the 4,000-mile unsupported Trans Am Bike Race from Astoria, Oregon, to Yorktown, Virginia. You can spell "awesome" E-L-Y-S-E!