Real Estate
Tall Tales of UCSB's Storke Tower
An Inside Look at Santa Barbara's Tallest Structure
Visible from throughout the Goleta Valley, the Santa Ynez Mountains, and the Santa Barbara Channel, UCSB's 175-foot Storke Tower stands taller than any other structure in southern Santa Barbara County. Dedicated on September 28, 1969, the tower rises out of the Storke Student Communications building, which houses UCSB's student newspaper, the Daily Nexus, the community radio station KCSB 91.9 FM, and the yearbook offices of La Cumbre.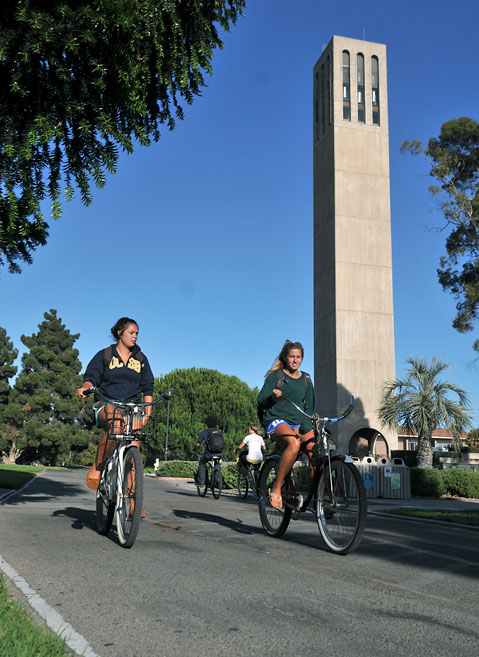 Though the campanile's boxy obelisk design and amber patina appears rather pedestrian, it's the lasting symbol of its namesake, Thomas More Storke, a lifelong Santa Barbaran and Pulitzer Prize–winning newspaper editor who helped define his city. Born in Santa Barbara on November 23, 1876, this son of politician Charles A. Storke graduated from Stanford University in 1898. (A since-demolished Storke Publications Building there bore the family name.) Storke held many civic roles, including postmaster from 1914-1921, and was a vocal opponent to unifying the town under a Spanish architectural aesthetic.
Following a 1938 Congressional career that was so brief he never even got sworn in, Storke returned to his true calling: the media. He merged his Santa Barbara News with the rival Morning Press newspaper to create the Santa Barbara News-Press and founded KTMS-AM radio. Storke's flurry of editorials attacking the John Birch Society for hurling communist accusations at president Dwight Eisenhower and chief justice Earl Warren garnered much attention, culminating with a 1962 Pulitzer Prize. By his death on October 12, 1971, Storke had used his influence to establish Santa Barbara Municipal Airport, the Lake Cachuma water-supply building, and even UCSB, utilizing a college land-grant program to acquire more than 900 government-owned coastal acres.
"Storke wanted to elevate this — the third campus of the UC system — to that prominence of Berkeley or Los Angeles," said UCSB Associate Campus Architect Dennis Whelan. "To that end, the tower, which still houses a working carillon and weekly concerts, was intended by patron and architect to symbolize the aspirations of the campus and the arrival of an outpost of the intellectual and cultural world to a historically relatively isolated community."
Employing a "Brutalist" (French term for "raw concrete") modernism style, the architecture firm Clark and Morgan designed the 61-bell carillon tower. Structurally, the complex is cast-in-place, board-formed, steel-reinforced concrete, with a sandblasted grain that gives the surface a wooded appearance. The three-arched opening on each side and the plaza-level arcades relate to Mission Santa Barbara's vernacular arches, while carillon bells echo those rung by the mission's padres. At 10 minutes to every hour, the tower's carillon spells out in bells UCSB's motto: "Let There Be Light."
But Storke Tower has seen better days, and former Nexus staffers say their old office is deteriorating, with leaks and structural issues. "The tower's next half-century will have a reckoning to contend with," confirmed Whelan. "Mechanical systems and the carillon have not fared well in the moist marine environment and need constant maintenance. Rust has permeated the concrete reinforcing and, in its irreversible course, has begun to spall. Remedial work has been done to slow the process, but ultimately, the tower faces challenges to which there is no presently known long-term solution."
Despite the ravages of time, Storke Tower remains a beacon of spreading information in today's digital age. Explained Whelan, "The tower houses cellular communication antennas, due to its prime proximity and height, which continues to fulfill the intent of Storke's original vision."