Theater
'In the Heights' Is an End-of-summer Crowd-Pleaser
PCPA Stages Lin-Manuel Miranda's Urban Musical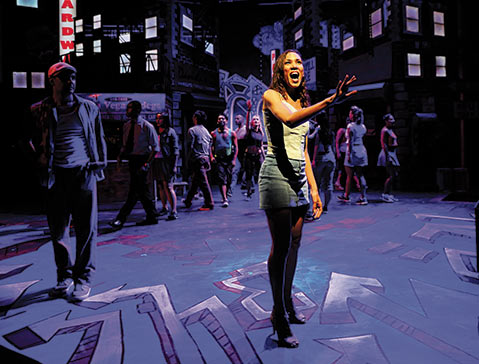 In the Heights is a contemporary, Latin-infused hip-hop musical that brings the constructs of the classic, feel-good stage show into the 21st century. PCPA's production of this vibrant, urban musical features impressive choreography and spirited renditions of Lin-Manuel Miranda's now recognizable style of clever lyrics delivered with rapid-fire precision. Staged in Solvang Festival Theater's outdoor amphitheater, In the Heights offers audiences the vision of a neighborhood, Washington Heights in New York City, on the verge of gentrification in this upbeat summer musical.
In this story more about the location than the characters who inhabit it, members of In the Heights's diverse community search for the true meaning of "home" and "identity." Usnavi (George Walker) runs a small market with his cousin Sonny (Matt Cárdenas) and imagines what life would be like if he had the money to return to his parents' homeland, the Dominican Republic, or the "skills" to ask out pretty hairdresser Vanessa (Anna Bowen). Nina (Gabriella Pérez) returns home from her first year at Stanford University after having lost her scholarship and has to break the news to her proud parents. Abuela Claudia (Debra Cardona), the neighborhood matriarch, watches over her adopted family from the stoop.
It's midsummer, and the block is changing: The working-class people of Washington Heights, who will be displaced by the neighborhood's development, explore the nature of their lives as immigrants and the children of immigrants and rediscover the importance and vitality of their community. By Tony winner Miranda and Pulitzer winner Quiara Alegría Hudes, and directed by Michael Jenkinson, PCPA's In the Heights is a lively production with colorful characters and design, sure to be an end-of-summer crowd-pleaser.