Briefs
Sheriff's Office Locates Suspect for 1988 Murder
DNA Evidence Points to Florida Man in Death of Vernon Kendrick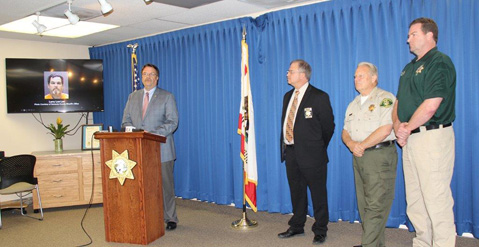 A major leap forward in a long-cold murder case was announced today by Sheriff Bill Brown after DNA evidence turned up a viable suspect. On July 1, 1988, Vernon Hart Kendrick's employer at a furniture sales company called police to request a welfare check as Kendrick had not appeared for work. In his apartment on the 100 block of Olive Mill Road, Kendrick was found dead of blunt force trauma. Detectives learned during their investigation that he had last been seen leaving The Palace in the company of a man, possibly from Florida.
The trail ran cold, however, and investigators would review the case periodically, as they do all cold cases. In June 2010, a Sheriff's detective submitted DNA from the crime scene to the state Crime Lab, and it was placed on file into CODIS, or the national Combined DNA Index System. A potential match was located on August 18 of this year: Larry Lon Lee, arrested in Sarasota County, Florida, on theft charges, had a record in California and Florida, mostly for narcotics and theft. He was being held in Florida after an arrest in Manatee County on July 12 for an outstanding warrant. His extradition to Santa Barbara County is being sought after Sheriff's detectives interviewed him this morning.
At a press conference held today, Sheriff Brown stated, "All efforts so far made by members of the Sheriff's Office to contact [Kendrick's] family have been unsuccessful. However, we were able to notify a long-time family friend. We will continue to attempt to locate any living relatives." Brown thanked his department's detectives and crime scene technicians for their work, and the state Crime Lab and Sarasota Sheriff's Office for their cooperation and assistance. The Santa Barbara County District Attorney's Office has been asked to charge Lee with Kendrick's murder.