News
Finally a Fix For the Stinky Bird Refuge?
City Officials Studying Options that May Eliminate Odors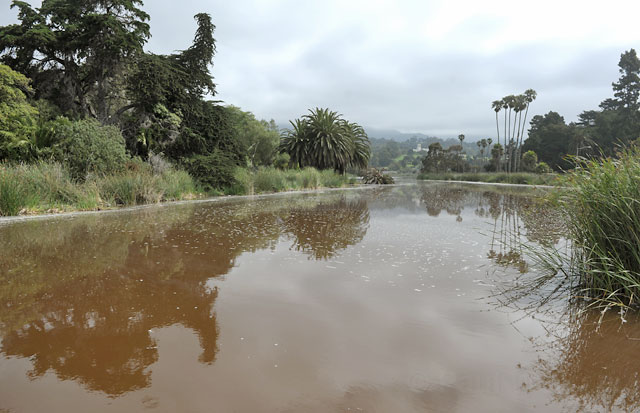 On and off for more than 80 years, the Andreé Clark Bird Refuge has emanated a rotten-egg stench that wafts far over the east end of Santa Barbara and into Montecito. Occasionally, it smells more like garlicky seafood. A solution to the pungent nuisance has so far evaded City Hall ​— ​minutes from a 1933 Parks Commission meeting show it was being discussed even back then ​— ​but this week officials announced they may finally be headed toward a fix.
The issue dates back to the late 1920s when the Bird Refuge, once connected to Sycamore Creek and the Pacific Ocean and subject to tidal influence, was dammed in and dredged to ensure water would remain in it year-round. That, however, stymied any natural outflow or replenishment of the 29-acre lake, other than the occasional rainstorm and, from the lawns and golf course above it, constant runoff full of fertilizers and other nutrients. Those nutrients feed algae blooms that eat up all the dissolved oxygen and eventually die, attracting bacteria that munches on the dead material and releases hydrogen sulfide, hence the stench. The unnatural phenomenon has also slowly killed off the small aquatic organisms that feed birds, reducing their numbers and diversity. Previous efforts to aerate the shallow lake, only three feet deep on average, did not work.
In a presentation Tuesday afternoon to the City Council, Creeks Division Manager Cameron Benson requested that a coastal engineering firm be paid up to $150,000 to study the problem and determine the viability of three potential solutions already identified by city staff. The council voted unanimously for the contract. Benson said the first option is to do nothing, to let the Bird Refuge fill in with sediment over the next 100 years. He acknowledged there is little support for that idea. The second option is to improve flushing by modifying the lake's small dam ​— ​called a weir ​— ​and its gate at Cabrillo Boulevard and ocean outfall on East Beach. That would cost around $500,000, Benson said. The third option would involve weir improvements, periodic opening of the ocean outfall, partial dredging to create a smaller but deeper lake, habitat restoration, and the creation of a trail around the refuge. That would cost around $2 million.
Benson said his department has been saving funds toward the project and would be applying for grants to help cover the expense. He expects final design plans to be hammered out in spring 2019 with construction tentatively scheduled for June-November 2019. He acknowledged any work in the protected coastal zone will require the approval of many state and federal agencies, and lengthy and complicated process. "This is one of those Rubik's cubes in our city that we have not been able to figure out," said Councilmember Bendy White. "I appreciate that one more run is being made at this very difficult and important issue." Mayor Helene Schneider agreed: "Hopefully by next spring we'll get some better answers."