Sports
Buckets of Tears for Vin Scully
Toasting the Famous Voice of the Los Angeles Dodgers on the Verge of His Retirement
"There's no crying in baseball."
It was a funny line in a movie, but in real life, buckets of tears from longtime listeners of Vin Scully are proving otherwise. I have contributed to the outpouring, and I expect my eyes to moisten on Sunday when Scully signs off in San Francisco at the end of the last broadcast of his 67 years as the voice of the Dodgers.
I turned 12 in 1958, when the Dodgers moved to Los Angeles, along with the man behind the mike who would become the club's most important link to the community. Transistor radio sales must have boomed in Southern California. I got mine as a birthday present and was among the legions of youngsters to whom "pillow talk" meant listening to Scully's pleasing voice while drifting off to sleep.
Our connection grew stronger during seasons of pennant races and perfect games. In Santa Barbara, KTMS 1250 was a part of the Dodgers radio network for years before television took over the game. Because of financial finagling in the industry, Scully's telecasts were unavailable here for the past three years. Something priceless was reduced to a commodity.
I've always thought Scully's ability to paint pictures with words was better suited to radio, and on a few days last month, when I could get reception of the three innings that were simulcast on a Ventura radio station, I was rewarded every time.
• August 10: A military hero honored before the game prompted Scully to reminisce about Pearl Harbor Day, all the while keeping track of balls, strikes, and plays on the field during the bottom of the second inning. He spoke wistfully of listening to the New York Giants football game "under the big family radio" when the broadcast was interrupted. Scully recalled thinking, "Why did they do that? The Giants were on the move." He then heard of the Japanese attack on Pearl Harbor. He broke the news to his father in the kitchen: "It was the only time I heard my father swear, and he simply said, 'That's war.'"
• August 27: Bob Zastryzny came in to pitch for the Chicago Cubs. Scully spelled out his name and said, "To be honest, I was hoping he wouldn't play." He decided to call the pitcher Bob, and then he tossed out a gem about Doug Gwosdz, a catcher for the Padres in the 1980s: "He was known as Eyechart."
• August 28: The Cubs network in Chicago played the audio feed from Scully in the third inning of their game in L.A., and he gave them the same gift he's given Dodger fans. He conversed with them. He described the canopy of blue over Dodger Stadium and said it would be nice to borrow some rain from the Midwest. He assured them the Dodgers would never make fun of the Cubs' seven straight World Series defeats because "the Dodgers lost seven before getting off the schneid in 1955." At the end of the inning, Scully bowed out in self-effacing fashion: "I'm sure for some of you, [when] they say, 'Did you hear Scully?' … 'Yeah, what's the big deal?' … Well, it was a big deal for me. I enjoyed it."
That humility, totally sincere, is a hallmark of Vin Scully. His final words to the fans in Dodger Stadium were full of gratitude. Furthermore, throughout his career as an announcer and storyteller, he was never long-winded. He famously kept his mouth shut and let the noise of an elated crowd take over at big moments like Henry Aaron's 715th home run and Kirk Gibson's 1988 World Series shot. Pauses in the games did give him a chance to make a witty observation or slip in a well-wrought story.
"People ask me, 'Why do games take so long?'" Scully said a few years ago when Dioner Navarro of the Cubs backed out of the batter's box to adjust his gloves. "It has to do with Velcro. Blame Velcro."
My favorite Vin Scully call was unusually lengthy. It was his description of "a blow-by-blow verbal battle" that occurred during a Dodgers-Giants game at the L.A. Coliseum on June 30, 1959. It is meaningful to me because I was at the game. The back-and-forth argument between umpires, players, and managers was a pantomime to everybody in the stands, but Scully managed to make sense of their gestures. His thrilling account was included in a long-lost LP recording of highlights of that Dodgers season.
Willie Mays had pulled a fly ball down the line into the girder that supported a 42-foot-high screen in left field. Third-base umpire Dusty Boggess initially called it foul, but Giants manager Bill Rigney protested furiously, and Boggess changed his mind: home run. That brought the Dodgers after him.
Scully: "Don Zimmer, Don Drysdale, Walter Alston, Gil Hodges, and Wally Moon are blistering Boggess. … Zimmer will be hoarse in another two minutes, the veins on each side of his neck bulging out like the cable that actually holds up the left-field screen. …" That last image was brilliant, connecting Zimmer's appearance to the bone of contention.
Crew chief Tommy Gorman got into the discussion and made a new ruling: foul ball.
Scully: "Rigney is about ready to eat his glasses. Alston [the Dodgers manager] has walked away like a Philadelphia lawyer who has just won his case. Rigney slams his hat down and the gray hairs glistening under the lights. Bill is now going jaw-to-jaw with Boggess. Now he kicks at the dirt, hands on his hips, left hand thrown high in the air. …" Scully described Rigney's tirade for several minutes, picturing the arm-waving manager as "a mad traffic cop." Eventually, the umpires compromised: ground-rule double.
Scully: "Willie Mays hits the loudest double ever heard in Southern California or in the United States, for that matter."
It was a magnificent bit of on-the-spot reporting, live and in living verbal color, by the greatest sports announcer ever.
In his address to the fans during the Scully appreciation ceremony at Dodger Stadium last Friday, he spoke humorously of what the future holds for him: "I am looking for a much smaller house and a much larger medicine cabinet."
Here's hoping that his medicine cabinet remains almost empty. Vin Scully's departure from the airwaves, meanwhile, will leave many of us without a valuable medicine, the soothing elixir of his voice that delivered us from the torments of everyday existence.
Game of the Week
10/1: College Football: College of the Desert at Santa Barbara City College Maybe SBCC should sponsor "offensive-line appreciation day" in honor of the unit that has propelled the state's No. 1 ground attack. The Vaqueros (3-1) are averaging 263 rushing yards a game after piling up a season-high 318 yards in last week's 41-6 victory at Compton. Running backs Perry Martin, Manny Nwosu, Demetrius Vinson, and Cedric Cooper have combined to score 15 touchdowns. Desert (2-2) is coming off a 41-35 win over Antelope Valley. Roadrunners quarterback De'Abrie Smith passed for 310 yards, including a 31-yard strike for the winning TD with 12 seconds remaining. 4pm. La Playa Stadium, Loma Alta and Shoreline drives. $3-$5. Call 965-0581 or visit sbccvaqueros.com.
S.B. Athletic Round Table Athletes of the Week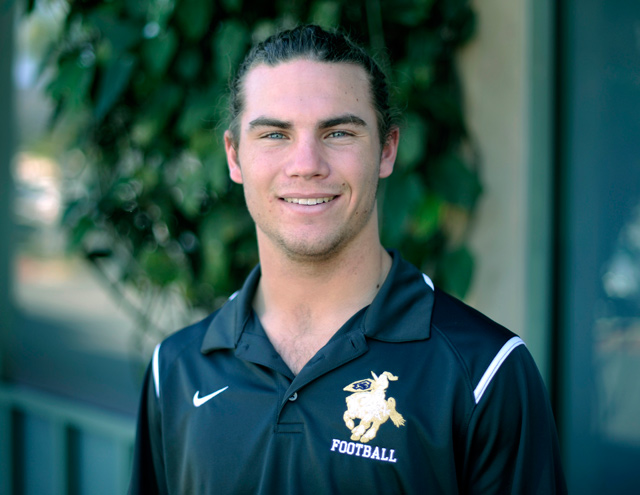 Blake Erwin, Dos Pueblos football
The senior had a big night in the Chargers' 49-6 victory over San Luis Obispo: 21 carries, 257 yards rushing, and four TDs; plus, three receptions for 28 yards.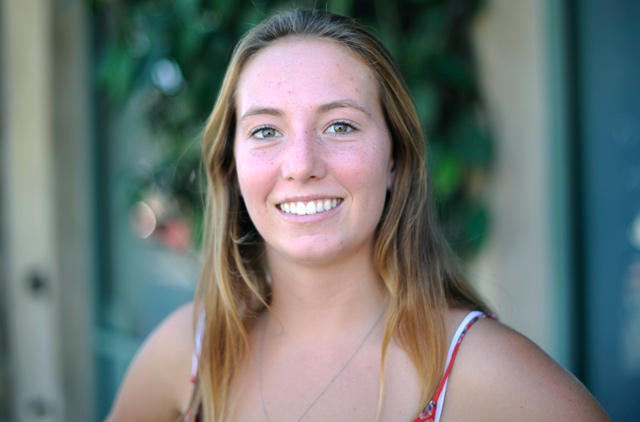 Jenna MacFarlane, San Marcos volleyball
In a sweep of Santa Barbara, the junior had 20 kills with no hitting errors. She also had 10 digs, her second double-double after 15 kills and 11 digs against Buena.