Best Of
Best Of Santa Barbara® 2016: Driving
My lack of opposable thumbs does little to diminish the ferocity of my tail wagging when the topic of cars comes up. I love riding on four wheels, and as walkable as this city is, sometimes a head out the window, a tongue out the mouth, and a sweet-smelling world of wind blowing on by is the best way to take in the scenery. The only real problem is when you get a sniff of something that piques your curiosity, but you're rolling shotgun down Cabrillo Boulevard and you know your human won't pull over. Real life, real problems in the 805.
When the petroleum chariot goes bust, the humans always take it to the fellas at Top Shop Automotive. They pass the sniff test every time when it comes to honesty and affordable work. The humans go for their pocket computer any time they need a ride but driving themselves isn't an option. The car and driver that show up are always different, but the results are always the same: quick and easy service! It's called Uber, and it would seem the taxicab industry will never be the same.  
It hasn't rained much in these parts since we moved here, and if the dogs on our block are to be believed, it hasn't really rained much in several years. While this means great things for aged scents, it's lousy for the cleanliness of automobiles. Enter the Educated Car Wash. Their hand-washed approach means not a drop of the liquid gold will be wasted as your car gets a much-needed shine. Need some new shoes for your steel steed? Ian's Tires & Auto Repair has the prices and selection of all the national chain stores but the easy, breezy charms of a local garage. The same good vibes prevail at Milpas Motors, where shopping for a used car and daydreaming about your dream car finally collide.
As a dog, I can't say I have ever been all that excited about motorcycles or really anything with two wheels. To me, they are like the machine world's version of cats ​— ​I just don't trust them. That said, after seeing a Ducati perform in its natural habitat recently, I am reconsidering all things with a kickstand. Those bikes are just plain sexy, and the longest-running dealer in the entire country is right here in Santa Barbara!
Thanks to the Neely clan, I also have more fuel-efficient and whimsical options in the motorized-with-two-wheels department. Take home a new ride from Ooty's Scooters, and you will be hard-pressed not to smile as you make your way across town. The thrill is wonderfully similar to hanging your head out the window on a hot summer day but for your entire body! -Dug
Auto Repair
Top Shop Automotive, 177 S. Patterson Ave., 964-6554, topshopsb.com
Finalist: Kennedy's Automotive
Taxi Service
Uber, uber.com
Finalist: Lyft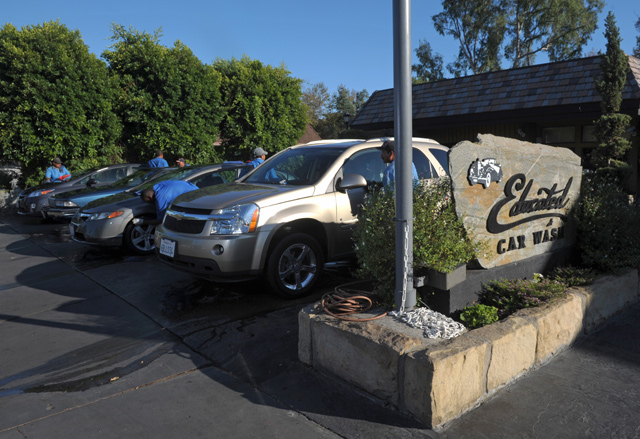 Car Wash/Detailing
Educated Car Wash, 3735 State St., 687-8800, educatedcarwash.com
Finalist: Fairview Car Wash
Place to Get Tires
Ian's Tires & Auto Repair, 4299½ State St., 683-0716, ianstire.com
Finalist: Big Brand Tire & Service
Quick Oil Change
Jiffy Lube, 932 De la Vina St., 564-3393, jiffylube.com
"It feels good helping customers know that they're going to be safe when they're driving their car." —Selena, employee
Finalist: Fast Lane Oil Change
Used Car Dealership
Milpas Motors, 725 N. Milpas St., 884-8102, milpasmotors.net
Finalist: Toyota of Santa Barbara
Motorcycle Dealership
Ducati of Santa Barbara, 17 W. Montecito St., 884-8443, ducatiofsb.com
Finalist: Santa Barbara Honda
Scooter Dealership
Ooty's Scooters, 629 E. Haley St., 965-8101, ootyscooters.com
Finalist: Ducati of Santa Barbara
New Car Dealership
Toyota of Santa Barbara, 5611 Hollister Ave., Goleta, (877) 572-1130, toyotaofsantabarbara.com
Finalist: Santa Barbara Honda
Car Rental
Enterprise Rent-a-Car, multiple locations, enterprise.com
"Working for a family-owned business makes it easier for us to take care of our customers in a way that many other rental car companies can't. Customer service is our main priority." —Shereen Gawad, Santa Barbara–area manager
Finalist: Hertz