Best Of
Best of Santa Barbara® 2016: Housing
Dear Nephew,
The time has come, Dug. You and Dot must go. They say it is best to let sleeping dogs lie, and while I appreciate the sentiment, you narcoleptic, flea-nibbled, Midwestern mutts have to get up and get gone. Sorry, but your Aunt Trixie needs her doghouse back. You don't have to go home, but you can't stay here.
Indeed, Santa Barbara is a tough nut to crack when it comes to finding sweet and affordable slumber spots, especially for us barking tail-waggers. But there are options. Your dream house is close. Find the humans at Village Properties, and they will happily hold your paw all the way to day number one in your new place. Want a real estate agent that will work for you like no one else? Call the folks at Grubb Campbell. A former Village Properties protégé, Natalie Grubb-Campbell and her team make sure you are always running with the big dogs.
Should you and Dot decide to take on the near impossible and build your own dwelling, may I suggest a huge truckload of rabbit's feet, wishbones, and assorted agents of witchcraft. You will also need an architect who knows how to design your monochromatic dog dreams into a vivid and living reality as well as a contractor you can trust to make it happen without blowing all your biscuits. Luckily, both these things can be found in a piping-hot bowl of Santa Barbara alphabet soup. AB Design Studio is a tremendous place to start for the dreaming and drawing, while DBC Construction is the crew you want when it's time for the power tools.
Once you've got your new place, the real fun begins. Go out to La Sumida Nursery and let your nose lead you to your new landscape. Wander your way through this exotic dream of a nursery, and ​you will go home with everything from Dr. Seuss–style, conversation-piece succulents and native sage bushes to stunning perennial bulbs and more. Marking your territory with some serious botanical culture is a true Santa Barbara pastime. Of course, you may not have a green paw, but that's what Eco Plant Services is for. These folks will keep your green stuff green and your growing stuff growing and everything else in between looking pretty and clean.
Absolutely anything else house-related on the list can be solved by going to the Santa Barbara Home Improvement Center. I am not sure there is any one business more responsible for keeping the homes of this town in good-looking and well-working order than this hardware store on steroids.
Once you are out of my poodle pad, just imagine what type of sleeping situation you and Dot could dream up ​— ​circling clockwise and then counterclockwise together on a large and luxurious California king before curling up together with room to spare. You can both run in your sleep without kicking each other! Mattress Mike is where you go when you are ready to change your sleeping experience forever.
Lastly, my dear nephew, even as you pack your bags and prepare to turn tail ​— ​if you are serious about calling Santa Barbara home ​— ​you must start thinking about tiles. Our claws often make us uncaring about these things, but Santa Barbara is nothing without its tiles. From Saltillo tiles in the kitchens and bathrooms to red ones on the rooftops and crazy colorful ones nearly anywhere else, this is a town of tile. Go to Nopal Street and find Tileco. They will get you to tile nirvana ​— ​and I will finally have you out of the house.
Until then, I'm definitely an "Angry Poodle."
Love you, Auntie Trixie
Home Furnishings store
Porch, 3823 Santa Claus Ln.,Carpinteria, 684-3000, porchsb.com
"Their vibe brings the outdoors in. It is my must-stop shop for lovely gifts and furnishings for the home or garden. It is hard not to walk out with something new in tow." —Suzanne Purcell
Finalist: The Pottery Barn
Real Estate Company
Village Properties Realtors, many locations, 969-8900, villagesite.com
Finalist: Keller Williams Realty
Real Estate Agent/Team
Grubb Campbell Real Estate Group, 1250 Coast Village Rd., Montecito, 895-6226, grubbcampbell.com
Finalist: The Epstein Partners
Architect
AB Design Studio, Inc., 420 E. Haley St., 963-2100, abdesignstudioinc.com
Finalist: Jeff Shelton
Contractor
DBC Framing Construction, 294 Pine Ave., Goleta, 845-5248
Finalist: Allen Construction
Nursery
La Sumida Nursery, 166 S. Patterson Ave., 964-9944, lasumida.com
Finalist: Island Feed & Seed
Gardening/Landscaping Service
Eco Plant Service, 132 Natoma Ave., 962-6115, ecoplantservice.com
Finalist: Allscape Design + Installation
Mattress Store
Mattress Mike, 7320 Hollister Ave., Goleta, 685-4998, mattressmikesb.com
Finalist: Santa Barbara Mattress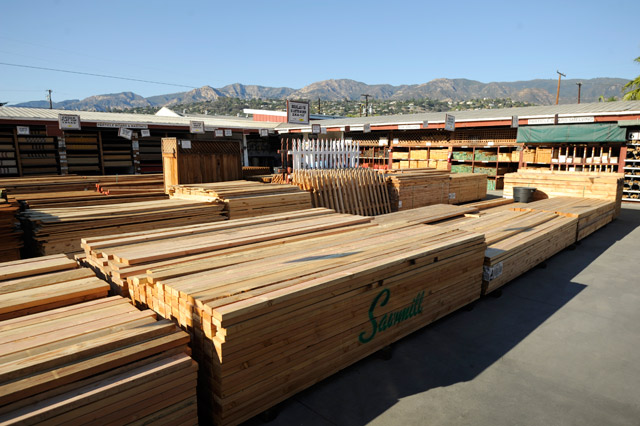 Hardware Store
Santa Barbara Home Improvement Center, 415 E. Gutierrez St., 963-7825, sbhicace.com
Finalist: Orchard Supply Hardware
Tile Shop
Tileco, two locations, tilecodist.com
Finalist: NS Ceramic
Place to Buy Carpet/rugs
Carpeteria, 5610 Hollister Ave., Goleta, 284-0556, carpetonesantabarbara.com
Finalist: Renga Interiors
Antique Store
Punch Vintage, 1223 State St., 770-3921, punchvintage.com
Finalist: The Blue Door
Housecleaning Service
MasterCare Home Cleaning Services, 683-1915, santabarbarahousecleaning.net
"What makes us stand out is our dedication to service — every call is answered in person by a human being. Our quality and customer satisfaction is guaranteed 100 percent — we will make it right if the customer is not happy." —Spencer Dean, president
Finalist: Queen of Clean
Moving Company

Mammoth Moving Inc., 5390 Overpass Rd., Ste. E, 968-8643, mammothmoving.com
"It is a great honor to once again be awarded Best Moving Company as it is a confident reminder for our entire team that our hard work is paying off. " — Sean Eberz, owner
Finalist: MoveGreen
Handyman Service

Your Handyman & Construction, 1187 Coast Village Rd., Ste. I-609, 968-1234, yourhandymansb.com
"Many thanks to our customers for trusting us to work in their beautiful homes for the past 10 years. We are truly grateful!" —Mark Baird, owner and hands-on manager
Finalist: Edward the Fix It Guy
Carpet Cleaning
Coleman Carpet Cleaners, 275 Orange Ave., Goleta, 683-2305, colemancarpetcleaners.com
"We want that repeat 20- to 30-year customer, so it comes down to personal service, attention to detail, and don't take anything or anyone for granted. Thank you, Santa Barbara." —John Coleman, owner 
Finalist: Naturalist Carpet Cleaning