Best Of
Best of Santa Barbara® 2016: Sporting Life
Woof Woof, Big Bro!
Holy tennis balls! It's amazing what happens when you trade in the wickedness of a Midwest winter for the regular perfection of Santa Barbara. Honestly, I have no idea why Aunt Trixie is so infamously angry. This place is an outdoor lovers paradise whether you have four legs, two legs, or some other combination my dog brain can't fathom.
Dot and I spent the night at El Capitán yesterday, a truly special state park tucked in beachside under the sycamores and oaks on the Gaviota Coast. We woke up to watch the sunrise from the ocean's edge, had a quick dip, and then boogied back to town for our morning date with Jenny Schatzle. We thought, being dogs and all, that we had a pretty good handle on staying positive, staying active, and keeping our tails wagging. Then we got on the Jenny Schatzle Program. It is high-octane, gut-busting medicine for your body and spirit, and, yes, you could use some.
Sound like a full day right? That was only the beginning. Our lazy afternoons of napping in the sunshine have been all but erased since being in this town, and it feels great. We stared down the quintessential Santa Barbara problem of "What yoga studio should I try?" shortly after lunch and narrowed our choices to CorePower Yoga or Yoga Soup. Unable to decide, I went with the Core, and Dot hit up the Soup. My experience was tremendous, and the place was exactly what this old dog needed; there was a class for everyone no matter your schedule or experience level or feelings about sacred crystals and patchouli. Dot, on the other paw, took a class from Eddie Ellner at the Soup, and now she won't stop panting about it. She keeps howling at me with an air of lightness, "Less talk, more pose! Your self-judgment is destroying you." And I have no idea what it means.
We ended the day with an easy walk up to Inspiration Point. The 3.5-mile loop of uphills and downhills was a small price to pay for the rubber-necking world-class views of sea and sky that await you at the top.
The next couple of days are looking action-packed with no end in sight. I am beginning to realize that this is what life in Santa Barbara is all about ​— ​playing outside! Luckily, that is what we Daugs were born to do. We connected with the crew at A-Frame Surf Shop on the beach at Santa Claus Lane, and they have us completely geared up for getting salty and hunting some legitimate tube time this fall. When it is time to tickle our inner powder hounds, however, Mountain Air Sports, the Duddridge family operation at the bottom of State Street that has been helping this beach town play in the mountains since 1975, will have us covered for all our ski and snowboard needs. In the meantime, Dot is hitting up the fabled Bikini Factory in Summerland for its trademark fitting while hunting for a new two-piece appropriate for her body-by-Schatzle.
You should know that these old dogs have indeed learned new tricks. When the paws and pads were done with pounding pavement, we took to the weird yet wonderful world of bicycles to explore this town. Bicycle Bob's has been a perennial Best Of winner since the beginning, says Aunt Trixie, and she should know — ​I am not sure there is a poodle on this planet (let alone a pink one) with more bike knowledge. They sorted us out with a Trek for me and an Electra for Dot, and now we get that "head out the car window" feeling all the time!
This town has taken on an exciting new and athletic meaning for me since falling under the tutelage of Dave Wheaton and Melodee Meyer at Martial Arts Family Fitness. Their family-first dojo has been a real game changer. Fewer licks and more high kicks are taking years off my dog years!
Woofs and wags, Dug and Dot
Campground
El Capitán, 968-1033, parks.ca.gov
Finalist: Refugio State Beach
Health Club
Jenny Schatzle, 211 W. Carrillo St., 845-6700, jennyschatzle.com
Finalist: Santa Barbara Athletic Club (Swell)
Yoga Studio
CorePower Yoga, two locations, corepoweryoga.com
Finalist: Yoga Soup
Hiking Trail
Inspiration Point
Finalist: Rattlesnake Canyon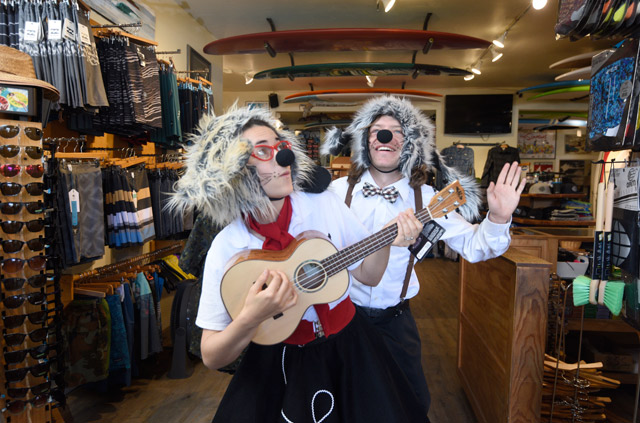 Surf Shop
A-Frame Surf Shop, 3785 Santa Claus Ln., Carpinteria, 684-8803, aframesurf.com
Finalist: Channel Islands Surfboards
Snowboard/Ski Gear Store
Mountain Air Sports, 14 State St., 962-0049, mountainsports.com
Finalist: REI
Swimwear Store
The Bikini Factory, 2275 Ortega Hill Rd., Summerland, 969-2887, bikinifactory.com
Finalist: Surf n' Wear's Beach House
Bicycle Shop
Bicycle Bob's, 3205 S. Kellogg Ave., Goleta, 682-4699, bicyclebobs-sb.com
Finalist: Velo Pro
Martial Arts Studio
Martial Arts Family Fitness, 122 E. Gutierrez St., 963-6233, kickboxers.com
Finalist: Paragon Brazilian Jiu-Jitsu & Kickboxing
Skateboard Shop
Powell-Peralta, 918 Chapala St., 899-1586, powell-peralta.com
Finalist: Skate One
Pilates Studio
Fit Buddha, 330 State St., 901-3440, fitbuddhafitness.com
"We are happy to have won four years in a row and to keep pushing the envelope of fitness. We're excited to continue." —Marcus Kettles, owner
Finalist: IM=X Pilates
Dance Studio
Santa Barbara Dance Arts, 531 E. Cota St., 966-5299, sbdancearts.com
"After 19 years in business, I am so proud to have a place where kids and adults both feel like they have a second home." —Alana Tillim, owner/director
Finalist: Gustafson Dance
Camping Gear Store
REI, 321 Anacapa St., 560-1938, rei.com/stores/santa-barbara.html
"We are a member-owned co-op, so the motivation is … to outfit the customer with the product that will help them the most in enjoying the outdoors. I think people really appreciate that." —Kelsey, lead of sales operations
Finalist: Mountain Air Sports
Place to Get Athletic Shoes
Santa Barbara Running, many locations, sbrunning.com
"Thank you, everybody, for voting for us. We have a good line of shoes and product here that we carry just to serve this community." —Nash Jimenez, employee
Finalist: Big 5 Sporting Goods
Golf Course
Sandpiper Golf Club, 7925 Hollister Ave., Goleta, 968-1541, sandpipergolf.com
"I grew up going there to find golf balls and sell them to golfers on the sixth tee. Now I go there and try
not to lose too many. But the pure beauty of the place allows you to forget about all those bogies you shot on the previous holes." —Chris Potter, longtime regular
Finalist: Glen Annie Golf Club
Place to Shoot Pool
Don Q Family Billiard Center, 1128 Chapala St., 845-3197, donqfamilybilliards.com
"It's a really relaxed and cool environment here. We try to be real inviting — and the beer's cheap." —Nate, cashier
Finalist: Dargan's Irish Pub & Restaurant
Outdoor Fitness Program
SWEAT Outdoors, 1226 Santa Barbara St., sweatoutdoors.com
Finalist: Jenny Schatzle