Sports
What to Expect for UCSB Men's and Women's Basketball
Hoops Season Returns to the Thunderdome With Faces New and Old
Getting most of the attention at UCSB's basketball media day, for good reason, were numbers one and two: guards Eric Childress and Gabe Vincent. Both received honorable mention All-Big West honors last season. Childress is the only senior on the men's squad, which lost four of last season's top six scorers to graduation. He started all 33 games as point guard and led the team in assists. Vincent, a junior, is an explosive scorer who drained 80 three-point shots last year, the second highest total in school history.
Bob Williams, the dean of Big West coaches entering his 19th season with the Gauchos, said he will be counting on Childress to provide leadership on the floor. "We want ball movement, execution, staying in the offense, making the team effective," Williams said. "Eric has to be in charge of that."
Childress has displayed a fearless attitude since his freshman year. "I've always been grown up," he said. He takes pride in coming out of the same high school (Leuzinger High in Hawthorne) as Russell Westbrook, the lightning behind the Oklahoma City Thunder. "We don't back down from any type of challenges," Childress said.
Vincent, a strong 6′3″ shooting guard, averaged 14.1 points per game as a sophomore and was also a defensive stopper. "Gabe is probably as good a two-way player as there is in the league," Williams said. "I think he's going to have a big year."
Coming out of St. Mary's High in Stockton, Vincent nevertheless was not on the Golden State Warriors' bandwagon. "I'm a huge LeBron [James] guy," he said. The Gauchos were a privileged audience when James and the rest of the NBA champion Cleveland Cavaliers held an under-the-radar preseason minicamp in the Thunderdome.
Hard to miss among the newcomers on UCSB's roster is Jalen Canty, a 6′8″ junior who was California Community College Player of the Year after leading City College of San Francisco to a 32-1 record and the state championship. He has a wide body that reminds one of Alan "Big Al" Williams, a four-year Gaucho force (2011-15) who has earned a roster spot with the Phoenix Suns.
With their new mix of players, the Gauchos were picked to finish fourth in the 2016-17 Big West preseason poll. Long Beach State was picked to win the title by 19 of 23 media voters. UC Irvine and Cal State Northridge placed a few points ahead of UCSB.
BIGGER AND BETTER: In her first year as coach of UCSB's women's basketball, Bonnie Henrickson could take a knee and look most of her players in the eyes. Now, with the addition of a pair of 6′4″ post players, she actually has reasons to look up. Natalia Bruening is a First Team All-CIF post out of Corona del Mar High, and Drew Edelman is a junior transfer from USC. They will join 6′3″ Je Zhé Newton to give the Gauchos depth at the front line. Their second option at the post last year was 5′11″ Taylor Farris.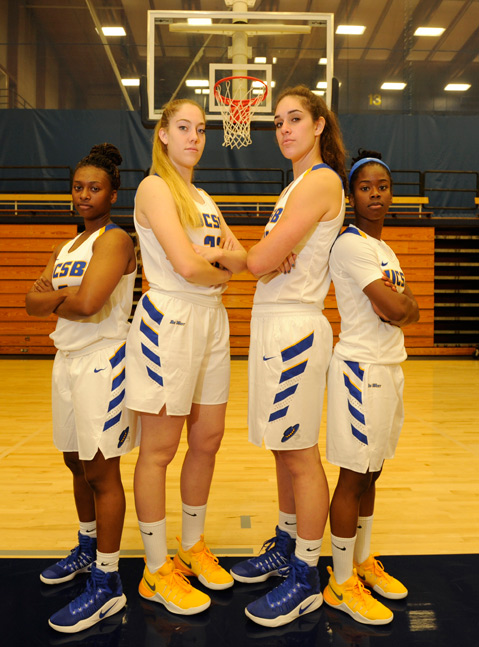 Things have been looking up for the program, too, after Henrickson orchestrated one of the most striking improvements in the NCAA: a 12-20 overall record (8-8 in the Big West), up from 3-27 the year before. She gave credit to the departing seniors, who did not lose faith in the process despite a 1-11 start under the new coach. "We have great respect for last year's group that hung on, hung on," Henrickson said. "[Jasmine Ware, Kendra Morrison, and Dio Lopez] can come back and say they were the class that got the momentum going, got it turned around."
Senior point guard Onome Jemerigbe hopes to reap the benefits of an improved inside game. "It feels good to have a big one standing there," she said. "The past few years there's been a lot of guards attacking the basket, kicking threes. It's not to say we won't still do that, but we'll definitely be looking inside more."
Oregon transfer Drea Toler, like Jemerigbe a quick 5′5″ bug on the court, is ready to join the backcourt after her redshirt year. "We're looking to get up and down the court with our fast guards," said 5′7″ junior Makala Roper, last year's leading scorer (11.8 average). "Our post players can run really well. Our game is definitely up-tempo."
The Big West preseason poll pegs the Gaucho women in fourth, behind Long Beach, UC Davis, and UC Riverside.
FIRST LOOK: UCSB's basketball season will tip off with a pair of exhibition games at the Thunderdome on Sunday, November 6: Fresno Pacific versus the Gaucho men at 1 p.m., and Cal State Los Angeles versus the Gaucho women at 5 p.m.
A date to be circled on the calendar is Wednesday, December 14, when the Gaucho women host UCLA, the favorite to win the Pac-12 title. On that same night, UCSB's men will play UCLA at Pauley Pavilion at 7:30 p.m.
EXHIBITING BRAVADO: Westmont College's women's basketball has a tough exhibition schedule this week. They will play at UCLA (tonight, Nov. 3) and at Cal (Sun., Nov. 6). Coach Kirsten Moore's Warriors should be well prepared for the regular season. In the last five years, they have averaged 27 victories. They won the NAIA national championship in 2013.
THREE ON THREE: Brush up on your triangle offense and make it out to Dos Pueblos High (7266 Alameda Ave., Goleta) on Saturday, November 12, to play in the Steve Rehage Memorial Basketball Tournament, sponsored by the United Boys & Girls Clubs of Santa Barbara County. The format is three-on-three, half-court basketball, with prizes going to the top teams in four divisions — 5th-6th grade, 7th-8th grade, ages 18-39, and ages 40-plus. The entry fee is $100 per team, with proceeds going to fund scholarships for youngsters who cannot afford to play club sports. Visit unitedbg.org or call (805) 681-1315.
GAME OF THE WEEK
11/3: High School Girls Volleyball: CIF play-off at Laguna Blanca The top-ranked Owls received a bye into the second round of the Division 6 play-offs and will face either Bell Gardens or Pioneer as they begin their quest for a second straight championship. They went 21-1 during the regular season, including three-game sweeps of Santa Barbara, San Marcos, and Dos Pueblos. The next round will be the quarterfinals (Sat., Nov. 5), followed by the semifinals (Tues., Nov. 8). If the seedings hold up, Laguna Blanca would face Santa Ynez (21-2) in the final on November 10 or 11. 6pm. Merovick Gymnasium, Laguna Blanca School, 4125 Paloma Dr. $5-$10. Call (805) 687-2461.
S.B. ATHLETIC ROUND TABLE ATHLETES OF THE WEEK
Erica Schroeder, San Marcos cross-country
The senior won the girls' varsity race at the Santa Barbara County Championships for the third consecutive year. Her time on a wet three-mile course in Lompoc was 17:41.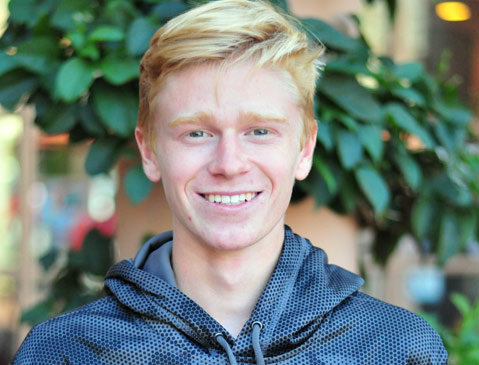 Hunter Clark, Dos Pueblos cross-country
In a tight race with the 2015 champion, Cate junior Kyril Van Schendel, Clark pulled away in the final mile to win the boys' county title. The senior's time was 15:22.