Society Matters
Unite to Light Cruises on the Channel Cat
Event Raises Funds for Solar-Powered Lights for Those Without Electricity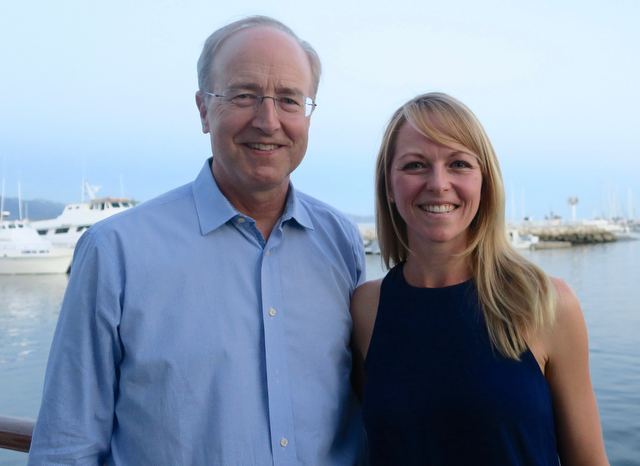 On Thursday, November 4th, about 100 supporters of Santa Barbara-based Unite to Light enjoyed a lovely evening cruise aboard the Channel Cat while raising much-needed funding for solar-powered lights for those in the world without electricity.
Temperatures were in the mid-70's as the mega-yacht departed the Santa Barbara harbor at sunset for this delightful cruise. Guests mingled on the various decks and in the cabin of Charlie Munger's luxurious yacht while sampling a multitude of passed gourmet appetizers and partaking of beverages from the open bar. Some joined the captain in the large pilot house for elevated viewing of the scenic coastline and a behind-the-scenes look at navigating this colossal yacht.
On the return trip, guests comfortably gathered in the main cabin for a short presentation by Unite to Light's President, Megan Birney, and its co-founders, John Bowers and Claude Dorais. Each explained the transformative effect these $10 lights have on those in villages in the developing world.
Thanks to Bowers, Unite to Light was able to have this fundraiser without having to pay for the Channel Cat. He was the successful bidder on the cruise at a Direct Relief International fundraising event, and he oh-so-generously donated the cruise to Unite to Light.
The organization was founded in 2009 when a professor visiting from Ghana lamented to faculty at UC Santa Barbara's (UCSB) Institute for Energy Efficiency (IEE) that many students were ill-prepared for university study because the lack of reading lights limited their ability to study. The IEE team, in conjunction with UCSB's Engineers Without Borders, designed and developed the light and, through the creation of Unite to Light (UTL), began distribution in 2010.
Since then, UTL has distributed more than 74,000 highly durable, low cost, rechargeable, solar-powered lights to those without electricity in 60 countries. The statistics on the need for the lights are astounding: there are 1.3 billion people in the world without electricity and another 1.5 billion people without a reliable source of electricity.
While kerosene lamps are an alternative for some without electricity, this is not a healthy option. Kerosene smoke and soot cause asthma and respiratory infections and cause more deaths each year than malaria. Kerosene lamps also pose a major fire hazard. For the world's poorest, the cost of kerosene forecloses even this unhealthy option.
UTL has two lights, most sales have been of the Luke Light which provides eight hours of light on a full charge and comes with a rechargeable battery. On a typical day, the battery will re-charge enough for four hours of power that night, and the battery typically lasts more than two years.
Most of the lights are distributed through partner organizations. UTL donates some of the lights, the remainder it sells at cost which is $10. Rotary Clubs are huge partners and with Rotary's extensive on-the-ground infrastructure, distribution is very efficient. Direct Relief International is another partner which this year included the lights in its midwife kits. After the tsunami in Japan in 2011, 2,000 lights were distributed through the Mitsubishi Chemical Holding Co., and after Hurricane Matthew in Haiti earlier this year, 400 lights were distributed through WE Charity (formerly Free the Children). UTL encourages all types of organizations to purchase the lights for their projects.
UTL also sells directly to consumers under its "Buy One – Give One" program. Under this program, consumers buy two lamps for $20 — one for their own use as a lamp for reading or camping, and one that UTL donates on their behalf to someone without electricity. Most of the lights distributed pursuant to this program have gone to disaster victims.
For more information, go to unitetolight.org.
If you have an event that you would like to see in this column, you may reach Gail at society@independent.com