Cover Story
'Tis the Season 2016
The Complete Guide to Santa Barbara's Holiday Happenings
Please email a video of yourself rapping or singing the above 'Tis the Season jingle to contest@independent.com for a chance to win an Indy Swag Bag. Our favorites will be featured on our Instagram @sbindependent.
• Made in S.B. Gift Guide 2016
Parades
Carpinteria Holiday Spirit Parade 2016 If you're a fan of Santa Claus, get ready for a special appearance in the parade again this year. This fun-filled community event will have community bands, youth groups, and bringing in the holiday spirit. Sat., Dec. 10, 3pm. The parade travels from 9th St. to 6th St. Free. Call 395-1262. holidayspiritparade.com
62nd Annual Milpas Holiday Parade This parade will roll down Milpas Street with live performances, children's groups, classic cars, drill and dance teams, floats decked in holiday cheer, and more. Merchants will put out hot chocolate and cookies for attendees. Sat., Dec. 10, 5:30pm. The parade travels down Milpas St. from Canon Perdido St. to Mason St. Free. Call 689-5170. mcasb.org
1st Old Town Goleta Christmas Parade For the very first time, Old Town Goleta will transform into a winter wonderland with holiday floats made by the community. Stay after the parade for a tree-lighting ceremony and pictures with Santa Claus! Sat., Dec. 10, 6:30pm. The parade travels down Hollister Ave. from Orange Ave. to the Goleta Valley Community Ctr., 5679 Hollister Ave., Goleta. Free. Call 967-1237. goletachristmas.com
31st Annual Parade of Lights Get ready for a rip-roaring good time with this year's theme of "Wild West Holiday." Bundle up and bring your blankets to watch the festively decorated boats from along the breakwater or on Stearns Wharf. Santa's Village will be full of activities such as tons of snow to play in and photos with Santa, with the first 200 children receiving a goody bag. Then stay for the fireworks show after the parade to end your night with a bang. Sun., Dec. 11, 3pm. Parade: 5:30pm; occurs in the water visible from Santa Barbara Harbor, Stearns Wharf, and West Beach (off of Cabrillo Blvd.). Free. Call 564-5531. santabarbaraca.gov/paradeoflights
Tree Lightings and Nativities
The Wonder of Christmas 2016 This musical evening of inspiration will feature an orchestra, vocal and instrumental ensembles, a ladies' choir, handbells, chimes, a children's drama, and a Nativity pageant. Fri., Dec 9, 7pm; Sat., Dec 10, 5pm; Sun., Dec. 11, 6pm. Oaks Bible Church, 560 N. La Cumbre Rd. Free. Call 570-8061. oaksbible.org
Light Up a Life Celebration Bring your family and friends to gather and celebrate the lives and memories of your loved ones as Hospice of Santa Barbara will host a special night of remembrance with memorial stars that will illuminate the memorial trees through January 4, 2017. Stars may be purchased in advance at Hospice of S.B., 2050 Alameda Padre Serra, Ste. 100. Memorial Tree: Sat., Dec. 10, 5:30pm. Seal Fountain at Linden Plaza, Linden Ave., Carpinteria. Suggested donation for a star: $15. Call 563-8820. hospiceofsantabarbara.org
Goleta Tree Lighting Event All are invited to enjoy refreshments and entertainment with gifts for the kids, Santa Claus, and the lighting of the tree. Sat., Dec. 10, 5:30-7pm. Goleta Valley Community Ctr., 5679 Hollister Ave., Goleta. Free. Call 967-1237. thegvcc.org
Solvang Nativity Pageant Enjoy this elaborate stage presentation of the nativity story featuring live animals, musical accompaniment, narration, and performances by Eduardo Villa, former Metropolitan Opera lead tenor; Julie Meyer, Dove Award–winning Christian recording artist; and Maurice Sklar, concert master violinist. Seating is on a first-come, first-entertained basis. Sat., Dec. 10, 5 and 7pm. Solvang Festival Theater, 420 2nd St., Solvang. Free. Call 688-6144. solvangusa.com
First United Methodist Church Outdoor Living Nativity Come see the re-creation of the holy night with actors in costume and live animals such as camels, donkeys, sheep, and goats. Enjoy warm cider, or stroll into the church and look at the crèches (models representing the scene of Jesus Christ's birth) on display, including a few kid-friendly ones that can be touched. The historic 1927 sanctuary will be open for viewing. Wed.-Fri., Dec. 21-23, 5:30-7:30pm. First United Methodist Church, 305 E. Anapamu St. Free. Call 963-3579. www.fumcsb.org
Christmas Eve Service: Children's Nativity This annual Christmas Eve service for children and families is a wonderful event where Trinity's children will tell again the wondrous story of baby Jesus. Sat., Dec. 24, 4pm. Trinity Episcopal Church, 1500 State St. Free. Call 965-7419. trinitysb.org
Holiday Fun for Everyone
S.B. Rose Society Holiday Pot Luck Dinner Come hear interesting facts about growing roses at this festive party with fine food and holiday cheer. Thu., Dec. 8, 6-8:30pm. Fellowship Hall, Trinity Lutheran Church, 909 N. La Cumbre Rd. Free. sbrose.org
Wreaths, Swags, and Garlands Workshop Make your own beautiful holiday decorations with California native plants. Come anytime during the workshop, and make multiple pieces with your whole family, or stay the entire time. Purchase items by the piece in advance or on the day of the workshop. Grapevine wreath forms, wire, cones, and a variety of native greens will be provided for a cost, but you can bring your own décor (ribbons, battery-operated mini-lights, etc.). Staff will be available to help, and light refreshments will be provided. Fri.-Sat., Dec. 9-10, 11am-3pm. S.B. Botanic Garden, 1212 Mission Canyon Rd. $5-$25+. Call 682-4726. sbbg.org
Rockstar Trolley of Lights Get on the trolley that will take you around S.B. to see all the Christmas lights and decorations. Enjoy hot chocolate or a candy cane as you clang-clang around the city with your entire family. Check-in is 15 minutes prior to the tour. Fri., Dec. 9-Sat., Dec. 24, 5:30 and 7:30pm. Sambos, 216 W. Cabrillo Blvd. Free-$26. Call 451-9999. rockstartrolley.com
Holiday Scenic Rail Adventure Hop on the privately owned, superbly restored 1949 lounge car Overland Trail, which will be pulled by Amtrak from S.B. to San Luis Obispo for a 50-minute stop and then return on this scenic round-trip getaway. Wear your ugly Christmas sweater for a chance to win a silly prize! The fare includes a light snack and beverages, but you are welcome to pack a lunch and bring your favorite vintage! Sat., Dec 10, 10:22am-4:30pm. S.B. Amtrak Station, 209 State St. $89. Call 680-0397. larail.com/public/ccf
St. Mark's-in-the-Valley Women's Guild Annual Christmas This annual luncheon will feature a delicious meal, entertainment, a Christmas boutique of unique, handcrafted gifts, and home-baked Christmas pastries, as well as jams and preserves, with all proceeds to benefit preschool scholarships and other area projects. Sat., Dec. 10, 11:30am. Stacy Hall, St. Mark's-in-the-Valley Episcopal Church, 2901 Nojoqui Ave., Los Olivos. $40. Ages 12+. Call 688-4454. tinyurl.com/WomensGuildLuncheon
Holiday at the Ranch Find your holiday spirit as kids of all ages will love this open house that will feature Santa Claus and his "rein-goats," Christmas music and caroling, craft-making, tours of the festive Stow House, celebrity story time, and holiday hayrides. Sat.-Sun., Dec. 10-11, 11am-4pm. Rancho La Patera & Stow House, 304 N. Los Carneros Rd., Goleta. Suggested donation: $2-$5. Call 681-7216. stowhouse.com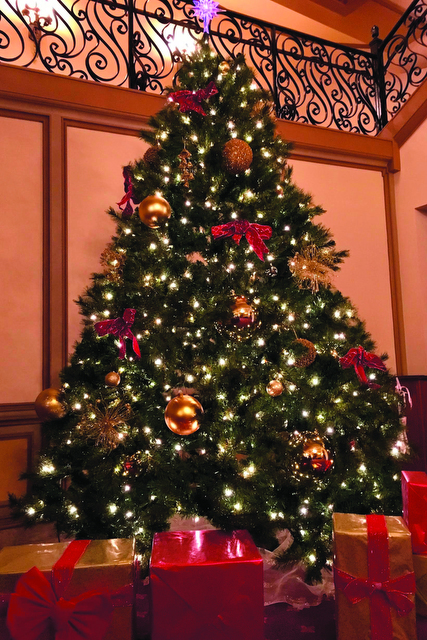 Tree at the G for Unity Snap the perfect holiday shot in front of the Granada's majestic tree while enjoying festive entertainment and hot cocoa. Spread cheer with an unwrapped toy donation for the Unity Shoppe's Toys for Tots drive at the box office. Sat., Dec. 10, noon-2pm. Granada Theatre, 1214 State St. Free. Call 899-2222.
Brunch with Santa Celebrate the holiday season with a special brunch hosted by Mr. and Mrs. Santa Claus. Children and parents can meet with Santa to tell him of their holiday wishes and take pictures. A full brunch will be provided, along with reindeer games and craft making. Families that bring an unwrapped gift for Toys for Tots will receive a complimentary commemorative photo with Santa. 10:30am-2:30pm. Sun., Dec. 11, 10:30am-2:30pm. Marbella, Hyatt Centric S.B., 1111 E. Cabrillo Blvd. Children ages 12+ will pay their age; $17-$34. Call 879-1384.
Family Chanukah Party Come for food and fun for the whole family! There will be lots of latkes, dreidel games, stories, arts and crafts, and singing! Tue., Dec. 13, 5:30-7pm. Jewish Federation of Greater S.B., 524 Chapala St. Free. Call 957-1115 to RSVP. jewishsantabarbara.org
Festival of Lights Join this family-friendly, unique, interactive celebration of our many traditions of light: the Jewish Celebration of Hanukkah, the Christian Christmas story, the Islamic tradition of Eid al-Adha, the African American celebration of Kwanzaa, Unitarian Society Light Within, and more. Thu., Dec. 15, 6:30-8:30pm. Faulkner Gallery, S.B. Central Library, 40 E. Anapamu St. Free. Call 564-6670. sbplibrary.org
Christmas Lights & Sights Trolley Tour Tour the best of holiday décor throughout Solvang and the Santa Ynez Valley while you listen to seasonal music and enjoy hot chocolate served by Solvang Parks & Recreation Department elves. Tue., Dec. 13, 6-7:15pm and 7:30-8:45pm. Veterans Memorial Hall, 1745 Mission Dr., Solvang. $13. Call 688-7529.
Holiday Tea Tasting Gain uncommon tea knowledge from James Allen, founder of the S.B. Tea Club, while experiencing some of the most naturally fragrant, aromatic, and exquisite tea in the world that are free from harmful pesticides, toxins, and additives. Take advantage of special holiday pricing on tea and teaware, including subscription boxes. Fri., Dec. 16, 5:30-7pm. Impact Hub S.B., 1117 State St. Free-$5. tinyurl.com/HolidayTeaTasting
League of Women Voters Holiday Party The public is invited to enjoy a festive lunch and lively discussion in a relaxed atmosphere. Bring your favorite dish. Tea, coffee, and water will be provided. Wed., Dec. 21, noon-2pm. Louise Lowry Davis Ctr., 1232 De la Vina St. Free. Call 965-2422. www.lwvsantabarbara.org/calendar.html
Christmas Dinner Spend an unforgettable Christmas Eve or Day meal with the ones you love most. Select from the traditional à la carte menu, or take advantage of the restaurant's specials, such as Passmore Ranch caviar, Goleta abalone, prime rib, and a yule log dessert! Sat.-Sun., Dec. 24-25. Angel Oak, Bacara Resort & Spa, 8301 Hollister Ave., Goleta. Price varies. Call (855) 252-6601. angeloaksb.com
New Year's Dinner and Brunch Ring in the New Year with style at a steakhouse with ocean views. On New Year's Eve, enjoy a five-course gourmet meal, and then enjoy complimentary admission to the Brazilian Carnival party in the ballroom. Continue the party the next day with an expansive brunch with made-to-order omelets, seafood, prime rib, and more. Sat.-Sun., Dec. 31-Jan. 1, 2017. Dinner: 5-10pm; Brunch: 10am-2pm. Angel Oak, Bacara Resort & Spa, 8301 Hollister Ave., Goleta. $65-$165. Call (855) 252-6601. angeloaksb.com
Solvang's Annual Christmas Tree Burn Area residents are invited to bring their tree (stands and ornaments must be removed) to the burn pile January 2-6, 2017, to join together to see this powerful spectacle ignite the New Year and herald the end of Solvang's Julefest. There will be live entertainment and refreshments for purchase. Fri., Jan. 6, 2017, 5-7pm. Fields of Old Mission Santa Inés, 1760 Mission Dr., Solvang. Free. Call 688-6144. solvangusa.com/things-to-do/solvang-julefest
Especially Fun for Children
Photos with Santa Santa will be available for photos and visits at his winter home located near Macy's. Pet photos will also be available. Visit the website for a full schedule. $29.99-$49.99. La Cumbre Plaza, 121 S. Hope Ave. Call 687-6458. shoplacumbre.com/events
Meet Santa Paseo Nuevo Children will be able to visit Santa in Paseo Nuevo's Center Court with several mornings reserved for children with special needs and multiple evenings open for pet photo nights. Every child will receive a free gift from Santa, and Santa's elves will be on hand to catch the perfect precious moment in a photo. Visit the website for Santa's full schedule. Center Ct., Paseo Nuevo. $23-$48. Call 963-7147. paseonuevoshopping.com
Holiday Festival of Trains Curated by private collector Dave Halbeisen, this Goleta tradition for more than 25 years showcases an extensive model train collection of multiple trains chugging along tracks among a wintery display of miniature figures. Fri.-Sat., Dec. 9-10, 10am-5:30pm; Sun., Dec. 11, 1-5pm. Multipurpose Rm., Goleta Library, 500 N. Fairview Ave., Goleta. Free. Call 964-7878. sbplibrary.org
Kid Kraft: Christmas Village Kids will learn how to upcycle common household items to create a winter village of their very own, including the snow! Sat., Dec. 10, 2pm. Wildling Museum, 1511 Mission Dr., Solvang. $5. Call 688-1082. wildlingmuseum.org/kidkraft
Visit Santa Claus Visit with Santa, tell him your wish for the holidays, and then get your picture taken with him. Sat., Dec. 10, 10am-4pm; Sun., Dec. 11, 11am-2pm. Santa Village, Solvang Park, Solvang. Free. Call 688-6144. solvangusa.com/things-to-do/solvang-julefest
24th Annual Candy Cane Train Take a ride on this festively decorated miniature train. A ticket buys you a ride, an assortment of holiday treats, a coupon for a future ride, and entrance into the museum's holiday display of toy trains and teddy bears. Riders must be at least 34 inches tall. Receive a discount and avoid the line by buying your tickets in advance online. Closed Dec. 12-15. The train runs until December 24. Weekdays: 1-4pm; weekends: 2-4pm. South Coast Railroad Museum, 300 N. Los Carneros Rd., Goleta. $4. Call 964-3540. goletadepot.org
Year of the Explorer Activities Explorers of all ages can make holiday-inspired crafts every Sunday, from cork-painted snowflakes and wreaths to Popsicle-stick snowflakes to cardboard gingerbread men … or women. Sun., Dec. 11, 18, and 25. 11am-1pm. Explore Store, S.B. Zoo, 500 Niños Dr. Free with zoo admission. Call 962-5339. sbzoo.org
All Wrapped Up: The Art of Giving This one-day workshop provides the opportunity for children to gain inspiration from works in the museum's collection and create handmade cards, prints, ornaments, and more. Students draw, paint, print, collage, and sculpt artful gifts to share with friends and family. Sat., Dec. 17, 9am-3pm. Ridley-Tree Education Ctr., McCormick House, 1600 Santa Barbara St. $65-$75. Ages 5-12. Call 884-6441. sbma.net
Children's Winter Crafternoon Kids under 12 will have a jolly good time at this fun-filled afternoon, making holiday-inspired door signs, ornaments, and much more to get into the winter spirit. Sat., Dec. 17, noon-1:30pm. Multipurpose Rm., Goleta Library, 500 N. Fairview Ave., Goleta. Free. Call 964-7878. sbplibrary.org
Art From Scrap Workshop: Holiday Postcards Make postcards that show off your holiday creativity using materials found in the ReUse Store. Sat., Dec. 17, 10am-noon. Art From Scrap, 302 E. Cota St. $8. Children 6 and younger must be accompanied by a parent. Call 884-0459 x11. exploreecology.org
Winter Zoo Camp At this award-winning camp, kids can spend winter break playing games, visiting animals up close and behind the scenes, experimenting with science projects, and crafting. Mon.-Fri., Dec. 19-30. Half day: 9am-noon; full day: 9am-3pm. S.B. Zoo, 500 Niños Dr. $37-$55. Ages 3-12. Call 962-5339. sbzoo.org
Zoo Day Families can create a new tradition at the zoo with animal friends for jolly good fun. Sat.-Sun., Dec. 24-25, 10am-3:30pm. S.B. Zoo, 500 Niños Dr. Free-$17. Call 962-5339. sbzoo.org
Holiday Markets and Shopping
A Crimson Holiday Upper State Street's artisanal market will make your holiday shopping easy with a large selection of handcrafted ornaments, jewelry, toys, cards, and kitschy items. The gallery is open through January 31, 2017. Mon.-Fri.: 10am-8pm; Sat.: 10am-6pm; Sun.: 11am-6pm. La Cumbre Plaza, 121 S. Hope Ave. Free. Call 453-7708. acrimsonholiday.com
Brad Nack Annual 100% Reindeer Art Show You won't want to miss this annual art show with elegantly framed oil paintings of reindeer from Brad Nack. An S.B. tradition for nearly two decades, this event is beloved by reindeer and art collectors, and the pieces sell out fast. Get there early for a spot in line, but stay late to enjoy an after-party with house cocktails. Thu., Dec. 8, 6-8pm. Restaurant Roy, 7 W. Carrillo St. Free. Call 331-3351. bradnack.com
The Collector's Loft: A Pop-Up Boutique Friends of the Museum of Contemporary Art will have unique art, designs, furniture, collectables, clothing, and more for purchase. Perfect for finding the right gift for the artist on your holiday shopping list, there will also be the opportunity to make a tax-deductible donation to the museum's new public art initiative, takepart | makeart: taking art outdoors. Thu.-Sun., Dec. 8-11, 10am-6pm. Montecito Country Mart, 1016 Coast Village Rd., Montecito. Free. Call 966-5373. mcasantabarbara.org/events/upcoming-events
Shop, Mingle & Jingle Solvang's holiday season shopping and entertainment opportunities encompass discounts and deals at various merchants such as shops and galleries, bookstores, wine and beer bars, clothing and accessories boutiques, and more. The town's merchants will open their doors to celebratory shoppers with extended hours, and some will have complimentary snacks and beverages. Fri.-Sun., Dec. 9-11, various times. Downtown Solvang. Free. Call 688-6144. solvangthirdwednesday.com/shop-mingle-jingle
Angels Bearing Gifts Wrapping Party Foster compassion within the community by taking part in this annual gift-wrapping party and helping prepare gifts for those with developmental disabilities. Sat., Dec. 10, 9am-11am. Tri-Counties Regional Ctr. Bldg., 505 E. Montecito St. Free. Call 884-7222. angelsbearinggifts.org/volunteer
12 Days of Christmas Holiday Artwalk Walk through the marketplace, and shop for ceramics, jewelry, woodwork made from wine barrels, felt and leather purses, knitted goods, potted and living succulents, and more. Know that 5 percent of the sales from these area artists will go to Girsh Park. Sat., Dec. 10-Sat., Dec. 24, 10 a.m.-5 p.m. Camino Real Marketplace (between Cinemas and Ulta Beauty), 7004 Marketplace Dr., Goleta. Free. Call 685-3458. caminorealmarketplace.com
The Yes Store 2016 An S.B. tradition since 1968, this cooperative arts and crafts shop offers unique, handmade artwork from area artists. General hours: Mon.-Fri.: 10am-9pm; Sat.: 10am-8pm; Sun.: 11am-7pm. Extended hours: Sat., Dec. 10, 10am-9pm; Sun., Dec. 11, 10am-8pm; Mon.-Thu., Dec. 12-15, 10am-9pm; Fri.-Sat., Dec. 16-17, 9am-10pm; Sun., Dec. 18, 10am-10pm; Mon.-Fri., Dec. 19-23, 9am-10pm; Sat., Dec. 24, 9am-5pm. 101 Paseo Nuevo, Paseo Nuevo. Free. Call 966-9777. theyesstore.com
Holiday Bazaar Join artists Michael Robertson and Kristen Cramer and others as they bring together their favorite things to share for the holidays. Check out handmade gifts, antiques, vintage items, and more, or enjoy wood-fired pizza, wine, and espresso in the middle of your shopping day. Sat., Dec. 10, 10am-5pm. Global Eye Art Collective, 1095 Meadowvale Rd., Santa Ynez. Free. Call 259-6390. geartco.com
Homespun Holiday Marketplace Find unique gifts from area artists, and then wrap them at one of the eco-friendly wrapping stations found throughout the store. Stop by the art gallery for an opening reception featuring art and fun. Sat., Dec. 10. 11am-3pm. Art From Scrap, 302 E. Cota St. Free. Call 884-0459. tinyurl.com/HomespunHoliday
Edible S.B. Holiday Pop-Up Shop This one-of-a-kind shopping experience will have an array of culinary and artisanal gifts from area merchants featured in Edible's Holiday Gift Guide. Sat., Dec. 10, 1-6pm. Telegraph Brewing Co., 418 Salsipuedes St. Free. tinyurl.com/EdibleSBHolidayPopUpShop
Pure Purpose Holiday Market Make a difference with every purchase at this alternative market featuring vendors who make a social impact or have promised to donate a percentage of their proceeds to community nonprofits. Sat., Dec. 10, 1-6pm. Pure Order Brewing Co., 410 N. Quarantina St. Free. purepurposemarket.com
Funk Zone Holiday Pop-Up Shop Stop by this pop-up for everything from cards, crystals, and ceramics to books, jewelry, and one-of-a-kind gifts. There will be cold coffee and tea on tap from Bona Fide Brewing Company and live music to enjoy as you shop. Sun., Dec. 11, noon-4:30pm. Table Salt Design, 224 Anacapa St., Ste. 1-E. Free. Call 570-1891. tinyurl.com/2016funk
LifeChronicles Gift Wrapping Keep those gifts a secret! Shopping for Christmas gifts is exhausting enough, so have someone else wrap them for you. All donations will go toward area nonprofit LifeChronicles, dedicated to preserving memories of a dying loved one. Mon.-Fri., Dec. 12-16, noon-6pm; Sat.-Tue., Dec. 17-20, noon-8pm; Wed.-Fri., Dec. 21-23, 10am-8pm; Sat., Dec. 24, 10am-5pm. Center Ct., Paseo Nuevo. $5 donation. Call 963-7147. paseonuevoshopping.com/events/gift-wrap
Deck the Halls at Ojai Rancho Inn You won't believe your eyes as all rooms are turned into mini pop-up shops for the night with vendors who traveled from near and far to bring you the most magical offerings. There will be live music to add to the festivities. Sat., Dec. 17, noon-7pm. Ojai Rancho Inn, 615 W. Ojai Ave., Ojai. Free. Call 646-1434. tinyurl.com/DeckTheHalls2016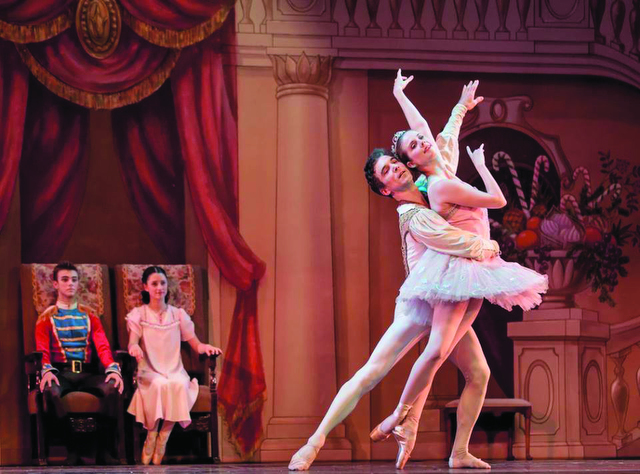 Theater/Dance

Inspire Dance Holiday Showcase This holiday show will feature beautiful dances, costumes, and heartwarming performances for the whole family to enjoy. Thu., Dec. 8, 4-4:45pm. Faulkner Gallery, S.B. Central Library, 40 E. Anapamu St. Free. Call 564-5603. sbplibrary.org

Everybody Dance Now! Holiday Performance Don't miss out on a night full of dance performances by area elementary schools and groups including Girls Inc. Goleta, Urban Dance Company, Stupid Fresh Adult Crew, and many more. This family-friendly event will also have face-painting, prizes, a photo booth, bake sale, and more for an evening of holiday fun. Fri., Dec. 9, 5:30-8pm. Westside Boys & Girls Club, 602 W. Anapamu St. Donations accepted. tinyurl.com/EDNHolidayPerformance2016
Elf The Musical Jr. Based on the beloved holiday film, Elf, this new musical follows the story of Buddy, a human boy raised by elves in search of his real father in urban New York. This musical is sure to be a holiday tradition for audiences to embrace their inner elf. Fri., Dec. 9 and 16, 7pm; Sat., Dec. 10 and 17, 2 and 7pm; Sun., Dec. 11 and 18, 2pm. Ojai Art Ctr. Theater, 113 S. Montgomery St., Ojai. $10-$15. Call 640-8797. ojaiact.org
A Christmas Carol If you haven't seen this live staging of the meanest miser in Victorian London, Ebenezer Scrooge, when he is visited by the spirits of Christmas Past, Present, and Yet to Come, then this is a holiday must-see. Fri.-Sat., Dec. 9-10, 7pm; Sun., Dec. 11, 3pm. Plaza Playhouse Theater, 4916 Carpinteria Ave., Carpinteria. $7-$15. Call 684-6380. plazatheatercarpinteria.com
42nd Annual Nutcracker at the Arlington The Santa Barbara Festival Ballet presents this cherished holiday tradition that is recognized as one of the longest-running productions in the U.S. performed with a full live symphony orchestra. Experience holiday magic as Clockwork Dolls dance to life, a giant Christmas tree grows before your eyes, and the Rat King and Toy Soldiers battle onstage. Sat., Dec. 10, 2:30 and 7pm; Sun., Dec. 11, 2:30pm. Arlington Theatre, 1317 State St. $25-$50. Call 963-4408. thearlingtontheatre.com

A Christmas Carol Don't miss out on the inaugural production of Charles Dickens's classic with a 24-person cast including virtuoso performances by Rubicon favorites Joe Spano and Peter Van Norden. Sat., Dec. 10, 7pm; Sun. Dec. 11 and 18, 2pm; Wed., Dec. 14 and 21, 2 and 7pm; Thu.-Fri., Dec. 15-16 and 22-23, 8pm; Sat., Dec. 17 and 24, 2 and 8pm. Rubicon Theatre, 1006 E. Main St., Ventura. $40-$65. Call 667-2900. rubicontheatre.org
The Montecito School of Ballet: The Night Before Christmas and Les patineurs (The Skaters) Watch sugarplums dance and toys come to life in this original production of The Night Before Christmas, which is based on the famous poem by Clement Moore, followed by Les patineurs (The Skaters), which is inspired by the famous ballet choreographed by Frederick Ashton for the Royal Ballet of England and portrays the strength, grace, and humor of skaters. Sat., Dec. 10, 7pm. Marjorie Luke Theatre, 721 E. Cota St. $12-$18. Call 560-0597. montecitoschoolofballet.com/upcoming-performances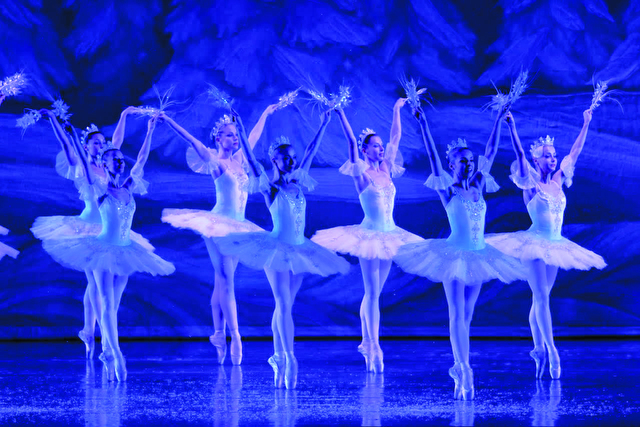 Moscow Ballet's Great Russian Nutcracker This critically acclaimed performance to Tchaikovsky's beloved score features more than 40 dancers in spectacular costumes. A portion of the proceeds will benefit the Central Coast Marine Corps Reserve's Toys for Tots program. Thu., Dec. 15, 7pm. Samala Showroom, Chumash Casino Resort, 3400 Hwy. 246, Santa Ynez. $25-$45. Ages 21+. Call (800) 248-6274. chumashcasino.com/entertainment
Una Noche de las Posadas Take part in this time-honored reenactment of Joseph and Mary's search for shelter in Bethlehem as it was once celebrated in early California and is still observed throughout Mexico and South America. Experience firsthand the way in which Santa Barbara's earliest Spanish and Mexican residents gathered together and celebrated the Christmas season with music and food. Fri., Dec. 16, 7pm. Begins at El Presidio de Santa Bárbara State Historic Park, 123 E. Canon Perdido St., and concludes at Casa de la Guerra, 15 E. De la Guerra St. Free. Call 965-0093. sbthp.org
The Nutcracker Curtis Studio of Dance will bring Carpinteria its most joyous holiday gift with its beloved production of The Nutcracker. Many Carpinterian dancers, including three young men from Carpinteria High School, will take part in the upcoming performances of the famed holiday ballet. Fri., Dec. 16, 7pm; Sat. Dec. 17, 1pm. Carpinteria Middle School, 5351 Carpinteria Ave., Carpinteria. $15. Call 684-4099. curtisdance.com

Goleta School of Ballet: The Nutcracker Tutu Suite Young dancers ages 3-6 years old will take part in a special suite-style performance to the music of The Nutcracker. Sat., Dec. 17, 1:30-2:30pm. Marjorie Luke Theatre, 721 E. Cota St. $8. Call 328-3823. goletaschoolofballet.com

State Street Ballet: The Nutcracker Follow young Clara as her toy nutcracker comes alive, saving her from evil rats and taking her on a magical journey through the Land of Sweets and more. This magical performance, featuring students of Gustafson Dance, the Opera San Luis Obispo Orchestra, and the Morro Bay High School Chorus, will blow you away with its gigantic Christmas tree and opulent sets. Sat., Dec. 17, 2 and 7:30pm; Sun., Dec. 18, 2pm. Granada Theatre, 1214 State St. $24-$104. Call 899-2222. granadasb.org
La Pastorela (A Shepherd's Play) The historic S.B. Christmas tradition returns to the Presidio Chapel for a dramatized version of the shepherds' biblical journey to Bethlehem and the Devil's attempt to take them off course. La Pastorela was originally transcribed in the mid-19th century by Pablo de la Guerra and will be conducted in Spanish. Sat., Dec. 17, 8pm; Sun., Dec. 18, 2 and 7pm. Presidio Chapel, El Presidio de Santa Bárbara State Historic Park, 123 E. Canon Perdido St. $6-$12. Call 965-0093. sbthp.org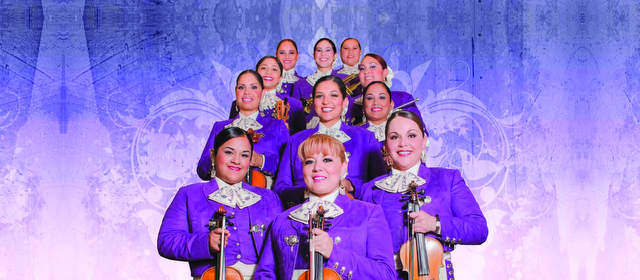 Music
Live Holiday Entertainment It wouldn't be the holidays without costumed carolers, holiday horns, choirs, and more. More than 20 ensembles will visit town every day in December to spread holiday cheer. Dec. 8-24, various times. Center Ct., Paseo Nuevo. Free. paseonuevoshopping.com/events/holiday-entertainment
Chris Tomlin, Matt Redman Grammy Award–winning contemporary Christian musician Chris Tomlin will make a stop in town for his Adore Christmas Tour with special guest Matt Redman from England. Thu., Dec. 8, 7:30pm. Arlington Theatre, 1317 State St. $39.50-$75. Call 963-4408. thearlingtontheatre.com
TubaChristmas Come celebrate all things tuba ​— ​from the baritone to the ophicleide ​— ​with a live performance from those who teach, play, and compose for the brass instrument. Sat., Dec. 10, noon-1:30pm. Storke Placita, 700 block of State St.
A Merry-Achi Christmas Twice-Grammy-nominated Mariachi Sol de México de José Hernández joins America's first all-female Grammy-nominated Mariachi Reyna de Los Angeles in a colorful traditional Mexican holiday celebration. Enjoy seasonal songs and festive merriment. Sat., Dec. 10, 8pm. Granada Theatre, 1214 State St. $24-$69. Call 899-2222. granadasb.org
Holiday Concert Enjoy a free concert performed by the S.B. Community Flute Ensemble, featuring holiday favorites from around the world for the entire family to enjoy. Sat., Dec. 10, 6:30pm. First Congregational Church, 2101 State St. Free. sbcfe.org

4th Annual S.B. Choral Society's The Hallelujah Project Audiences of all ages will enjoy this concert that's fast becoming one of the city's most anticipated holiday musical events. The S.B. Choral and Children's Chorus will blend together a set of classical choral music and traditional holiday favorites with celebrity guest Shirley Jones from The Partridge Family. Sat., Dec. 10, 8pm; Sun., Dec. 11, 3pm. Lobero Theatre, 33 E. Canon Perdido St. $7-$46.50. Call 963-0761. lobero.com

Tiny Tots Holiday Concert & Santa Party Toddlers will love this special holiday sing-along concert featuring The Rubicon Harmonix and The Harmonix Juniors with appearances by Rudolph, Frosty, and Santa! Continue the holiday fun after the concert with a Santa meet and greet. Sat., Dec. 10 and 17, 11am. Rubicon Theatre Company, 1006 E. Main St., Ventura. $6. Call 667-2900. rubicontheatre.org
S.B. Jazz Society Presents: Holiday Jam This annual holiday party for Jazz Society members is a perfect time for closet jazz singers and players to join in on a jam session. Bring your instruments or charts, or simply relax and enjoy the music. Sun., Dec. 11, 1pm. SOhO Restaurant & Music Club, 1221 State St. $25. Call 962-7776. sohosb.com

20th Annual Holiday Concert, Carol Sing & Party Join the S.B. Master Chorale as they perform Karolju, a collection of original Christmas carols from composer Christopher Rouse in several languages. Sun., Dec. 11, 7pm. Unitarian Society, 1535 Santa Barbara St. $10-$25. sbmasterchorale.org
Santa Barbara Strings Winter Concert Under the direction of Mary Beth Woodruff, three youth ensembles will perform a variety of classical chamber works from the Renaissance/baroque era to the modern period. Sun., Dec. 11, 6pm. First Presbyterian Church, 21 E. Constance Ave. Free-$10. Call 688-7423. santabarbarastrings.org
Organ Series: Sundays in Advent Explore the new liturgical year at these afternoon concerts illustrating the diverse tonal landscape of Trinity's four-manual pipe organ with Trinity's minister of keyboard music, Thomas Joyce. In preparation for Christmas, the final concert will premiere his newly composed Psalm 24 for solo organ, "Lift up ye heads, O ye gates," intended as a meditative journey through the sacred mysteries of the season. Sun., Dec. 11 and 18, 3:30-4:45pm. Trinity Episcopal Church, 1500 State St. Suggested donation: $10/adults, $5/children and youth. Call 965-7419. trinitysb.org
Fratelli, A Men's Chorus: Let It Snow! Our Holiday Concert S.B.'s newest men's chorus, composed of 18 gay men and their allies, will explore a diverse collection of seasonal music that includes an upbeat, rousing collection of musical comedy, pop, and satire, as well as traditional, rich, beautiful four-part contemporary arrangements of seasonal favorites. Tickets will be available at the door. Mon., Dec. 12, 8pm. Trinity Episcopal Church, 1500 State St. $12-$20 (cash only). facebook.com/FratelliAMensChorus
A Baroque Holiday The S.B. Chamber Orchestra will celebrate the season with compositions from the Baroque era, performed by a trio of talented violinists in a picturesque chapel. Tue., Dec. 13, 7:30pm. All Saints-by-the-Sea Episcopal Church, 83 Eucalyptus Ln., Montecito. $64. Call 963-0761. lobero.com
34th Annual Messiah Sing-Along Raise your voice on high for this annual community event where the audience is the chorus to sing Handel's Messiah. Tickets will be available at Chaucer's Books or at the door. Tue., Dec. 13, 7-9pm. First Presbyterian Church, 21 E. Constance Ave. $10. Call 979-9511. tinyurl.com/34thMessiahSingAlong
Ukulele Orchestra of Great Britain Back by popular demand, this all-singing, all-plucking orchestra will play a variety of toe-tapping holiday tunes. Dust off the old uke to strum along to festive favorites "Jingle Bells," "We Wish You a Merry Christmas," and "Good King Wenceslas." Learn the tunes with tutorials posted on their website, or simply sing along. With the Uke's infectious spirit and hilarious banter, this performance is sure to put you in the holiday mood. Thu., Dec. 15, 8pm. Campbell Hall, UCSB. $15-$50. Call 893-3535. artsandlectures.sa.ucsb.edu
Venice Holiday Show If you desire Christmas tunes with a slightly harder edge, look no further than this quintessential California vocal group. Venice has performed alongside musical legends Bruce Springsteen, Stevie Nicks, and Bon Jovi, just to name a few, attesting to the group's rock 'n' roll credibility. Thu., Dec. 15, 8:30pm. SOhO Restaurant & Music Club, 1221 State St. $32-$68. Call 962-7776. sohosb.com
Quire of Voyces: Mysteries of Christmas Enrich your holiday experience with a set of beautiful a cappella compositions performed underneath the stained-glass windows of the chapel originally designed to train Franciscan priests. Sat., Dec. 17, 7pm; Sun., Dec. 18, 3pm. St. Anthony's Chapel, Garden Street Academy, 2300 Garden St. $15-$20. Call 965-5935. quireofvoyces.org
Winter Wonderland The Santa Ynez Valley Master Chorale and Orchestra will perform a concert for you under the direction of Maestro Michael Eglin, featuring works from Berlioz, Rutter, Vaughan Williams, and more. Sing along to your favorite carols with the youth ensemble for a special musical treat. Sat., Dec. 17, 7:30pm; Sun., Dec. 18, 3pm. Veterans Memorial Hall, 1745 Mission Dr., Solvang. $15-$20. Call 350-4241. syvchorale.org
The Harmonix Holiday Concert Get into the Christmas spirit with this festive 90-minute performance from the Rubicon Harmonix and Harmonix Juniors vocal groups with guest appearances from Broadway stars Teri Bibb, Jennifer Leigh Warren, and more. All proceeds will benefit the theater's youth education program. Sun., Dec. 18, 7pm. $26-$41. Call 667-2900. rubicontheatre.org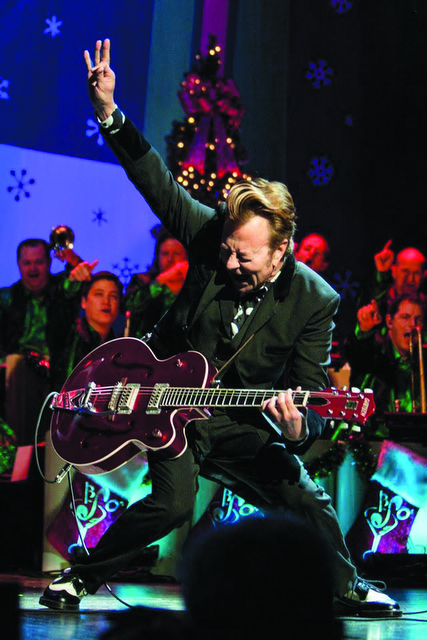 Brian Setzer Orchestra Holiday Show The iconic guitarist, songwriter, vocalist, and three-time Grammy Award winner Brian Setzer and his 19-piece orchestra will whip up a huge dose of retro holiday cheer with their Christmas Rocks show! This holiday show will feature music from their latest Christmas album, Rockin' Rudolph, their three other best-selling holiday albums, and original Brian Setzer hits. Mon., Dec. 19, 7:30pm. Granada Theatre, 1214 State St. $44-$89. Call 899-2222. granadasb.org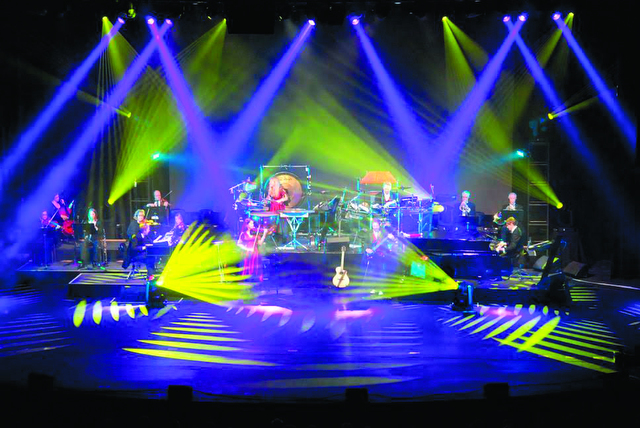 Mannheim Steamroller Christmas Grammy Award winner Chip Davis has created a show featuring the beloved Christmas music of Mannheim Steamroller along with dazzling multimedia effects performed in an intimate setting. The spirit of the season will come alive with this signature show. Thu., Dec. 29, 8pm. Granada Theatre, 1214 State St. $34-$93. Call 899-2222. granadasb.org
21+ Holiday Fun
Holiday House Party with DJ Dan, Calvin & Hogg Come dance to a deejay who has been at the forefront of the dance music culture and in the early days of the rave scene. DJ Dan continues to set music trends. Opening beats will be by Calvin & Hogg. Sat., Dec. 10, 10pm-1:30am. Eos Lounge, 500 Anacapa St. Free-$10. tinyurl.com/HolidayHouseParty
New Year's Eve Champagne Party Celebrate New Year's Eve on East Coast time before heading out for your West Coast party. There will be drink specials, lots of fun, and a countdown with a champagne toast! Sat., Dec. 31, 8-10pm. Wandering Dog Wine Bar, 1539-C Mission Dr., Solvang. Free. Call 686-9126. wanderingdogwinebar.com
Solvang Julefest Wine & Beer Walk Passport Stroll the streets of downtown Solvang and sip vintages from more than 12 area wineries and breweries with your souvenir wine glass for two cheerful days. Sat.-Sun., Dec. 10-11, 11am-4pm. Downtown Solvang. $45. Call 688-6144. tinyurl.com/JulefestWineAndBeerWalk
Holiday Mega Bash At this charitable holiday party, enjoy spirits and appetizers with members of the community and a live band. Take part in the raffle to win sought-after memberships to CorePower Yoga and Impact Hub, or fun prizes such as Satellite wine and handmade toys. A portion of the proceeds will benefit the Unity Shoppe. Tue., Dec. 13, 5pm. Impact Hub, 1117 State St. $10-$20. tinyurl.com/HolidayMegaBash
Holiday Sip & Swirl Rooftop Wine Tasting Join this very merry event where locals and guests are invited to taste some of the region's best wineries and cheese pairings, and listen to live music, all set against stunning views from downtown's only rooftop terrace. Receive $5 off your ticket price when you bring an unwrapped toy donation for Toys for Tots. Thu., Dec. 15, 5-7pm. Canary Hotel, 31 W. Carrillo St. $30-$35. Call 879-9100. tinyurl.com/CanarySipAndSwirl

Happy Hour Holiday Mix, mingle, and network with S.B. event professionals for help with planning your holiday parties. Thu., Dec. 15. 5-7pm. Dargan's Irish Pub & Restaurant, 18 E. Ortega St. Free. Call 965-7978. tinyurl.com/HappyHourHoliday
10th Annual Holiday Sweater Party It's time to raid Grandma's closet for this annual concert with performances by indie pop band Spencer the Gardener and area legends The Upbeat. Fri., Dec 16, 6pm. SOhO Restaurant & Music Club, 1221 State St. $25. Call 962-7776. sohosb.com

10th Annual Vodka Latke: Diamonds & Dreidels Dance the night away to beats from Wildcat Lounge deejay Slic Vic, and savor homemade churros while guests ages 21 and older enjoy the open bar. Sat., Dec. 17, 7-11pm. Veterans' Memorial Building, 112 W. Cabrillo Blvd. $25-$30. Call 957-1115. jewishsantabarbara.org/vodkalatke
---