News
How Many Homeless in Santa Barbara?
County Volunteers Gather for Next Population Survey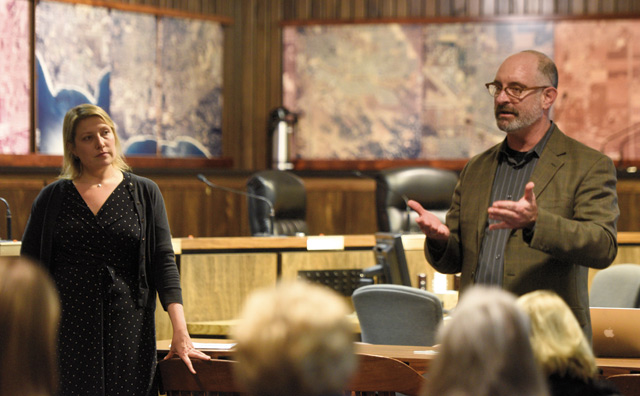 For the third time in six years, organizers with the Central Coast Collaborative on Homelessness (C3H) is beating the bushes for volunteers willing to help count the number of homeless throughout Santa Barbara County. According to Chuck Flacks with C3H and Emily Allen of Common Ground, about 200 volunteers will be needed for four hours the afternoon of Thursday, January 26.
This year's homeless count ​— ​known as the Point in Time index ​— ​will be less time consuming by design in hopes of reaching more homeless people. Two years ago, volunteers equipped with smart phones were dispatched into the pre-dawn darkness two days in a row in search of homeless on their own turf. When they found them, volunteers had a list of intensely personal questions ​— ​designed to determine fragility and vulnerability ​— ​that took 45 minutes to complete. By contrast, this year's questionnaire will take 10 minutes, and none of the personal details regarding mental health, drug abuse, health concerns, or sexual behavior will be sought. By making the questionnaire shorter, Flacks and Allen said they hoped more people could be interviewed.
This year, the homeless will be encouraged to show up at designated locations ​— ​Alameda Park in downtown Santa Barbara, for example ​— ​rather than sending volunteers in search of homeless encampments. (From 9-11 p.m., however, some volunteers will venture from the centralized count locations looking for individuals to count and interview.) Those homeless who agree to be interviewed will receive a cereal bar, fresh socks, and a $5 gift certificate to Starbucks.
The count is required by the Department of Health, Education, and Welfare (HEW) every two years for communities receiving federal funds to address problems associated with homelessness. Santa Barbara County received $2.5 million last year in HEW dollars. The count includes homeless people living in shelters, emergency warming centers, and RV dwellers enrolled with the New Beginnings program. The count results are used to determine service needs. Two years ago, the count tabulated 1,455 homeless people in Santa Barbara County. Two years prior, it was 1,466.