Cover Story
Undocumented Students on Tenterhooks
Their Futures and the DACA Program Hang in the Balance
For Rene Garcia Hernandez, the Trump presidency feels like the "security blanket has been stripped off." An undocumented 25-year-old who moved to Santa Barbara from Mexico at age 2, Garcia Hernandez is now enrolled in the DACA (Deferred Action for Childhood Arrivals) program. He received a bachelor's degree from Cal State Northridge and now works at Santa Barbara Junior High School.
DACA is the policy President Obama initiated by executive order that authorizes young immigrants to work without fearing deportation. Minors in the country for five years who moved here before age 16 are eligible. For those who meet the criteria, they must reapply every two years. The program could be repealed by the stroke of a pen.
"If that DACA program is revoked, all of our students who benefit from it would have their ability to work jeopardized," said Maritza Mejia-Wilson, who is a founding member of Adsum, a Santa Barbara nonprofit that has been serving undocumented students since 2010. "That is really frightening."
But Mejia-Wilson noted that recently introduced bipartisan legislation known as the BRIDGE Act, which stands for Bar Removal of Individuals who Dream of Growing our Economy, would temporarily shield young immigrants from deportation and allow those eligible for DACA to be legally employed. California has additional laws in place such as the state's DREAM (Development, Relief, and Education for Alien Minors) Act, which allows undocumented college students to apply for state financial aid.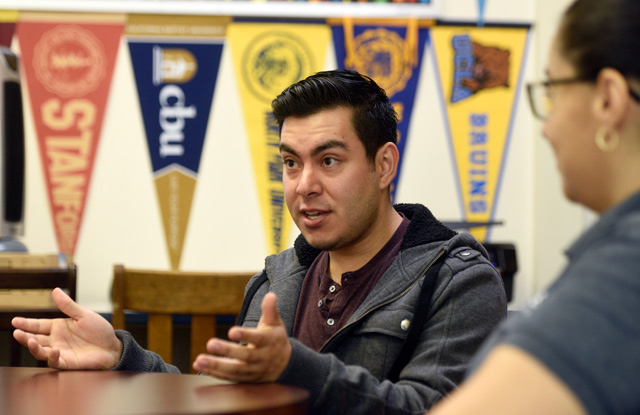 Though Trump said on the campaign trail he would repeal DACA, Mejia-Wilson asked, "What would that do to our economy?" Nationwide, more than 750,000 people in many sectors are enrolled in the program.
Mejia-Wilson also noted that DACA gives the federal government access to participants' fingerprints and personal information. "We are advising students who have not applied to wait to see if there is any change. All they are doing is outing themselves and making all of their data accessible."
"It's very tough," said Garcia Hernandez. He grew up sharing a bedroom with his brother and his mom on the Eastside. He explained he was born in the generation that did not talk much about immigration status. He didn't discover he did not have papers until his mom told him in junior high school he couldn't go on a school field trip to Washington, D.C. He was deflated; he had never really traveled. In the last decade or so, he was among those who started to fight for rights for undocumented students.
After he was accepted into DACA, Garcia Hernandez felt he "just won a million bucks." "I felt comfortable," he said. "The first thing I did was smile and start learning how to drive." The program allowed him to get a license and get a job — "as a matter of fact, five," he said — which paid his college tuition. "It allowed me to feel as if I were really part of this country."
Garcia Hernandez said he now realizes that security blanket was never "that nice coat we thought it was. It is just a very thin blanket sheltering me right now." Asked if he was worried about a Trump presidency, he said, "I'm scared; I'm not fearful."