News
Domestic Violence Is Number One Felony
Calls to Nonprofit for Help Quadruple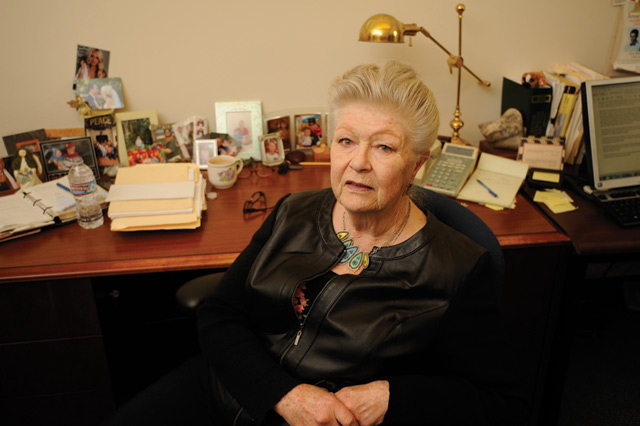 In the past two years, the number of crisis calls fielded by Domestic Violence Solutions nearly quadrupled. In addition, physical violence on a spouse or cohabitant was the number one felony charge filed last year by the District Attorney's Office in Santa Barbara County.
While the exact numbers ​— ​from 1,600 calls in 2014 to more than 6,000 calls in 2016 ​— ​are startling, the complete picture is still fuzzy. "The first thing people say is this is an epidemic," said Charles Anderson, the CEO of Domestic Violence Solutions. But he explained awareness and outreach have also increased in recent years: "More people are saying, 'Okay, I need to reach out for help.'"
That is drastically different from past decades when domestic violence was called "family violence" and thought to be "something that should be resolved within the family," explained Joan Fairfield, a longtime victim witness advocate in the District Attorney's Office.
She would know. As a kid, Fairfield grew up in a violent home. Her father became so "wicked" when he drank that Fairfield, at just 4 years old, had to call the police. "My daddy is killing my mommy," she recalled saying. The cops showed up, calmed her father down, and then left. "Do you have any idea how angry he was after?" she asked. "I'm the kid you left behind," she now explains to police.
These days, "People are less afraid to make reports in their own home. Shelters are more prevalent," she said. "We've come a long way."
Still, Fairfield sees clients who are afraid to call the police. They might have had a child with their abusers or be financially dependent on them. Fairfield must explain to these victims, "I know your husband is not evil all the time. Your children are learning how to be violent. Your daughter is learning how to be a victim."
One third of all women suffer from physical violence from a partner, and a quarter of men do, Anderson said. While he could not give the exact breakdown by gender, he noted in just the last four weeks, three or four men had come into a Domestic Violence Solutions shelter.
Each of their three locations ​— ​Santa Barbara, Santa Maria, and Lompoc ​— ​has space for about 30 people. "We provide support for all victims," he said, "not just for women and children."
The nonprofit often rides along to calls with Santa Barbara Police officers to provide information about available resources after a volatile situation has settled.
Though the Police Department's statistics related to such calls were not immediately available, Sergeant Joshua Morton said the department "regularly responds to those style calls on a daily basis." They enforce a zero tolerance policy, he asserted. "Whether it is husband and wife, boyfriend and girlfriend, or boyfriend and boyfriend," he said. "It's not one here and there."
Though domestic violence was the number one felony in 2016, the cases made up just 5 percent of all felonies that year. Still, domestic violence cases occurred much more frequently than the number two charge, which was assault producing great bodily injury. Statistics for 2015 were not available by press time.
Notably, law enforcement has anecdotally noticed more strangling cases. Similarly, it is unclear if there is just more attention to the issue or if more cases are actually occurring. Megan Riker-Rheinschild, director of the Victim-Witness Assistance Program, explained studies show strangulation does not always present outward physical signs. Research shows that victims who have been strangled are roughly seven times more likely to be killed by their partners.
To address this, the DA's Office hosted several trainings in recent years to help law enforcement personnel ask specific questions ​—for example, were your airways obstructed or did you lose consciousness? Now, Riker-Rheinschild added, law enforcement is generally keener to the problem. "I can tell you that conversation has happened so much that we are looking to develop a law enforcement fact sheet about strangulation," she said.