News
Slicing, Dicing, or Icing RV Ordinance?
As Pushback Mounts, Enforcement Won't Begin for Another Six Weeks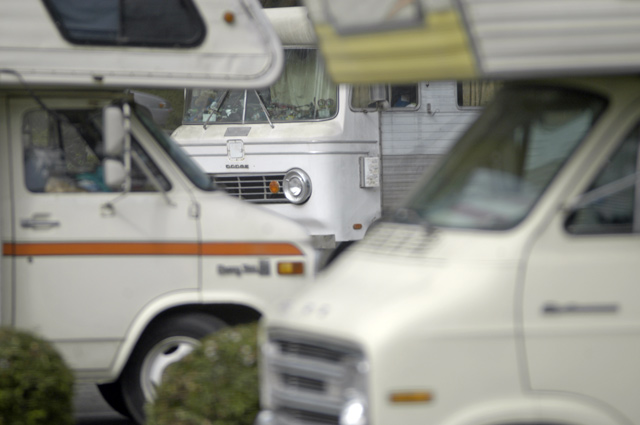 The Santa Barbara City Council passed an ordinance prohibiting any oversized vehicles — RVs and high-profile vehicles like tall Sprinter vans — from parking on city streets last October, but City Attorney Ariel Calonne said it will be at least another six weeks before the ordinance gets enforced. For residents of the Upper Eastside, whose complaints against RV dwellers camping on their streets triggered the new ordinance, this additional delay is cause for growing impatience. For four-wheeled housing advocates — who had been lobbying for a "grace period" to secure suitable daytime spots for RV dwellers enrolled in the New Beginnings parking lot housing program — it was the next best thing. (Twenty-six RVs are now enrolled in the New Beginnings program, which has a cap of 40. To date, eight daytime spots have been secured.)
Since the ordinance was adopted, more than 200 high-profile vehicle owners have signed petitions asking that the council rewrite the ordinance. Because the law was crafted to address road safety and visibility issues associated with big and tall vehicles, Calonne cautioned he'd have a hard time crafting a legally defensible measure that distinguished between a $75,000 Mercedes van and a $2,500 ramshackle RV. In the meantime, Calonne is attempting to perfect a streamlined permit application program allowing craftworkers who rely on oversized vehicles. That effort remains very much a work in progress.
Last week, Calonne met with a delegation of high-profile vehicle owners who made clear their exasperation with any permit application requirements. Instead, they suggested Santa Barbara take the lead of cities like Redondo Beach, which passed a less restrictive measure. In the meantime, the council agreed to spend up to $60,000 to expand the New Beginnings program. (Mayor Helene Schneider expressed concern, however, that federal funding for a wide array of homeless programs could be in jeopardy if cuts reportedly supported by President Donald Trump are enacted.) In the meantime, Calonne has vowed to hold public stakeholder meeting to discuss the ordinance before enforcement ensues.