Living
A Couple of Cool Santa Barbara Moths
Get to Know These Nocturnal Backyard Visitors
If you are lucky, you might spot one or both of the moths featured here in natural areas close to Santa Barbara. By planting suitable native plants, you may be able to attract these beauties to your own garden. In the world of moths, both of these are relatively large and colorful species.
At dusk in late summer, I often watch the flower beds around my house for the fast-moving white-lined sphinx moth or striped morning sphinx (Hyles lineata), as they seek nectar from the flowers of various sages (Salvia species) and from my evening primroses (Oenothera species).
On first encountering this insect, you may think that you are watching a hummingbird. Once, on a trip to Anacapa Island, I saw a patch of wildflowers literally alive with hundreds of them. They hover around their favorite flowers with wings moving so fast that they are all a blur, hence their other common name of hummingbird moth. They are very difficult to photograph while they are moving, but if you succeed, you will see that they are quite beautiful. The adult has a distinctive pattern of colors that include brown, cream, white, pink, and black. It is quite large and measures two and a half to three inches across. This is the most common sphinx moth in California and is found throughout the state. It occasionally occurs in huge numbers, especially in desert areas.
With their green, yellow, and black patterns, the caterpillars have occasionally been so numerous as to slicken highways with their crushed bodies. White-lined sphinx caterpillars feed voraciously on many species of plants including California fuchsia (Epilobium canum) and different species of evening primrose. When they have finished feeding, they go into the ground to pupate.
A second spectacular moth is the ceanothus silkmoth (Hyalophora euryalus). This is probably California's most beautiful and commonly seen large moth, with a wingspan of up to five inches. It has a soft, velvety appearance and has exquisite reddish-brown, gray, and white markings.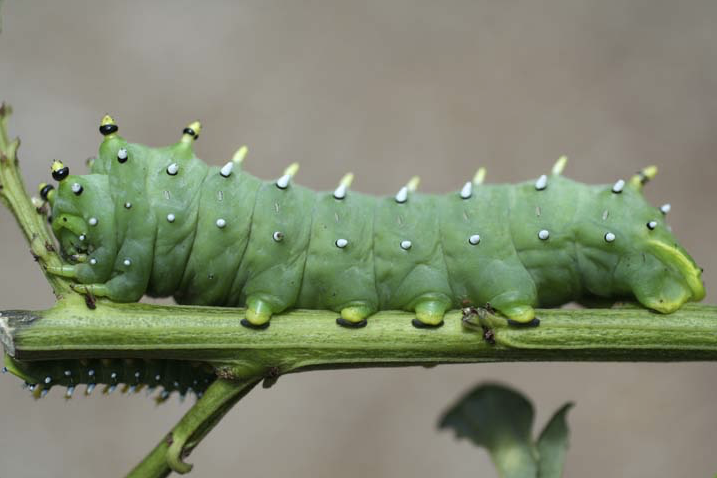 The green caterpillar measures up to four inches in length. After it has finished feeding, it spins a gray, oval-shaped silken cocoon. Ceanothus silkmoth cocoons may be found on branches of Ceanothus shrubs and other host plants. In her fascinating book Chumash Ethnobotany (Santa Barbara Museum of Natural History, 2007), Dr. Jan Timbrook notes that the Chumash people made rattles from dried cocoons.
The ceanothus silkmoth is found in coastal areas, foothills, canyons, and mountains up to 9,000 feet in elevation in California. This distribution coincides with the habitats of the food plants needed by the caterpillars: different species of Ceanothus, coffeeberry (Rhamnus californica), and a number of other native shrubs. The adult moths have nonfunctional mouthparts, so they do not feed and die shortly after they mate and reproduce. Females release a powerful chemical that attracts males during the early-morning hours.
At the Santa Barbara Botanic Garden, where many of their chosen larval food plants are grown, ceanothus silkmoths are sometimes seen clinging to walls of buildings on spring mornings.
Sally Isaacson is the volunteer and education coordinator at The Land Trust for Santa Barbara County's Arroyo Hondo Preserve. She was formerly director of education at the Santa Barbara Botanic Garden.