Opinion
What's the Plan, Mr. President?
Bombs Away, Snake Oil, and April Foolishness
Not bothering to get approval from Congress, President Trump fired Tomahawk missiles at a Syrian air base. The world, by and large, cheered.
Judging from angry responses from Syria and its Russian backers, the attack shows no sign of bringing about a peaceful settlement of hostilities in the six-year war, but it does throw a cloud over American democracy.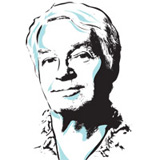 Congress, with its Republican majority, must somehow gain control of Trump's war-making decisions. During the 2016 presidential election and since, many worried about giving Trump access to the weapons of war.
Some congressional leaders were apparently quietly notified of Trump's plans to attack, but Trump asked no permission and had no clear legal authority for the attack. This is not democracy.
Since his election, Trump has acted as though he has almost unlimited power. True, he was "sending a message" to the Assad regime about the horrible, forbidden chemical attack days earlier that killed an estimated 86 civilians, including women and children.
But nothing would have been lost, and much gained, by first taking time to seek congressional approval. Certainly, it would have been swiftly granted, with democracy preserved and an important precedent established.
Trump has bull-like, impetuous impulses that need congressional restraint. "He is a man so unpredictable, so reckless, so petulant, so full of blind self-regard, so untethered to reality that it is impossible to know where his presidency will lead or how much damage he will do to our nation," editorialized the L.A. Times days before the attack.
It will be very hard for fellow Republicans in Congress, so heady with their own power, to restrain his, but it must be done. As for Syria, what's the plan, President Trump?
Trumpfeller
Once upon a time, there lived a fast-talking huckster named Rockefeller, who peddled miraculous elixirs to the gullible of America. No, not the John D. Rockefeller oilmeister but his father, William, who sold bottles of surefire cancer cure.
"While his medicine did not work, his dubious sales pitch did," points out Peter B. Doran, author of the new bio Breaking Rockefeller.
President Trump's medicine isn't working either, but against all odds, millions of Americans hopefully bought his snake oil, enough bamboozled suckers to put him in the White House.
So let's face it: We're stuck with this huckster for around 1,300 days, plus or minus, before we can kick him out. (Maybe sooner, if Al Jazeera gets hold of a YouTube video of him in that Moscow golden shower hooker episode.)
Congress is a co-conspirator and with Judge Neil Gorsuch being promoted to the U.S. Supreme Court, one political party controls all three divisions of the federal government. What craziness will be wreaked on the Republic can only be imagined.
Aprilfoolishness
It was hard to come up with headlines as bizarre ​— ​or hopeful ​— ​as what's going on in Washington, D.C. But here goes:
Trump Resigns
Stress 'Too Much,' Asks Congress to Appoint Hillary Clinton
The Don Apologizes for Using
Russ Election Help
Says Clinton Would Have Won Otherwise,
Donates Florida Mansion as Homeless Shelter
Trump Children Quit White House Posts
Volunteer for Peace Corps
Trump Daughter Ivanka Joins Planned Parenthood, Donates Inner-City Clinic
In One of Trump's Last Official Acts,
Cancels 'Useless' Border Wall Project,
Diverts Funding to Homeless Housing
Raiders Open in Las Vegas
Grandstand Slots to Finance Stadium
Russ Czar Vladimir Putin
Offers Trump Dacha Outside Moscow
Trump Says Nyet, 'Sub-Zero Golf Stinks'
North County Turns Liberal
Rejects Oil Fracking as 'Harmful to Water Resources'
Gov. Brown, High in Polls,
Will Run for President in 2020
Michelle Obama to Be Running Mate
Amazon's Jeff Bezos, Second Richest Man
in the World, Buys Washington, D.C.
Trump Family Refuses to Sell White House