Society Matters
Hospice Thanks Donors at Event
Organization Provides Critical Services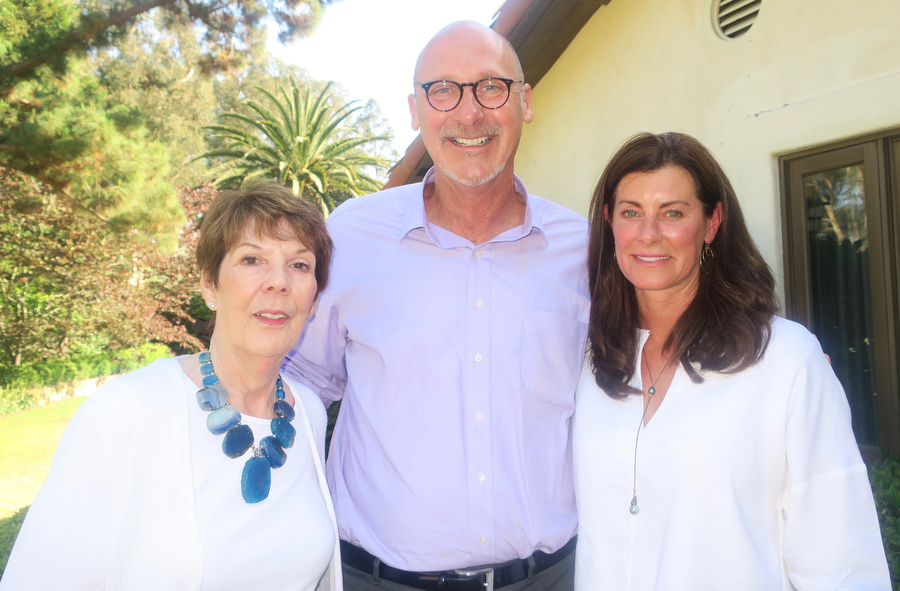 On June 17, Hospice of Santa Barbara (HSB) held its inaugural event for its new Shining Light Society at the lovely Hope Ranch home of Dr. Stephen Hosea. HSB created the society to recognize major donors who have helped "shine a light" into the darkness for those dealing with a serious illness or grieving the loss of a loved one.
Founded in 1974, HSB addresses the physical, social, emotional, and spiritual suffering of those impacted by serious illness or grieving the death of a loved one. Unlike a medical model hospice, HSB serves people regardless of diagnosis, treatment choices, or life-expectancy. All of its services are free to anyone in the community. HSB provides care management, counseling, mentorship, and compassionate care to adults and children. It works closely with agencies providing nursing care.
For the event, about 50 guests gathered on the picturesque grounds of Dr. Hosea's home overlooking La Cumbre Country Club's golf course. Organized by HSB Ambassadors Gerd Jordano, Linda Yawitz, and Mary Blair, the event featured an extended reception hour and a moving program.
CEO David Selberg thanked the supporters and noted that in 2016, HSB served more than 1,200 people through its adult and children's bereavement and patient care programs and that the demand for its services has increased even more this year.
Selberg shared that its Community Engagement and Education Program served more than 5,000 people last year. This program has various components,which are also all offered free of charge. HSB reaches out to schools, organizations, government entities, and businesses that have suffered a loss to assist them in coping with grief. It does professional training for staff at organizations and law enforcement entities that deal with grieving and death. It also provides general education about end of life topics to all types of organizations.
Board Member Mike McGrew, a retired police sergeant, related how he was introduced to Hospice when his 12-year-old son was diagnosed with bone cancer. He shared how Hospice saved him and because of the amazing help he received, he wants to do as much as he can for this community. McGrew noted that Hospice is helping people every day, in ways that words cannot even describe, and that it was "the help you gave me that allows me to stand here on Father's Day weekend and talk about the loss of my son."
HSB's policy of not charging for its services stems from a belief that these services are a community responsibility. According to Director of Strategic Advancement Charles Caldwell, at a time when families are facing incredible upheaval as well as emotional, psychological, and spiritual turmoil, HSB thinks it best to simply not have payment be part of the equation. It's motto is "Compassionate Care … Freely Given." How fortunate Santa Barbara is to have this organization and the donors who support it.
Hospice of Santa Barbara is always in need of donations and volunteers. The next volunteer training starts on October 4. For more information about HSB, go to hospiceofsantabarbara.org.
If viewing this story from a mobile device, click on "Desktop site" icon in top right to see more photos. Send event invites to Gail at society@independent.com.