Sports
Turning Tides of Water Polo
On the Triumphs and Struggles of One of High School's Most Challenging Sports
Water polo has been very good to Santa Barbara athletes, rewarding many of them with college scholarships and Olympic medals. It has also been hard on them, challenging them in just about every way a sport can.
"It's tough and demanding," Paige Hauschild said. "You're wrestling, sprinting to the other side [of the pool], wrestling, sprinting back to the other side. …"
Sawyer Rhodes said, "I played a lot of sports, and water polo is an accumulation of all of them. You throw and shoot a ball, all the while swimming, which can be the hardest aerobic exercise there is, and getting grabbed, pulled, and pushed."
Hauschild is the best female water polo player to come out of San Marcos High. Signed to a scholarship at USC, she led the Royals into the CIF Division 1 final this year, and then went into training with the U.S. women's national team, the reigning world and Olympic champions. Last week, she was the youngest player named to the American roster for this month's FINA World Championships in Budapest, Hungary.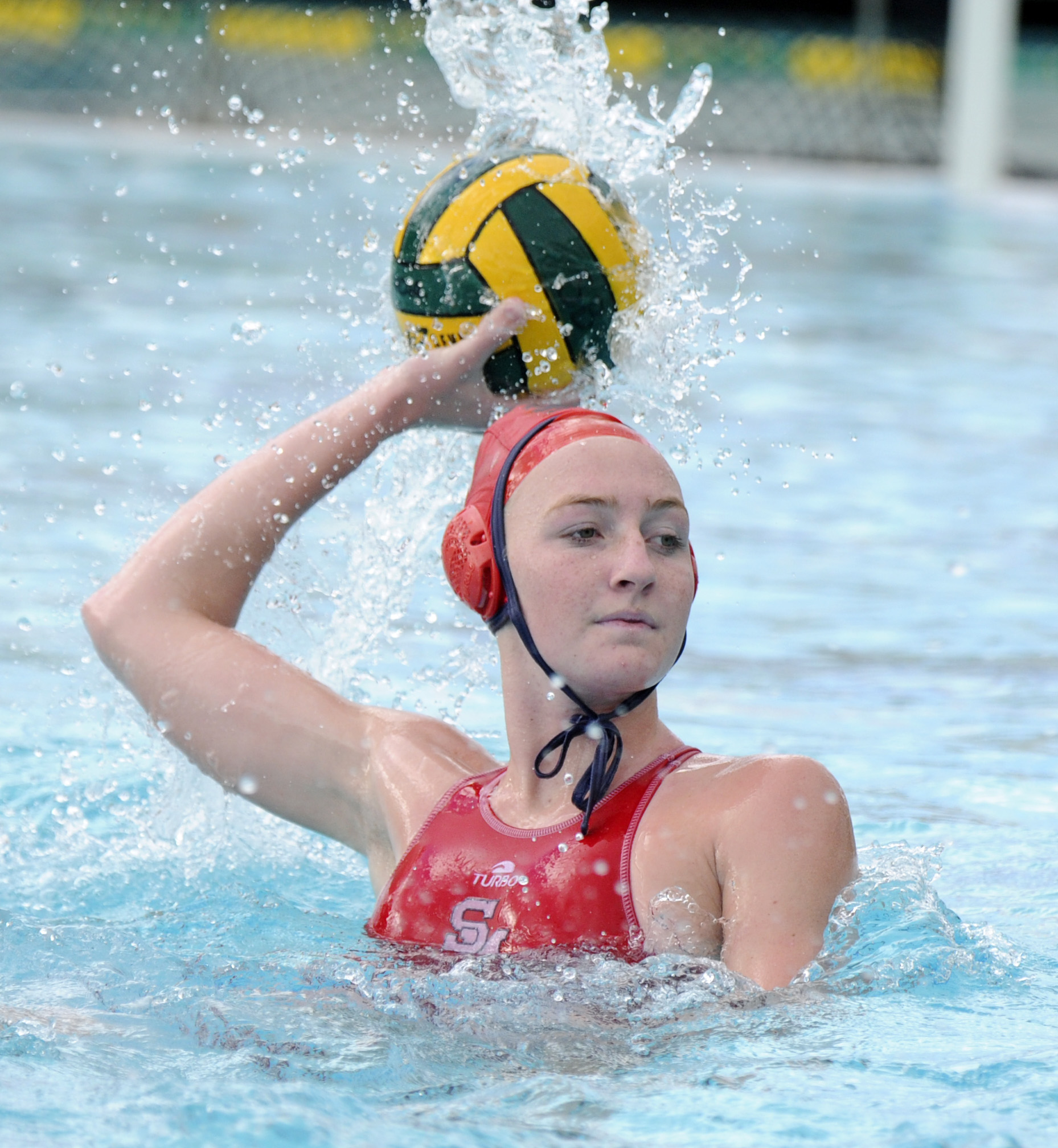 "Trying out for the best team in the world is intimidating," said Hauschild, who turns 18 next month. "I soak up as much knowledge as I can. The players who've come back from the Olympics are super driven, super passionate, and talented." They include Kiley Neushul, the former star at Dos Pueblos High and Stanford, and the leading scorer in the gold-medal match at Rio last summer. Another new member of the national team is Jamie Neushul, who followed her sister at DP and Stanford.
Rhodes is heading to Stanford this fall after making his mark at Santa Barbara High. Longtime coach Mark Walsh deemed him the best athlete ever to ply the water for the Dons. Unleashing a powerful left-handed shot, Sawyer set a school record with 370 career goals and has seen action with the youth national team.
"The main reason I made it through school was water polo," Sawyer said. He was a bundle of wild energy as a youngster. "My mom called me hummingbird because I liked sugar," he said. "Water polo drained my energy and kept me engaged. I'd come home gassed. My mom would say, 'What's wrong?' because I just wanted to eat and go to bed."
Three of Sawyer's best friends are also college-bound water polo players: Santa Barbara teammates Jack Rottman, going to Santa Clara; Adam Gross, to Pomona-Pitzer; and Miles Cole, a San Marcos all-leaguer who has received a scholarship to Princeton.
Another close friend and teammate of Rhodes was Connor O'Keefe, the young man accidentally hit and killed by a train near Summerland last March. "His death was tragic and the most pivotal and impactful experience in my life so far," Rhodes said. "I was 17, taking life by the horns like I'm invincible. I had never cherished it so much as I do now. I took so much for granted and that is probably one of my biggest mistakes. I lived life for the next big thing, my next goal. Connor's death, as hard as it was, taught me how to live in the moment. I now love the process, not the result. I cherish family time. I'm spending as much as I can with my friends before we embark on our own journeys."
He's excited about attending Stanford. "I was intimidated by the college workload," he said, "but my dad told me, find something you love, and it won't feel like work." He'll join a water polo team that has a strong group of returning players and hopes to contend for the school's first NCAA men's title since 2002.
Rhodes spent last week working at Stanford's water polo camp. "I talked to John Vargas [the Cardinals' coach], and he tried to convince me to try out for the national team and possibly go to the Olympics," Rhodes said. "I'd have to think long and hard. I wouldn't want to put a career on hold."
A letter was all the encouragement Hauschild needed to strive to be part of the next Olympic women's team. "I was 15 years old, training with the cadet team in Hungary, and the senior players wrote letters to us," she said. "Maggie Steffens wrote a two-page letter to me. She told me to have fun and play my best, and: 'I hope we can play on the same team one day.'" Hauschild was an alternate on the senior team at the World League Super Final in Shanghai, China, last month, and her roommate was Steffens, the team captain. "I showed her the letter she wrote three years ago," Hauschild said.
Although she has the profile of a rising star – Hauschild has proved to be an outstanding defensive player – she has learned, like Rhodes, to take nothing for granted. Two summers ago, she had a scary experience. She was training for the FINA Junior World Championships when her appendix ruptured, and complications set in after surgery. "I saw her in the hospital, and she was in a really bad place," San Marcos coach Chuckie Roth recalled. She barely made it across the pool in her first workout of the 2015-16 school year, but when water polo season came around, she was ready to roll again.
She's motivated to keep rolling every day of morning-to-night practice sessions with Team USA. "There's pressure to keep up," she said, "and hang with the big dogs."
Foresters Player of the Week
Evan Lee
He plays some outfield, does some pitching, and, above all, drives in runs. Lee came up as a pinch hitter in the bottom of the 10th inning Thursday and lined a two-out single, sending Walker Grisanti to the plate for a 6-5 Foresters victory over the Ventura Halos. Lee, who was the prep baseball player of the year in Arkansas and is now a sophomore at the University of Arkansas, had 12 RBIs in his first 12 games with the Foresters.