News
Santa Barbara Sheriff Blasts 'Sanctuary State' Bill
Says Senate Bill 54 Will Harm Public Safety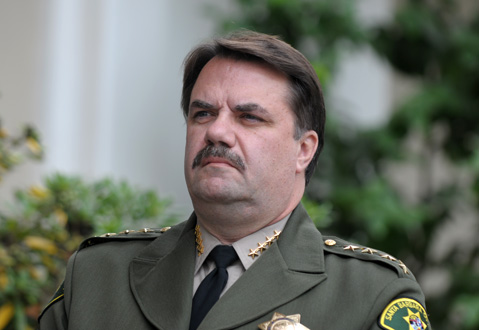 Last week, Santa Barbara County Sheriff Bill Brown testified in Sacramento to strongly oppose Senate Bill 54, commonly known as the "sanctuary state" bill. The measure proposes to be part of California's rejection of President Donald Trump's intensified immigration enforcement. But most California sheriffs and law enforcement associations worry the bill would harm public safety.
"This bill, in its current form, provides sanctuary for criminals," Brown told the Assembly's Judiciary Committee, where the bill passed 8-3. (In April, the bill passed the Senate on a 27-12 vote. It is expected to reach the full Assembly later this summer.)
Simply put, SB 54 would limit cooperation between local law enforcement agencies and the federal Immigration and Customs Enforcement (ICE) agency. It would, among other things, preclude peace officers from inquiring about an inmate's immigration status, prevent ICE agents from interviewing individuals in custody, and prohibit sheriffs from notifying ICE when they plan to release requested inmates.
As written, the bill allows some exceptions. For instance, sheriff's officials could notify ICE agents when violent or serious felons were going to be released (because they posted bail or completed their sentence). But exactly what constitutes "violent" or "serious" remains the subject of debate.
Brown ​— ​who was recently elected president of the California State Sheriffs' Association ​— ​contended the bill would prohibit his deputies from relaying information about "clear menaces." He pointed to those convicted of domestic violence, solicitation of murder, repeat drunk driving, and assault with a deadly weapon, among others. "What about drug dealers? What about burglars?" he asked.
Of the roughly 16,000 inmates incarcerated in County Jail last year, ICE agents picked up 250, according to Brown. Of those, he said, 200 were eventually deported.
Immigrant activists, however, argue the bill would stop ICE officials ​— ​under Trump's orders ​— ​from stomping on local police efforts. They worry a heavy ICE presence in immigrant communities would prevent residents from reporting crimes to police. Santa Barbara County is home to an estimated 40,000 undocumented immigrants ​— ​roughly 10 percent of the total population.
All eyes are now on Assemblymember Monique Limón, who has yet to announce her position. "I am planning to wait until the final language of the bill," she said, which "might be right before it gets to a vote."
She emphasized she has been supportive of other bills protecting vulnerable communities. One would require ICE agents to obtain a warrant to access a workplace (Assembly Bill 450) and another would provide grant money for certain immigration legal fees (AB 3). But "SB 54 is the only one getting talked about," she said.
Asked precisely what amendment SB 54 would need for her support, Limón could not say. "I don't think [it's] something specifically," she said. "For me, it has been important to include all of the voices." Also, Limón added, the bill would not actually create a "sanctuary state." "We as a state cannot stop ICE from providing enforcement in our state," she said.
State Senator Hannah-Beth Jackson voted for SB 54. "We don't want our tax money to be used to have ICE do something we don't agree with," she said. Though acknowledging concerns raised by county sheriffs, she noted that law enforcement tends to have a broader view of who qualifies as a violent or serious criminal.
For instance, the degree to which drunk driving is considered a potentially deportable offense is somewhat controversial. "Are we talking about one DUI?" Jackson asked. "A series of drunk driving [convictions] might be something different. We have got to get to that balance." Jackson added that the bill's language was pulled from California's three-strikes law, which, she argued, is "one of the toughest in the nation."
But in closing remarks last week, Brown argued that 15 El Salvadoran and Nicaraguan MS-13 gang members charged with killing 15 people in Santa Maria were all undocumented. Of those, three had prior criminal convictions, but none would have met the exceptions in SB 54. He added that his deputies currently work with federal agents to investigate panga boats caught trafficking drugs or human beings. Though the bill allows local sheriffs to work with ICE agents on a task force, Brown said that arrangement would be too formal for their immediate needs.
But negotiations are not over. Mike Durant, a Santa Barbara County senior deputy sheriff, is the president of PORAC (Peace Officers Research Association of California), which opposed SB 54 and is known to be a heavy hitter in Sacramento.
For his part, Brown said he could support a bill that simply said local law enforcement should not engage in "frontline immigration enforcement." Or one that prevented sheriffs from holding inmates requested by ICE agents in violation of federal law. Those already "reflect our beliefs and current practices," he said.
Brown said he has plans to meet with the bill's author, Senate President Pro Tem Kevin de León. "I will take him at his word he intends to do that," he said. Asked how optimistic he feels, he said, "I just don't know at this point."