News
Inside Fire City, Population: 1,612
Dos Pueblos High Transforms into Whittier Fire Base Camp
Usually a ghost town during the sleepy summer vacation, Dos Pueblos High School is now a bustling city, a temporary home to the 1,612 firefighters, U.S. Forest Service managers, and supporting personnel working to extinguish the Whittier Fire. The eight-day-old fire, which is 38 percent contained, has consumed 17,364 acres in the Santa Ynez Mountains west of Goleta, joining 12 other large fires burning in California at press time.
Last Thursday evening, The Santa Barbara Independent toured the base camp as firefighters prepared for the 12-hour night shift ahead of them. Under a mostly clear sky, men and women milled around the high school's parking lot, now called Main Street. "It's got all the logistical parts you would need in a city," explained Fire Information Officer Mike Theune, pointing to a radio information-tech trailer and a tool shop, where firefighters can have their saws repaired and sharpened at the end of a shift.
Next door to the shower facilities and a long line of porta-potties, a female firefighter picked up a bag of clean clothes from a trailer packed with washers and driers. Like many of the companies contracted to provide base-camp services, the mobile laundromat service kicks into gear during fire season. "We're capable of washing 1,500 pounds per day," boasted an employee. Last week he was washing the sweat and soot out of fire gear at Big Bear before heading west to Santa Barbara.
Hygiene is paramount, explained Theume's colleague Mary Sullivan, as we walked past a group of California Conservation Corps members washing their hands before dinner. A sign that hung above them stated "No Nomex Shirts in Dining Hall," referring to the iconic yellow fabric that protects firefighters from heat and flames in the field. The rule is no formality but rather a safety measure against the spread of poison oak, which is endemic to Los Padres National Forest. At best, poison oak is an irritating nuisance; at worst it is a very serious medical issue that can require steroid treatments, according to Jim Harris, deputy fire chief for Los Padres National Forest.
Under a large tent, firefighters chowed down on penne pasta with Italian sausage, lentils, and a side of garlic bread, all served from a giant food truck. While living out of base camp for weeks at a time, meals become sacred, explained Theume — shared moments of "normalcy and routine" for firefighters who often work 14 days at a time. Both Theume and Sullivan, who've been flown in from Sequoia and Kings Canyon National Parks and Plumas National Forest in Northern California, often celebrate their summer birthdays at command centers.
After eating, crews stock up on lunch, electrolytes, and water. In total, they carry 45 pounds or more of weight and don heavy-duty Nomex suits, boots, gloves, and hard hats. Add to that the extremely high temperatures expected this weekend and the rugged terrain of the Santa Ynez Mountain range, and the threat of heat exhaustion becomes very real. As of Thursday, five firefighters had suffered minor heat injuries during the Whittier Fire. This week, flags across the state were flown at half-mast in honor of firefighter William Jaros, who lost his life to a heat-related illness in Six Rivers National Forest on July 8.
At 7 p.m., the night shift crews headed to Dos Pueblos' outdoor amphitheater. During a sober 20-minute operational briefing, a series of fire specialists and incident commanders laid out the plan for the evening and warned that the cool and humid marine layer that had slowed the fire's growth during the week were giving way to hotter, drier, windier conditions like those that had first fueled the Whittier Fire's rapid growth the Saturday before. Sundowners were forecasted for the following evening. "I'm not nervous, but I am on alert," said Harris.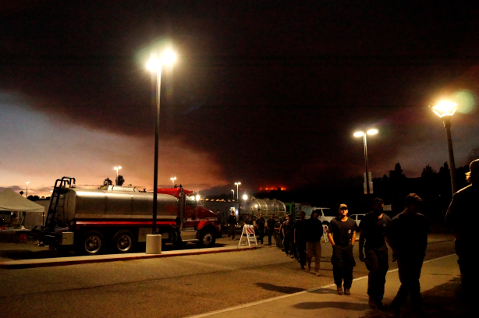 At 8 p.m., clouds of dark smoke, blown toward the ocean by evening winds, billowed across the sky over the command center, as night crews loaded into firetrucks headed toward the mountain. By nightfall, residents across Goleta were calling 9-1-1 with reports of tall orange flames on the ocean side of the Santa Ynez Mountains near Las Varas and Dos Pueblos canyons. Though not immediately threatening to any communities, the fire behavior confirmed the forecasts of squirrelly winds and fire growth along the southern fire line. At 8:45, a tired day-crew was seen walking single-file back to their tents, which were set up across the Dos Pueblos baseball and softball fields.
When the Whittier Fire is finally extinguished, the command center facilities will be disassembled, packed up, and shipped off. Just as quickly as it was erected, the fire city will be taken down in a matter of a few days, its citizens sent off to the next fire.
Advisory: The fire's commanders ask that people not visit or get near the command center for safety's sake. A great number of large trucks and heavy equipment are moving in and out of the area, day and night.