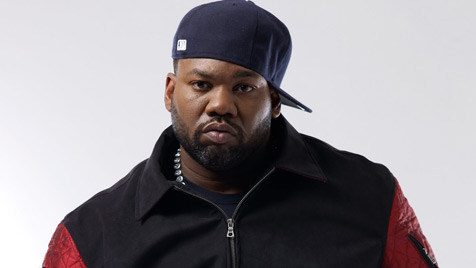 Corey Woods, better known by his stage name Raekwon (or Raekwon the Chef), is a rapper of legendary proportions. Starting his career as a member of the highly esteemed Wu-Tang Clan, Raekwon released his first solo record, Only Built 4 Cuban Linx …, in 1995. He is currently on tour for his seventh studio album, The Wild, which dropped on March 24.
Although he hasn't achieved the same solo success as some of his fellow Wu-Tang members, Raekwon feels blessed to have such an avid following. "I feel the love from all my fans. I'm getting the respect I deserve and giving it right back to the people that support what I'm doing," he said, adding that he likes to feel involved with his environment. "My favorite part is coming out after the show and being amongst the people: Shaking hands, taking pictures, and that kind of stuff — that's what it's all about."
Fans of all ages have come out to support Raekwon on this tour, a fact that he appreciates. "It's not just the older dudes turning up at my shows now. I love seeing the younger kids, 16, 17 years old. I see people who weren't even alive for the start of this all, and they're still showing up and rapping the lyrics and loving every minute of it. That mix of older and younger generations is amazing." For The Wild, he pays homage to his '90s roots while lyrically speaking to his identity today. "I do what I do for the fans," he said. "I want to show them the stuff I'm making now, but I'm still going to play songs all the way back to my early releases."
As for his Santa Barbara show, Raekwon said to expect a lot of energy. "I'm an artist who is really taking his craft to the next level and capitalizing on my skills as a musician," he said. "I'm also bringing an up-and-coming artist, P.U.R.E., on tour with me and showing him what it's all about. Santa Barbara is one of my favorite places on the West Coast, so I can't wait to be back among the people there."
Raekwon plays Friday, August 4, 9 p.m., at SOhO Restaurant & Music Club (1221 State St.) See sohosb.com.