News
Among the Detainees at Adelanto
A Look Inside the Detention Facility Where Santa Barbara's Undocumented Residents are Often Held
For Kharen Hernandez, the most devastating part of being at Adelanto Detention Center was the reading.
When fellow detainees opened official letters from deportation officers, Hernandez was asked to translate. Sometimes she had to give them the news they would be deported immediately. "That was the worst part," she said.
Originally from Durango, Mexico, the 27-year-old came to Santa Barbara at age 4. After she was convicted of a DUI last December, she spent three weeks in County Jail. (She denied she was the driver.) She had two priors for petty theft. Custody staff let her out eight days early. The deputy told her, Hernandez recalled, "I'm going to be honest with you. The reason why you are being released is because ICE is here for you."
Twelve hours later, Hernandez found herself on the top bunk in Adelanto's west wing, where roughly 120 women are housed in massive rooms.
The experience was about adapting. The food, she said, was disgusting. The water was horrible. She lost 30 pounds. She went through a two-week period where she didn't feel like calling her family. "Bad idea," she said. "They got scared I got deported."
She also made friends from France, Russia, and Guatemala. She heard stories about people running to America. Some were the only one in their group to survive. "It was intense," she said. "You just make the best out of it."
Adelanto is just one possible destination for Santa Barbara's undocumented residents who find themselves in law enforcement's crosshairs. Interviews with several detainees and immigration attorneys indicate the severity of charges ranges from nonexistent to murder.
One man, who requested anonymity, was arrested by ICE (Immigration Control and Enforcement) agents when he was scheduled to appear at the Sheriff's Office to turn in his electronic monitor. He had three DUIs.
Another man, a 42-year-old landscaper, had no criminal charges. Immigration officials picked him up after he spent the night in County Jail after his wife impulsively called the police one night amid a heated argument. In both cases, interviews with their wives revealed the men rarely talked about the conditions at Adelanto. "He doesn't want me to worry," one woman said.
The precise number of Santa Barbara County residents held at Adelanto was not made available by ICE. Santa Barbara Sheriff Bill Brown, however, said ICE requested to hold 620 foreign-born inmates last year.
Brown does not hold inmates longer than their local sentences, because that would violate state law. His custody staff does, however, allow ICE agents to access their databases and to interview inmates (which they can refuse). Jail staff notifies ICE when they plan to release a requested inmate. Last year, ICE agents managed to pick up 258 inmates as they set foot out of County Jail.
Not all of the ICE arrestees were sent to Adelanto. Depending on bed space, some end up at an Orange County facility. Other detainees ​— ​those who have been deported previously ​— ​are simply sent back to Mexico by day's end.
Two hundred inmates picked up at Santa Barbara County Jail last year were ultimately deported, according to Brown.
In addition, authorities estimate 250 undocumented immigrants in Santa Barbara County were arrested last fiscal year during targeted field operations. ICE authorities say they prioritize criminals. These targeted operations happen every day, said ICE deputy field office director Thomas Giles.
The drive to Adelanto is long and hot. The scenery is desolate and devastated. Even the cactus-shaped trees are sparse. Random mailboxes do not appear to belong to homes. Greeting visitors is an oversized sign: "Welcome to Adelanto: The City of Unlimited Possibilities."
But for detainees, there are usually just three: stay in detention, bail out, or get deported.
There are an average of 1,600 individuals locked up at the facility, which is part of San Bernardino County. It began holding detainees in 2011. Some detainees stay just a couple of days; others stay years. A majority are Mexican, but Haitians, Chinese, and Salvadorans are well represented.
These "detainees" are not "inmates." They've already done their time; some have never been formally charged. According to Giles, 30 to 35 percent of detainees at Adelanto are not convicted criminals. A small undisclosed percentage are seeking asylum.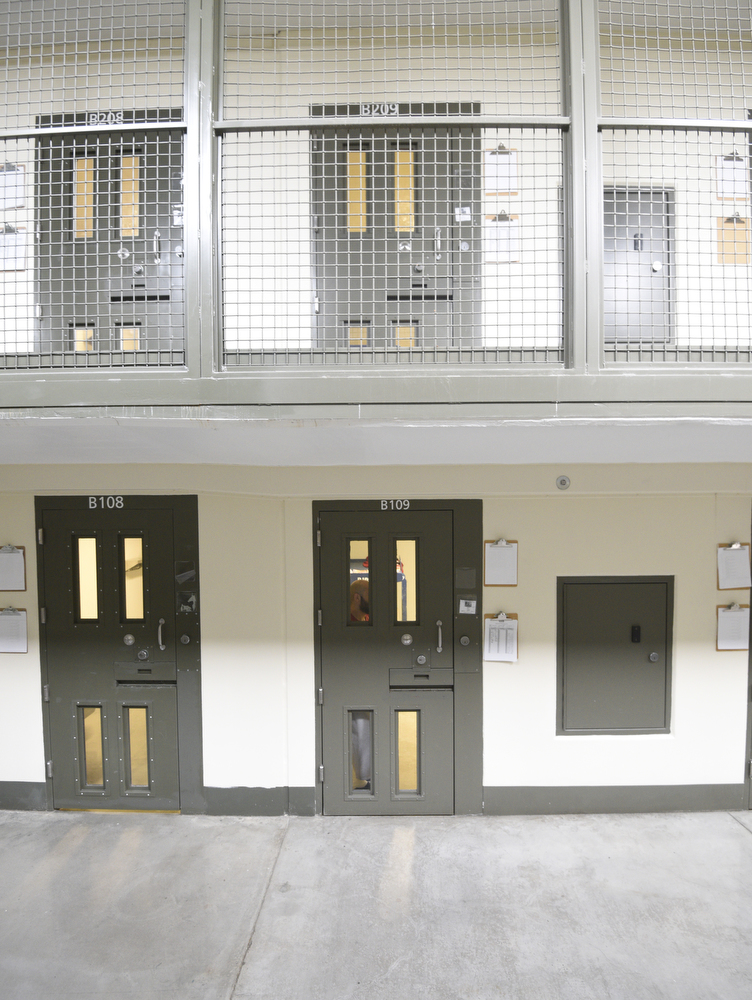 In any case, they are given a color-coded jumpsuit. Red is for felons. Orange is for multiple-misdemeanor convicts. Blue is for minor offenders or those with no criminal record. Guards said the reds never commingle with the blues.
"It's just like being in prison," said Los Angeles–based immigration attorney Rajan Dhungana, who currently has about 20 clients at Adelanto. The risk of violence at a detention center, he said, is certainly less than in prison.
Adelanto also appears more sterile and nondescript than prison ​— ​like a scene out of One Flew Over the Cuckoo's Nest. Residents can roam in large, gray rooms and play Xbox or read or watch TV. They are allowed four hours of outdoor time every day. Soccer and Zumba are offered once a week, but usually at 7 a.m., Hernandez said.
Those who get into fights are confined to "disciplinary segregation," a small cell made up of a bunk bed with a metal door that slams shut. Voluntary segregation is also available for those who choose not to mingle with the others.
The absence of any identifiable smell was noticeable, except during lunchtime. Plastic trays of breaded chicken patties, beans and rice, corn, a biscuit, and a red apple appeared out of a serving window just barely open. Very little salt is used, to cater to those on low-sodium diets, guards said. Detainees who volunteer to cook and serve meals earn $1 per day, an amount set by Congress.
Detainees can purchase hot sauces and instant ramen noodles from the commissary. "There were fights because of the microwave," Hernandez recalled.
Welcoming visitors to the Adelanto Detention Center is another oversized sign that simply reads: "GEO." The GEO Group is the private prison company that runs the detention center as well as the separate criminal prison located next door.
GEO is the second largest private prison operator in the United States, and the company has facilities in Australia, South Africa, and the United Kingdom.
The super PAC affiliated with the company donated $170,000 to President Trump's political campaign and, according to multiple media reports, $250,000 to his inauguration committee. After taking office, Trump reversed Obama's direction to phase out private prisons.
"Our political activities focus entirely on promoting the use of public-private partnerships," a GEO spokesperson wrote in an email. "[A]nd our contributions should not be construed as an endorsement of all policies or positions adopted by any individual candidate."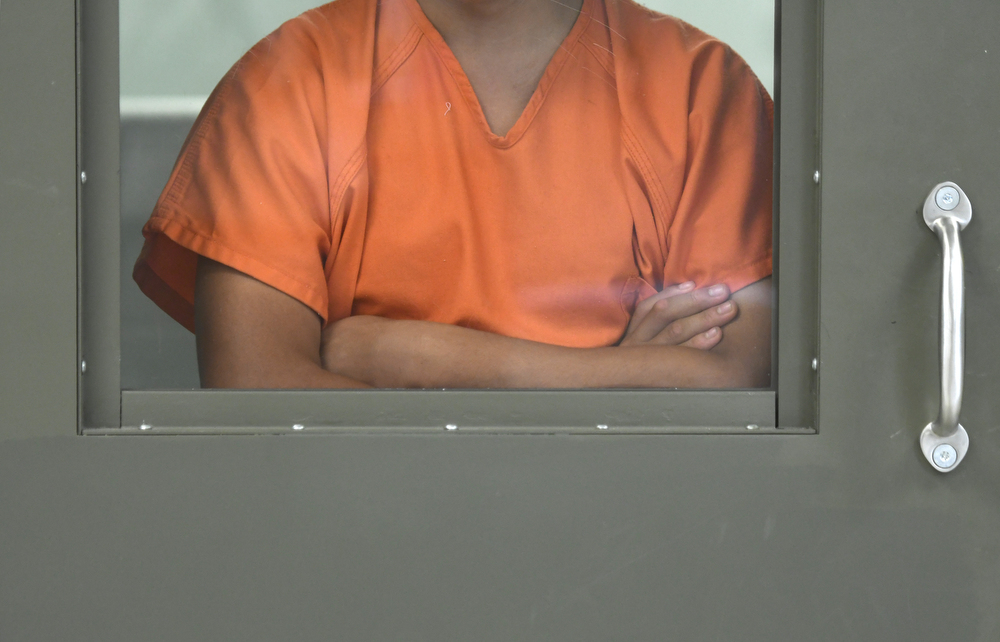 But many criminal-justice-reform activists argue that for-profit prisons are driven by economics. Attorney Dhungana said GEO guards earn less than sworn peace officers and tend to behave less professionally, too. "Some are more abusive than others," he said. "It's a rent-a-cop situation."
GEO declined to release salary rates for guards but said an Obama policy issued last year required staff to undergo 174 hours of training.
Dhungana said GEO guards once told him that one detainee, who was not his client, committed suicide by choking on a sock. "No one self-swallows a sock," he refuted. When asked, ICE spokesperson Virginia Kice said via email that Adelanto had had only one suicide death since 2011.
The key change under the Trump administration, authorities say, is that ICE agents are forced to look at everyone during targeted enforcement operations.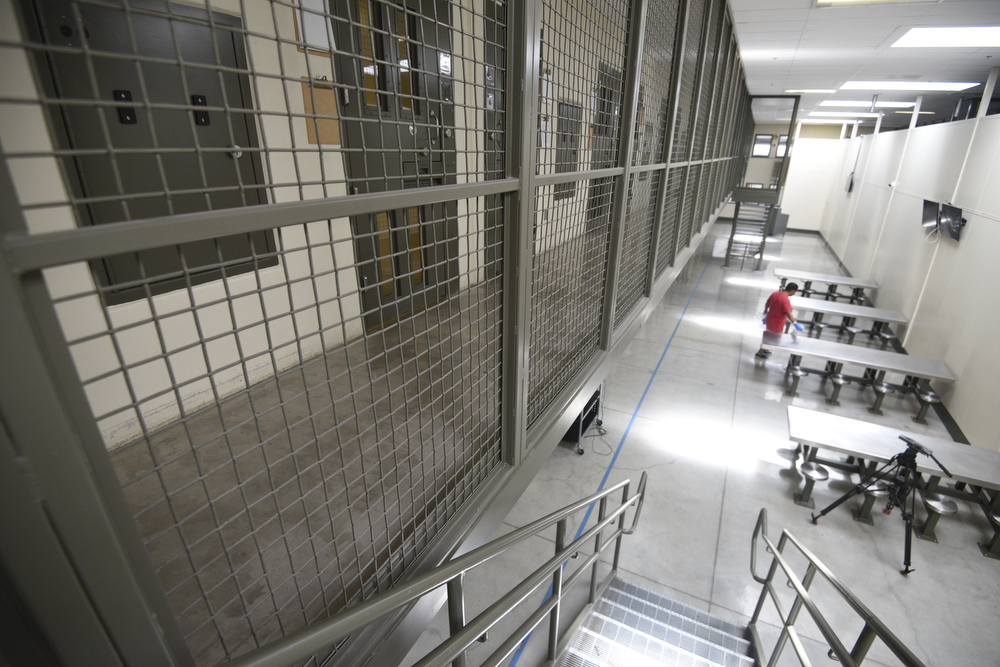 In January, President Trump issued an executive order stating, "All those in violation of the immigration laws may be subject to immigration arrest," while ordering officials to focus on criminals.
While undocumented immigrants in a private home can ask ICE agents to leave, they rarely do. "In my experience, they are usually going to talk," Giles said.
Though Trump called for 10,000 more immigration officers, the positions have not been filled. That could change after Congress passes the next federal budget in October.
Most ICE work is done in county jails and prisons. That would change if the state passes Senate Bill 54, the so-called "sanctuary state" bill. That law would limit or eliminate sheriffs' cooperation with immigration. Proponents such as the Santa Barbara Interfaith Alliance scoff at the notion that local resources are used to further Trump's toughened immigration initiative. Opponents such as Sheriff Brown argue the bill would force ICE agents to do more targeted enforcement out in the community, which would present safety concerns.
As for Hernandez, she returns to immigration court in January 2018. In the meantime, she is hoping a judge grants her permanent residency. She is married to a man in the U.S. Marine Corps.
Sitting at Natural Café recently during her lunch break, Hernandez did not seem worried. She remembered the days when she was a young girl. Border agents would usually let her across whenever she showed them her school ID. For the time being, those days are over.