News
Catching Up with Jim Cadenhead
Navigating Life on Wheels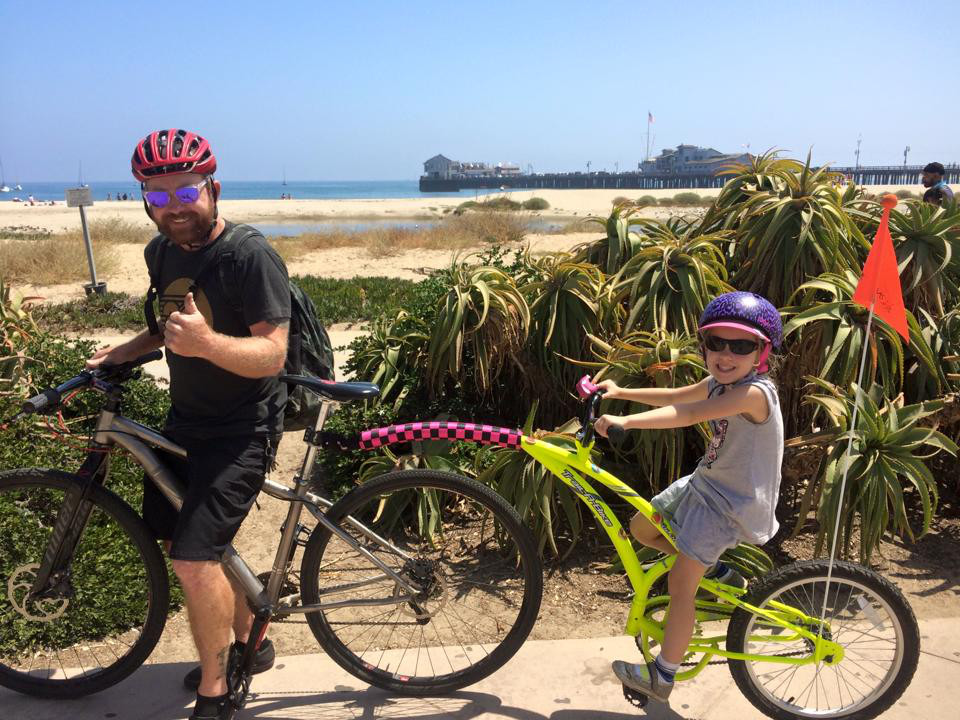 "Every kid needs an escape," says Jim Cadenhead, "a way to get away from everything for bit." For Cadenhead, this escape came in the form of cycling. As a child he learned to bike on the long dirt driveway of his Virginia home. He enjoyed it so much that he rode for hours. "I literally pedaled up and down that driveway until it got too dark to see." Participating in BMX, mountain biking, fixed gear, and nearly every other form of biking, Cadenhead has woven cycling through both his professional and personal life.
As a young teen, Cadenhead hoped biking might help attract the attention of girls. "I thought it was something I could do to show off and maybe pick up chicks," he laughs, "but it ended up teaching me more about myself than anything else."
Coming onto the freestyle BMX scene in the late 1980s, he joined a crew of outsiders. "Everybody else was doing football and basketball, even cross-country was recognized by the schools, but we were doing something different. It was pre X Games, and BMX was still kind of underground."
While he sometimes felt alienated from mainstream athletics, there was also a sense of comradery. "I felt a connection to everyone else who was doing it anywhere." Cadenhead participated in events that were precursors to the X Games, riding with Dave Mirra, Mike Laird, and other rising stars. "It was a lot of fun, it was a very welcoming community, and it still is."
Cadenhead has worn a number of professional hats in the biking world. Working as a test mechanic for Bicycling Magazine, delivering packages as a bike messenger, hosting his own podcast, and eventually opening up two bike shops, Orange 20 in L.A. and Cranky's in Santa Barbara.
He has moved on from each of these endeavors, having found something to love in each role. As a bike messenger working in Richmond, D.C., and L.A., he enjoyed being outdoors, pedaling up and down city blocks, navigating the sometimes perilous traffic around him to deliver upward of 70 items a day. He still calls it "the awesomest job in the world."
When the North American Cycle Championships were held in San Francisco in 2007, Cadenhead decided not only to compete in the event but to ride there, from Los Angeles, on his fixed-gear bike. "I just used the bike that I was going to compete on," he says. The fixed gear meant he covered the 645 miles, including long climbs and descents, without the ability shift down or to coast.
While he enjoys all forms of biking, Cadenhead has found touring to be the most meditative. "The times I've been the most defined as a person or individual are after long periods of solo touring, when I've been able to ask myself every question."
With the birth of his daughter, Esther, in 2010, Cadenhead relocated from Los Angeles to Santa Barbara. He became active in the local biking community, serving on the S.B. Bike Coalition board, bringing the International Bike Film Festival to Santa Barbara, and volunteering with youth. Eager to share his love of biking with the next generation, he organized group trips, bringing local kids up to the Atascadero skate park. "I just thought, if someone had done that for me as a kid, it would have been the greatest thing ever."
It was on one of these group trips in 2012 that he suffered a serious injury. While attempting a stunt at the skate park, he came down on his bike and was impaled by the handlebar. "At first I just thought I'd had the wind knocked out of me — I've fallen a lot of times — but when I tried to stand up and then passed out, I knew it was serious."
Fortunately, he made a steady recovery and was soon back on his bike. Today, Cadenhead works for the U.S. Postal Service, delivering mail and packages around Santa Barbara, often walking over 10 miles per day. Biking remains an integral part of his life. "Nearly every major lesson I've learned is somehow related to a cycling experience I've had."
After experiencing the thrill of competition, the challenge of achieving personal goals, and the introspection of cross-country tours, Cadenhead seems to have arrived back where he started when he first learned to pedal. "My definition of what biking means has changed a lot over time. Sometimes I'm biking with kids in their twenties or sometimes with people in their sixties and seventies. A couple hours at skate park, commuting to work, or 20 miles of dirt trails, it's all just fun now."