Angry Poodle
Ending DACA to MAGA Is CACA
Dreamers are Among the Best of Our Best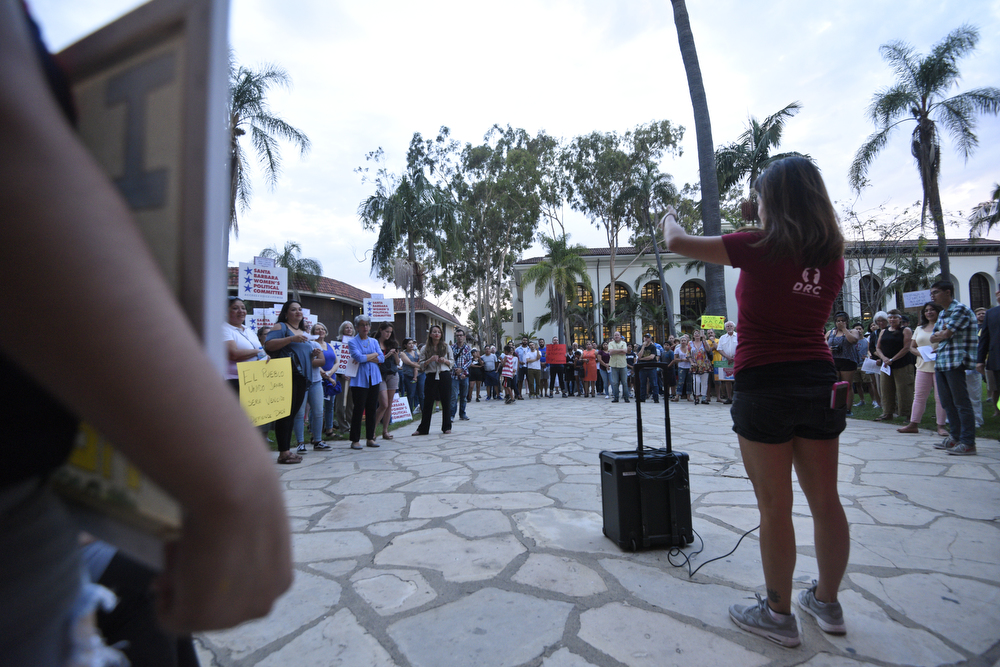 DUMBSTRUCK: If I were to find myself suddenly dispatched back to the old country, it wouldn't be pretty, either for myself or my nation of origin. Sure, I like a well-poured Guinness. And yes, I get all lumpy throated at the opening strains of "Danny Boy." But let's get real: No, I don't speak Gaelic; no, I don't like clotted-blood black pudding; and no, I don't eat soups made with seaweed and stones.
As for sports, I'd be utterly lost. Translated into English, the big ones there are Irish football and hurling. In their native tongue, however, these games are more colloquially known as "Peil Ghaelach" and "Iománaíocht/Iomáint," respectively, the latter being a rough-and-tumble stick-and-ball variant of field hockey that's been played for about 3,000 years. The rules of the aforementioned are about as easy to decipher as the pronunciation.
The good news, for me at least, is that my people sneaked into this country more than a few generations ago. That makes me legal. That's in stark contrast to the Dreamers, the roughly 800,000 young twenty-somethings who got sneaked into the United States, mostly from Mexico, as babies by their parents and whose in-limbo legal status the DREAM Act sought to address.
So shameful was Donald Trump's much-heralded decision to rescind DACA (Deferred Action for Childhood Arrivals) ​— ​the executive order enacted in 2012 to allow these kids to work in the United States without fear of deportation ​— ​that not even Trump himself could do the deed. Instead, he dispatched the henchman he hates the most ​— ​Attorney General Jefferson Beauregard Sessions III.
Jeff Sessions, who has the flinty smell of a witch burner to him, is an honorable man, which makes him ​— ​almost by definition ​— ​a great hypocrite. Sessions has famously blistered President Obama's use of the executive order to enact DACA back in 2012 as being constitutionally impure; such matters, he's argued, should have been reserved for the quill pens of Congress. To the extent Sessions has a point, it's worth noting that since 2001 Congress has had the opportunity no fewer than seven times. Seven times. Each time, politics got in the way.
More precisely put, Sessions, then a senator, got in the way. Every chance he got, Sessions personally spearheaded the charge to block any congressional action on immigration reform and the Dreamers. Deploying rhetoric oscillating from puce to purple, he billowed and blustered, equating the Dreamers with terrorists, criminals, and unscrupulous job stealers. That same rhetoric ​— ​so overreaching and threadbare of factual substantiation ​— ​was on display this week, as well.
A little-known fact: Pushing for the DREAM Act and variants of what would become DACA all along the way has been the Department of Defense. Back when legislative interest really achieved critical mass in 2007, the military was experiencing a crisis in recruiting. At the time, the United States was waging war in Iraq and Afghanistan. For whatever reason, the military couldn't muster an army big enough from the raw material of those born in the U.S.A. By sweetening the pot to the foreign born, the military hoped to improve its numbers.
There are of course no shortage of studies on the Dreamers and their contribution. The numbers are all over the place, but the bottom line is that these are the very people any country would want. By legal definition and requirement, these are people who manage to keep their noses clean and to the grindstone at the same time. They work hard, go to school, and do not get arrested. They achieve.
On immigration matters, Trump talks constantly about trying to expel the "worst of the worst," but chaffing at so easy a target, he's now set his sights on the best of the best. According to a Congressional Budget Office study a few years old, Dreamers will save American taxpayers roughly $1.4 billion over a 10-year period in terms of avoided social service costs, while adding to federal coffers by $2.3 billion. More recent estimates suggest DACA would create 1.4 million jobs between now and 2030. For those who suggest these are jobs for which American-born citizens should have first claim, I'd only point out the $13 million in unpicked crops Santa Barbara County growers buried this summer because there weren't enough pickers to hire.
For those who worry that a welcoming approach sends the wrong message to immigrants intent on breaking the law, I'd point out the new study just released by Stanford University. Since California allowed illegal immigrants to obtain driver's licenses in 2015, it shows that the number of hit-and-run accidents reported statewide has dropped by 4,000, or 10 percent, while the number of insured and properly trained drivers increased by 800,000. You do the math.
In the meantime, it appears the administration remains intent on cutting off its nose to spite our face. Maybe our lips, eyelids, and ears, too. Back in the old country, no doubt they'd heave a great sigh and say, "Aye, Jayzus!"
"Aye, Jayzus," indeed.