Cover Story
The Cannabis Carnival Comes to Santa Barbara
The Industry Explodes, Leaving Everyone in It Wondering What's Next
Ivory is good with a pair of scissors. She used to trim hair; then she trimmed pot.
Yes, trimming the buds of marijuana plants has long been a lucrative job in California ​— ​especially since the state made medical use legal more than 20 years ago. It was a perfect gig for those not interested in finding permanent employment. During the harvest season, Ivory and her friends could earn up to $200 a day ​— ​in cash, with no taxes and no social security. It only lasted about six months, and then you could travel the world or do whatever you wanted until the next harvest ​— ​and there would always be a next harvest. Now, as state after state legalizes and regulates what old-timers still call marijuana, the job of the trimmer, along with the whole cannabis industry, is going mainstream.
Santa Barbara has never had the reputation of Humboldt County, where scary dudes infamously ran around in camo outfits and carried AK-47s to protect their marijuana crops ​— ​but plenty of pot was grown here. So when Proposition 64 passed last year, legalizing recreational cannabis sales, county supervisors called a formal hearing. They wanted to get an idea of who might apply for one of the many legal "seed-to-sale" permits the county will require. Imagine their surprise when the room filled to capacity with sunburned tomato farmers, hipster millenials, and unfamiliar men in expensive suits who looked like they had just sped up from Beverly Hills.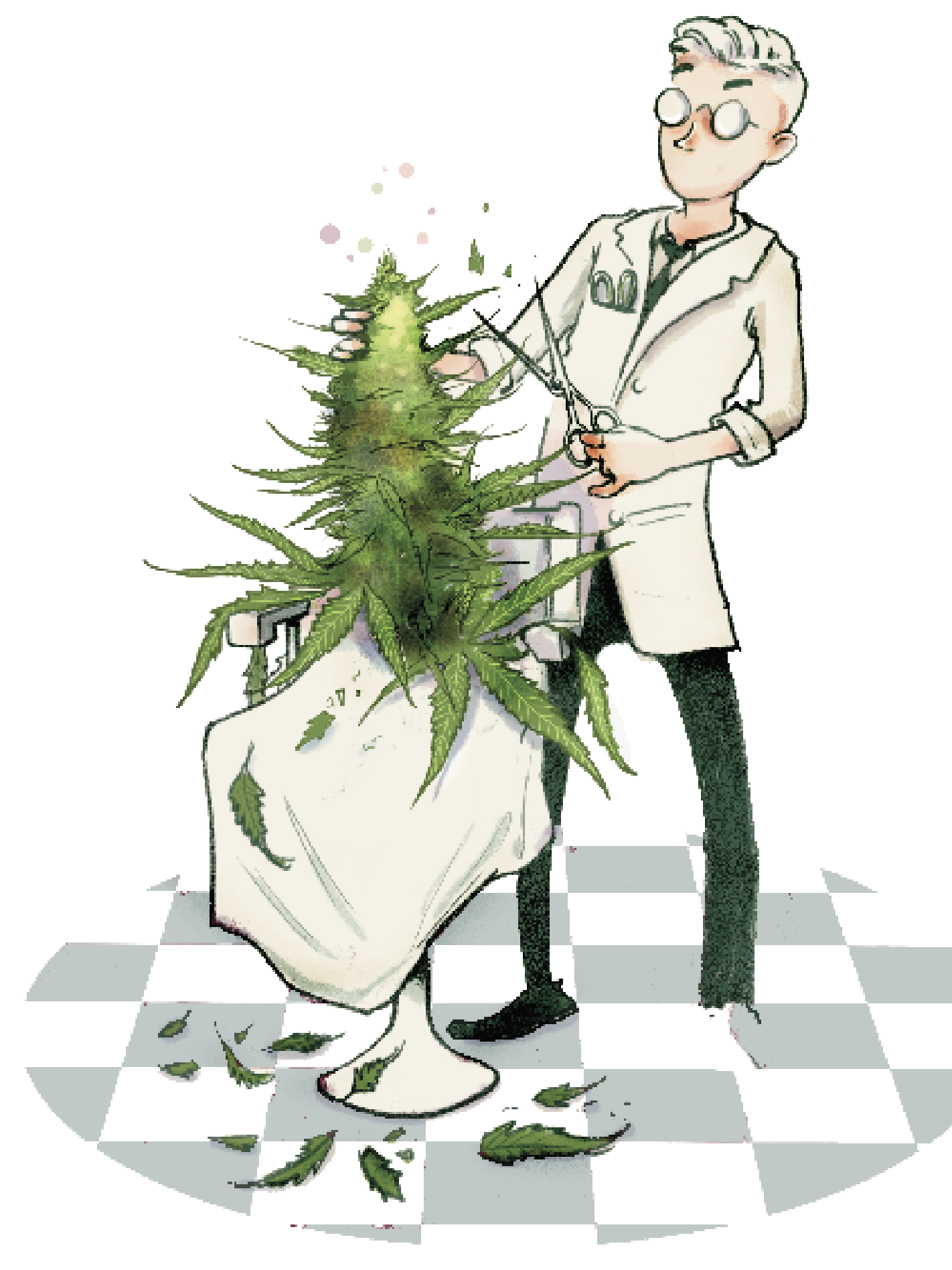 Despite the fact that the federal government still considers cannabis a Schedule 1 drug, right up there with heroin, 29 states have enacted a variety of laws legalizing the substance. And now the plant, in all its forms, is becoming one of the United States' fastest-growing industries, a mass-produced commodity that has entrepreneurs and corporate giants eager to get in on the ground floor.
What is this going to do to pot trimmers such as Ivory?
For marijuana growers, the first week of September historically has been the beginning of the harvest season. Trimmers, hired by word of mouth, would spend almost half a year doing nothing but eating, sleeping, and trimming. When marijuana was still completely illegal, trimming constituted an underground culture of workers, sitting at long tables, in backyards or garages, in trailers and barns, often smoking weed and drinking beer. The lucky ones were able to work on large, beautiful properties. One Santa Barbara trimmer, Matt, has such a good reputation that he is allowed, even today, to work from home, trimming up to five pounds of marijuana in his living room. Of course, not all growers were so laid-back with their employees. But everyone was well paid.
As it becomes increasingly legal to grow in this country, more weed is on the market, and thus its wholesale price is dropping. Before Prop. 64, the market value went as high as $3,000 a pound. Now, it ranges from $1,600 to $2,000. Next year, some experts say, the value could fall by half again. Wages for trimmers, therefore, will also go down.
"Trimming marijuana is menial work that has been well remunerated because of the bizarre legal status of marijuana," one longtime industry expert said.
"But that status is changing rapidly. It's going to destroy the job as trimmers know it."

For much of this year, I have been covering the burgeoning cannabis industry in Santa Barbara County. I've visited the 200 acres of Carpinteria greenhouses, driven the windy roads of the Lompoc Valley, and interviewed attorneys in their Santa Barbara offices as they strategized how to protect their new clients from the wrath of U.S. Attorney General Jeff Sessions.
I've spoken with bankers who are trying to figure out how to legally accept hundreds of millions of dollars from cannabis moguls without losing their federal deposit insurance. What I have really been witnessing is a huge industry exploding around us.

As enterprising farmers anticipated the passage of Prop. 64, they began to lease or purchase hundreds of acres of Santa Barbara County land, some of which had not been farmed for years. The prices for Carpinteria greenhouses have skyrocketed ​— ​by as much as 60 percent, one realtor estimated. Accurate figures are not possible to come by because deals are made in cash.
Some of the large cannabis farms also grow traditional crops. But farmworkers on those fields do not receive the $15-$25 an hour pot trimmers can still earn, not to mention the health insurance or English classes offered at some cannabis operations. Clearly the incentive to work in cannabis rather than broccoli is strong. This shift comes at a time when agriculture is already suffering a 25 percent labor shortage.
In Carpinteria greenhouses, dozens of women are huddled over the cannabis buds, but they do not look like hippies. The majority are Latinas who work 10 hours a day. No one seems to be drinking beer.
Carpinteria is where nearly half of the cannabis cultivated in Santa Barbara County is grown. Greenhouses are capable of producing five to six harvests a year while outdoor hoop-house farms produce one or two, which means trimmers and other cannabis workers have year-round work. The greenhouses are also capable of emitting odors that neighbors find noxious and have increasingly been protesting.
In these huge greenhouses, where each section might have 1,400 plants, each plant is tagged with patient information that complies with medical marijuana laws. There has been little enforcement, however.
Some workers are cutting 18-inch stems and sorting them into bins. The stocks are hung to dry or spread on flat screens in the traditional manner. After about a week, the dried stocks are put in trimmer machines that look like meat cutters. There the plants are given, as one trimmer put it, "a military buzz cut," which results in pounds of dried "nugs" that trimmers then shape more carefully with sharp scissors.
The cannabis is so sticky that trimmers must dunk their scissors in alcohol, sometimes soaking them overnight. Everyone goes through many pairs during each harvest.
Cannabis trimmers, it turned out, tend to be women. Employers told me women tend to pay attention to details, can focus for hours, and are generally more efficient. Of course, they all agreed that was a sexist comment, but they believe it.
In the good old illegal days, trimmers were a mixed group. It was primarily women's work, although, as Ivory remembered, there were plenty of men. The hippie drug culture, after all, was an international one. When it was harvest time in California, people arrived from all over the world to make easy money. But that loosely organized, fairly unstructured lifestyle probably does not have a place in the cannabis industry that is fast unfolding.
Ivory, who is in her seventies, began working on the Big Island of Hawai'i, where marijuana was grown on farms the size of football fields. She laments the bygone days when buyers prized "great big, beautiful buds." Now all they want, she said, is "tiny little uniform ones." Ivory can trim about a pound of cannabis a day. Fast trimmers might be able to do that much in a few hours. "We call that butchering," Ivory said.
The one positive thing coming out of this new era, she believes, is that the stigma surrounding cannabis has begun to disappear. Matt agreed. He remembers that he used to have to lie, telling his mom that he had a job at Jack in the Box. "It's no longer something we are hiding in the shadows," he said. "We are valued workers. We work in a multibillion-dollar industry."
At just 28, Betty is already an old-timer, having worked in many avenues of the pot industry. She got her first job 10 years ago at a Santa Barbara medical marijuana dispensary that she used to patronize as a patient. Later she found work as a trimmer, and she is generally considered to be one of the county's best. "I can sit for up to 24 hours," she said. "I find it very meditative."
Most of her experiences were pleasant. She spent three years living on a pot farm that had views of the Rincon. Twenty-five trimmers worked there. There were tree houses, and everybody would walk down to the beach.
This harmonious lifestyle was shattered at another operation, when she was awoken one morning by an FBI agent wielding an automatic assault rifle. The feds bulldozed the marijuana fields entirely. Asked how much cannabis was grown there, she only said, "Let's just say it ruined people's lives."
Today, Betty has saved enough money to lease land in Grass Valley, where she plans to start her own operation. She will join the relatively new ranks of women who are running cannabis businesses. One recent report showed that 27 percent of all cannabis-related companies have women at the helm.
The party for trimmers appears to be winding down, with workers replaced by automation and, most likely, lower-wage labor.
Ron, who is one of Santa Barbara's buyers of trim and runs an oil-extracting business, sees a lot of pot. He estimated that this year, 60-65 percent of the bud he has examined was trimmed by hand. Last year, he said, that percentage was 90.
Hand trimming brings out the plant's flavor and potency. Shaving bud with what some dismiss as pencil sharpeners decreases the value. The entire industry, many experts say, is moving toward cannabis oil. But even still, Ron explained, "you cannot just take the whole plant and jam it into an extractor. It's nowhere near as potent and it produces less of a yield."
Even though the number of experienced hand trimmers needed might be diminishing as the industry streamlines through automation, many observers agree that there will always be a demand for a boutique product. That will include high-quality, carefully manicured cannabis buds. As Ron put it, "[A] hand trim is a hot commodity."
Editor's Note: The Independent agreed not to publish the true names of the individuals interviewed for this story.