News
Saks Off 5th to Shut State Street Store
What Happens Next Is a 47,000-Square-Foot Question Mark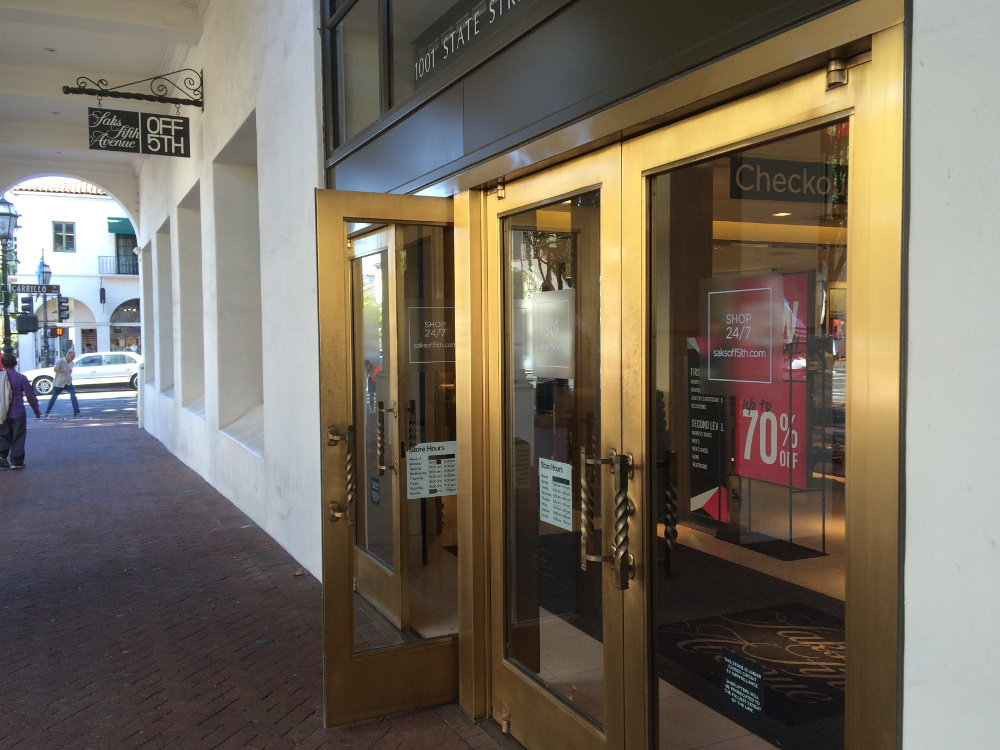 Saks Off 5th — the State Street discount spot that formerly housed Saks Fifth Avenue — will not be exercising its option to renew its lease, meaning that as of next March, Saks will be moving out. Its departure will leave a 47,000-square-foot hole to fill. Saks's departure comes as no surprise and has been much speculated about in recent months as State Street has struggled with nearly 60 vacancies. Even so, its absence will leave a conspicuously large gap at one of the most prominent intersections downtown — State and Carrillo streets.
What happens next remains to be seen. Earlier this year, the building's owner — a limited partnership controlled by a doctor from Los Angeles — received a $20 million offer in which the buyers proposed building 17 apartments on the second and third floors. Commercial brokers involved in the Saks property say there's been considerable interest in converting Saks into a mixed-use project with an emphasis on apartment rentals. For that to happen, however, they say City Hall needs to waive requirements for parking spaces.
That idea — housing on State Street — has gotten significant play during this year's City Council elections as candidates grapple with how State Street reimagines and repurposes itself in the face of seismic economic shifts caused by the onslaught of internet shopping. How interested, able, and willing City Hall will be to respond to this suggestion has yet to be seen, but pretty much all candidates now running have expressed an openness to the idea.
News about Saks's decision came the same week that the new 121-room Hotel Californian celebrated its grand opening on the 100 and 200 blocks of State Street. While the timing is entirely coincidental, it highlights how dramatically Santa Barbara's economic center of gravity has moved down State Street, away from the central business district and closer to the waterfront and the so-called Funk Zone.
What happened this week is really what didn't happen. Saks could have renewed its lease option on the building the company has occupied nearly 20 years but chose not to. Because it let that option expire, the company must vacate the premises by March. When the property sold for $15 million two years ago, that's when the retailer downgraded from a Saks Fifth Avenue to a Saks Off 5th.