News
Santa Barbara Humane Society Executive Director Fired
Animal Advocates Complain About Lackluster Services Despite Large Budget
After leading the Santa Barbara Humane Society for more than a decade, Executive Director Peggy Langle was unexpectedly and unceremoniously fired in late August by the Board of Directors.
"The board became less and less confident with Peggy as the executive director," stated Board President Randy Douglas in an interview. Since then, Langle has not responded to requests for comment. The circumstances regarding her termination remain unclear, though for years there have been concerns about how humanely the Santa Barbara Humane Society (SBHS) has been sheltering animals.
Community members, including many who have volunteered at the shelter, have complained about the low number of animals accepted, the overly restrictive pet admission and adoption policies, and the outdated facilities that don't match up with the organization's glossy fundraising materials and events, large budget, and ever-growing but untouchable nearly $30 million endowment.
Today, Santa Barbara County is in a position that other animal welfare communities only dream of. No animals deemed "adoptable" are euthanized anywhere in the county, in part due to aggressive low-cost spay and neuter programs that have reduced the homeless kitten and puppy populations over the past few decades ​— ​as well as an educated human population open to adopting rescued animals and donating to animal welfare organizations.
In addition to the three county-run Animal Services shelters, there are a number of private, nonprofit adoption shelters, including the three humane societies in Santa Barbara, Santa Ynez Valley, and Santa Maria Valley. These shelters play a key role by housing animals who have been relinquished by their owners or transferred from other shelters. At adoption shelters, each incoming cat and dog is typically treated, spayed, groomed, trained, and marketed with one goal in mind: to melt the heart of the next prospective owner to pass by their kennel.
As many local shelters with much slimmer wallets have consistently worked to improve their facilities and innovate their practices, SBHS has fallen short, according to directors of multiple area shelters. While several sources spoke privately, others had no qualms publicly voicing their concerns.
"When people donate their hard-earned money to nonprofit organizations, they expect their dollars to be put to good use fulfilling the organization's mission. To do otherwise is a violation of public trust," said Angela Rockwell, executive director of Animal Shelter Assistance Program (ASAP) cat shelter, which neighbors SBHS.
Lee Heller, a longtime animal rescue activist, suspects that local donors to SBHS may believe they are donating to the Humane Society of the United States, a high-profile national advocacy organization based out of Washington, D.C., that advocates for national animal welfare issues.
In fact, each humane society is an independent nonprofit operating under its own charter, with no affiliation to the Washington nonprofit or other humane societies.
Located off of Patterson in Noleta, the 130-year-old Santa Barbara Humane Society's five-acre complex boasts manicured green lawns and cheery yellow buildings with white trimming, including a spacious wood-lined front office, an expansive education building, and a veterinary clinic.
When the Santa Barbara Independent visited the Santa Barbara Humane Society in late August, the complex was eerily quiet. In the window of the "Cattery" cat adoption building, a fluffy gray feline named Honey sat atop a fuzzy blue pedestal, surrounded by colored toy balls and stuffed animals. There were just two other cats and 12 dogs sheltered in the facilities, which has the capacity to host up to 70 cats and more than 100 dogs.
"The Santa Barbara Humane Society is the wealthiest animal welfare nonprofit in our community, but they shelter the fewest number of cats and dogs," said Rockwell. Around the corner from the Humane Society, ASAP's cat and kitten shelters bustle with volunteers attending to row upon row of felines. The small facilities hold an average of about 100 cats and kittens at a time, often found scampering through winding outdoor tunnels and bridges.
ASAP partners with the Goleta Animal Services shelter to take in stray, lost, and owner-relinquished felines; it sheltered 947 cats in 2016 with an operating budget of approximately $661,000. That same year, SBHS sheltered 181 dogs and 159 cats, with an operating budget of more than $2 million.
According to IRS records, the Humane Society's endowment is nearly $30 million, placing it among the top 10 local animal welfare organizations in California.
A week before Langle was fired on August 23, the Santa Barbara Independent spoke with her over the phone. The then-acting executive director commented that the board's spending model was "conservative but not too conservative": only the roughly 4 percent interest earned on the endowment can be extracted to offset the nonprofit's operating costs, while the "principal" endowment cannot be touched.
Langle emphasized that SBHS, which employs 27 staff members; boasts robust animal rescue, humane education, and pet boarding programs; and supports other nonprofits. In 2017, she said, SBHS donated $33,000 to CARE4Paws, which operates a Spay Mobile, provides low-cost or free animal-care aid to low-income owners, and conducts bilingual animal education outreach. Langle added that upgrades were planned for next year.
Those facility upgrades are too little and too late, according to Heller, who has volunteered with many animal welfare facilities in town. At the shelter, rows of outdoor kennels have cement floors and corrugated metal roofs. "The dogs are with limited comforts …. With $29,000,000 in assets [in 2015] and big budget surpluses," said Heller, "wouldn't you expect them to spend money upgrading the shelter and rescuing more animals?"
Concern about the quality of life for dogs sheltered at the Humane Society has been brewing for years.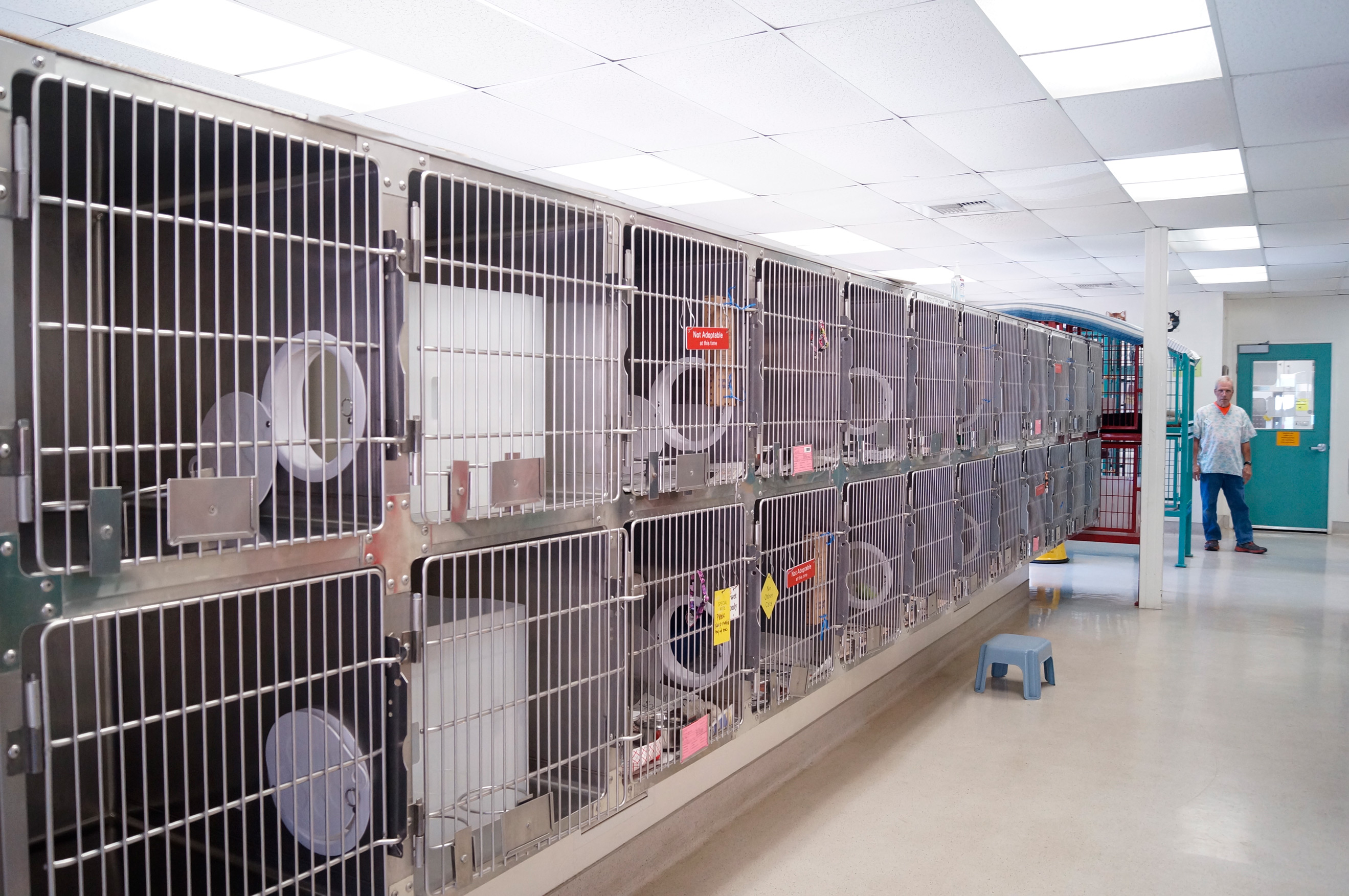 Between 2013 and 2014, a group of five worried volunteers worked together to document what they saw as abusive practices in the dog kennels there. The volunteers met with Langle and the board to outline concerns that dogs were living in old-fashioned outdoor kennels on hard beds, without blankets or toys. Some were only fed once a day, they said, and were kept in their kennels for three days at a time without exercise.
They alleged that more than a third of the dogs, especially pit bulls, Chihuahuas, and senior dogs, were languishing for over a year in the kennels and that four dogs had lived at the shelter for seven years. Several pit bulls were suffering from festering pressure sores, they claimed, which develop when animals lie for long periods of time on hard surfaces.
"We went through the proper channels, but they closed those off to us," said one volunteer, who wished to remain anonymous. "They said they would no longer meet with us. They did make improvements, but not in kind with their resources."
Among the improvements made around that time was the implementation of dog playgroups, which allowed the dogs to play in large pens for 30 minutes at a time. Dogs were given blankets, toys, and food twice a day. For the first time, volunteers were allowed to walk dogs off the premises, according to one volunteer.
A new position was created for a canine adoption counselor, staffed by Erica Jackson, whose job was to act as a matchmaker between humans and shelter dogs. Combined with an "Open Adoption" policy, which eliminated landlord checks and home visits and shortened paperwork in favor of a dialogue with the potential adopter, these changes have boosted adoption rates, said Jackson. The number of dogs adopted rose by about 30 percent, from 117 in 2013 to 153 in 2015. In 2016, the number was 133. Today, dogs have an average stay of 2.5 months, versus 2.5 years when Jackson came on three years ago.
Around the same time, Shelter Office Manager Faryn Beverino begin managing the cat shelter. She said that better play spaces and more spacious, comfortable cages have dramatically increased the quality of life and adoptability of cats. Beverino and Jackson spoke positively about the recent changes and expressed optimism about the nonprofit's future under a new executive director.
In the meantime, Beverino is proud that the shelter's dog population has dropped from an average of about 80 to about 15 while the average cat population has dropped from about 30 to between 5 and 8, according to her estimates. To Beverino, this is a sign of a job well done: Animals are finding homes almost as quickly as they're received.
But Heller claims these low numbers are the result of exclusionary policies that turn owners away when they first try to relinquish their pets. She cited a requirement that owners must prove ownership through veterinary records, disproportionately barring low-income families who lack the means to take their pets to the vet.
Additionally, animals are subjected to health and behavior evaluations, which, according to Rockwell, allow SBHS to cherry-pick only the most adoptable pets. Jackson estimated, however, that only about 5 percent of pets are turned away.
When one of ASAP's donors passed away several years ago, he left specific instructions in his will for Daisy, a shy feline, to be sheltered and put up for adoption at ASAP, leaving a small bequest to ASAP to help cover the expenses of her care while she awaited adoption. He left the remainder of his estate to SBHS. It was worth $1.1 million.
"One can only surmise that he thought the SBHS was helping more animals than ASAP, when in reality, ASAP saves the lives of five times as many cats every year," said Rockwell.
Editor's Note: This donor "was well acquainted with all of his beneficiaries [and] visited their operations," said his executor, Des O'Neill, in a letter received by The Independent after this story appeared. Rockwell's surmise about the donor's perceptions of SBHS and ASAP "is simply wrong," O'Neill wrote. "The donor knew what he was doing, knew his charities, knew their personnel and facilities, and donated as he saw fit … and informed enough to do so knowledgeably."
Up the coast at Santa Maria Valley Humane Society, the new executive director, Sean Hawkins, said he dreams of having resources like those available at SBHS. That humane society placed just over 500 dogs and cats into new homes last year, and after three months on the job, he aims to double that number by the end of this year.
"As an agency with a $1.3 million operating budget, my dream would be to have a $10 million endowment that would generate between $350,000 and $400,000 a year in 'profit' which would be used to support our programs and services," he said in an email.
At the time of print, the SBHS board had contracted Chicago-based Noetic Search, a national nonprofit consulting firm with a specialty in animal welfare, to find a new executive director by December. In late August, Board President Douglas said the board's goals for the new executive director include increased membership, an improved "public face," and better management of facilities and staff. In 2015, the executive director's salary figured at just over $107,000, according to IRS records.
When asked about the Humane Society's unusually large financial reserves, Douglas reiterated, "The board is very conscious of being good stewards." In the meantime, Douglas is working as an interim executive director. "It [SBHS] needs some work; we're aware of that. I have a few goals while I'm here ​— ​a new coat of paint, a few repairs that are a little overdue."