Cover Story
Janet Garufis: Real-Life Wonder Woman
The Montecito Bank & Trust Chair and CEO's Against-All-Odds Career and Life of Love
In 2000, Janet Garufis retired early from a boundary-breaking banking career in Los Angeles and two years later moved to Santa Barbara, where she planned to care for her husband, already in the throes of Parkinson's disease, and pursue a more meaningful career in teaching. But it didn't turn out that way ​— ​the need to support her husband forced Garufis back into banking, and today this real-life Wonder Woman is now one of the most powerful players in Santa Barbara's financial and nonprofit circles. And, at 63 years old, she's giving our athletic community quite a run for its money as well.
As CEO of Montecito Bank & Trust (MB&T) ​— ​a role recently intensified by the April 2017 passing of bank founder Michael Towbes ​— ​Garufis oversees $1.3 billion in assets for the largest and oldest locally owned bank on the Central Coast. She's in high demand to serve on the boards of the region's most influential nonprofits and is currently active with the Scholarship Foundation of Santa Barbara, American Heart Association, Sansum Clinic Foundation, Music Academy of the West, and Goleta Chamber of Commerce, among others. And about a decade ago, this mother of two grown sons became a runner and has tallied three marathons and more than a dozen half-marathons since.
That's quite a résumé for a woman who entered the banking industry as a teller back in 1972 and climbed the ladder to take on executive roles rarely held by women. "In a male-dominated world, she's had to break down walls that could have destroyed her," said Jamie Perez, MB&T's assistant vice president and one of the many who look up to Garufis as a role model. "I've been learning as much as I can from her. Her guidance [has] sent me on my way."
I've known and admired Janet for years, and I appreciate how a packed room's attention gravitates her way, whether she's on the stage or not. "Janet is such a presence," explained public relations professional Lisa Rivas, her close friend. "People who are standing next to her are rarely seen."
But despite that public persona, I didn't really know who Janet was under the surface, which is why I wanted to write this article. "The community has elevated Janet to a level," agreed Rivas, "and they've forgotten the person she is."
This past summer, I scheduled three meetings to get to know Janet. Each appointment lasted two hours, and they all took place in her office. "I would have never believed I'd be having conversations like this," she said to me at the start of the process. "My public life is very different from my private life. My private life is very small. It's been kind of Zen to have this quiet life."
In our six hours together, I found Janet Garufis to be a fascinating, engaging, fearless open book, somebody whose deep knowledge has been hard-won and who has found true contentment and rewards in both her career and personal life.
"I came to Santa Barbara to reinvent myself ​— ​I did, but not in the way I thought I was going to," she told me during our last session. "I thought that changing careers and being a teacher would feed my hunger to make an impact. It's the greatest irony, and most rewarding, that I've come full circle from when I took that job as a teller to having banking become the vehicle to make an impact and to find community."
Background of a Banker:
First Session, June 21, 2 p.m.
As I get comfortable on the couch in her office, Garufis rapidly relays facts about her childhood while staring at me through piercing blue eyes. Born December 16, 1953, she was raised in a middle-class Boyle Heights home. Her mother, Colleen Quail, contracted polio when she was young but was a prominent social worker as deputy director for Los Angeles County's Department of Public Social Services. "I never thought of her as handicapped for she never thought of herself as handicapped," said Garufis. "She had no fear." But her mom wasn't the nurturing type.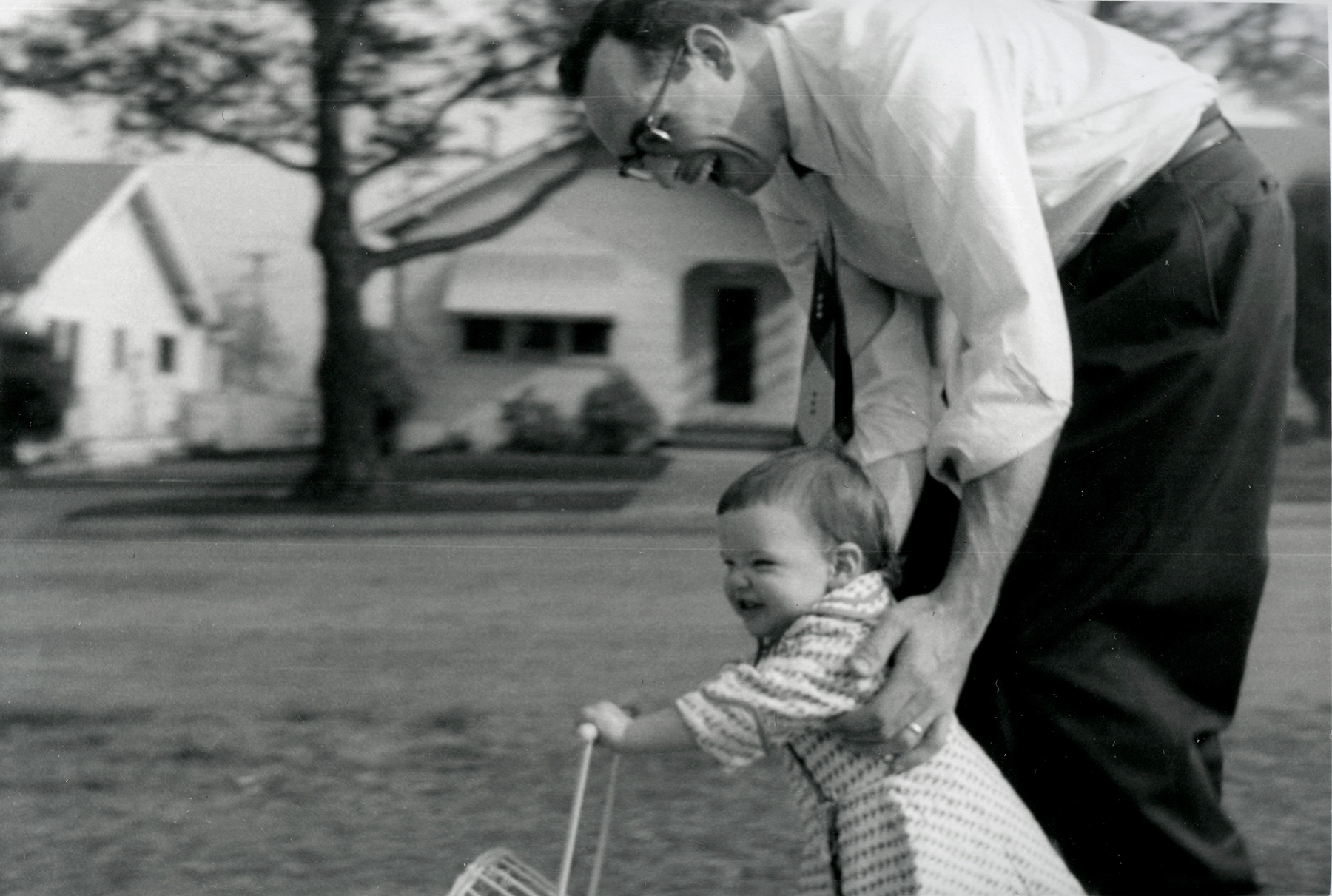 That role fell to her father, Jim Quail, who suffered from PTSD from his time as a medic in the Pacific theater of World War II. "Movie-star handsome" with "natural leadership skills," he was a ticket agent for Southern Pacific Railroad but became depressed around the time Janet's sister, Jennifer, was born, and had a breakdown. "I remember what I was wearing the day my dad was released from the mental institution," Garufis recalled. He lost his job at 40 and decided to braise his way through Julia Child's cookbook. "And that's where I got my love for cooking," said Garufis. "We were a very close family. That family unit was important to me."
From an early age, Janet loved education. A full scholarship allowed her to attend the all-girls Marymount High School in Bel Air, where she was the youngest and tallest kid in her class. Her classmates came from wealthy families, and she often felt out of place at their homes. A good observer, she learned to fit in. "I was never going to be the most popular person in school, but I wanted to be respected," she said. "If there's a theme in my life, that's it."
On graduation day in 1971, Garufis won every award the school could give. Her mom said she expected as much; her dad cried tears of pride.
At 17 years of age, Garufis naively enrolled at UCLA. It was the biggest mistake of her life, going from a sheltered girls school to a massive university, with 700 people in her first class. "For the first time, I experienced failure ​— ​failure to launch," said Garufis, who dropped out. "I had to take a look at who I am and figure out how to get there. It's only through failure that you can become your next best thing. If you're not willing to take the risk where failure is an outcome, you're not going to grow."
With cashier experience as a night manager at Wil Wright's Ice Cream Parlor in Pacific Palisades, Garufis applied for a teller position at Bank of America (then known as BankAmerica) in Brentwood but found them very rude. So she got a job across the street at Security Pacific National Bank (SPNB) instead. She loved interacting with customers, fondly recalling one time when she helped a widow write her first check. Since it wasn't that busy, she learned the branch's different jobs.
"I'm a process-oriented person," said Garufis of her natural draw to the job. "You're project planning all the time, just like cooking." And her innate curiosity blossomed. "The people I'd meet," she said, "if you just listened and learned, it was an amazing education."
But it was hard to find support for advancement. "If you were a woman in the banking business, you didn't mentor any other woman because they could take your job," explained Garufis. "I learned how to be a leader from watching people who were not very good at it." That's why she works so hard to be a role model to all, whether female or male.
As we neared the end of our first conversation, I cautiously brought up her late husband, Nick Garufis, who passed away in March 2007, just months after Garufis became president and CEO of MB&T. "My life has been so compartmentalized," said Garufis with a deep breath. "Nick got a chance to see me as a mother and as the president of the bank."
After taking a long time to get diagnosed, Nick lived well with Parkinson's for a while. But then, said Janet, who was his primary caregiver, "The dementia really scared him. He had visual hallucinations. He'd get really angry. Inhibition is the first thing that goes. What happens is that you learn to have a sense of humor. It's a really profound experience to see somebody go down that road."
Though Garufis's two sons are from her first marriage, Nick was a father figure to both. "Nick raised me," said her son Matthew Bertolet. "He was an exceptional human being. It was a real challenge to watch a loved one succumb to this disease. My mom did everything she could for him."
Bertolet encouraged his mom to get back out in the world so she could find new happiness. "She had fully dedicated herself to take care of her husband," he said. "I was looking for her to find meaning in helping the community." He also invited Garufis, who'd started walking about 10 miles a day while caring for Nick, to start running with him. "I understood she'd always been a provider; she'd always made sure everybody was happy," said Bertolet. "It was obvious there was a part of her she needed to reclaim, to express herself as an athlete. There's a lot of personal growth that happens when you do something physical."
Running was hard, at first, but then her rise-to-the-challenge instincts kicked in. "I love conquering something like running just like Forrest Gump," she said. "Then I started setting goals." She completed her first half-marathon in San Francisco soon after Nick passed away and has kept up with it the decade since. "I like the discipline of running," she said. "It created balance in my life."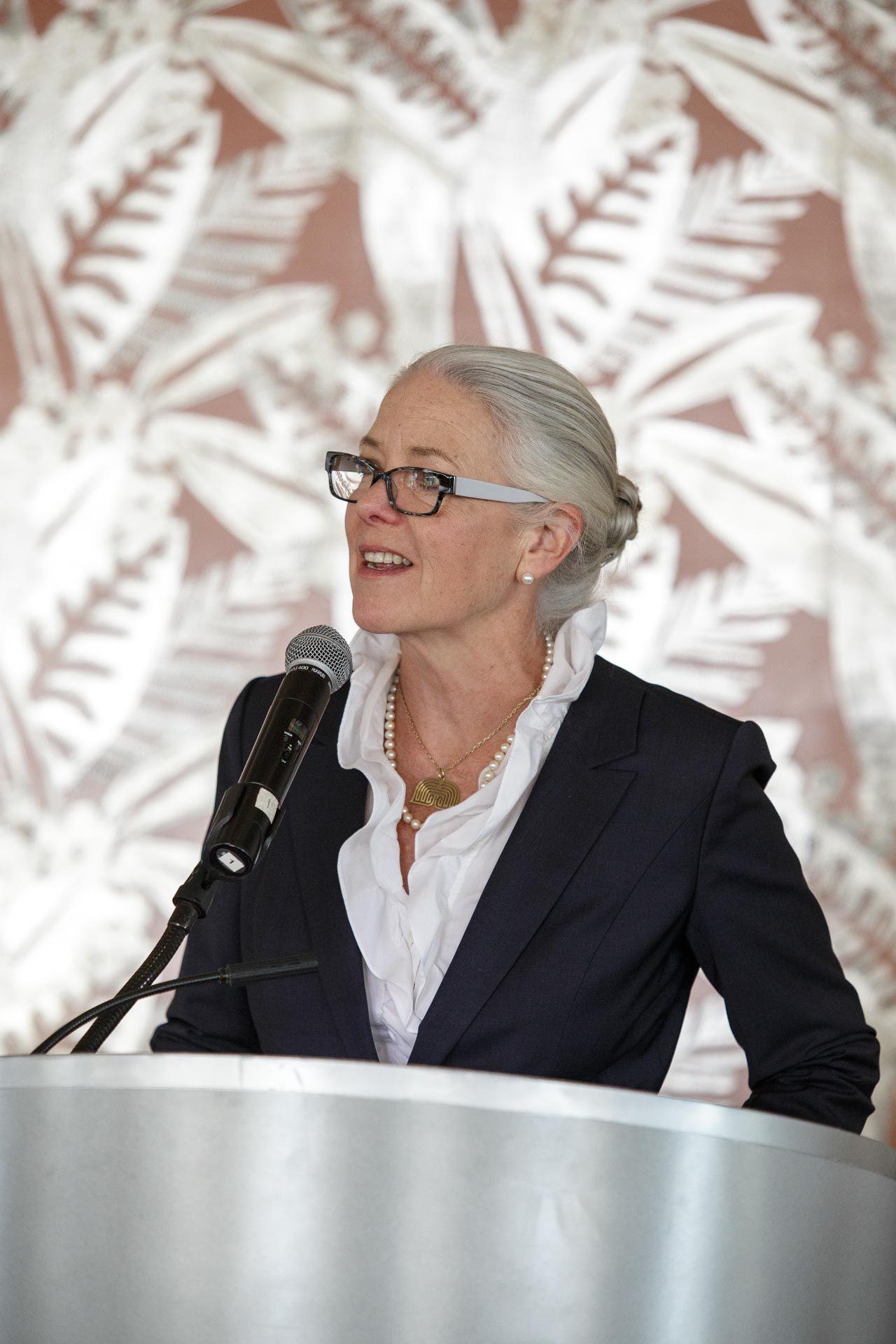 So has her work. "Montecito Bank & Trust's work, for me, has been the most amazing gift," she said. "It was a way to process grief, to find out the very best version of myself. Why wouldn't I spend every moment trying to make life better?"
Shattering Glass Ceilings:
Second Session, July 25, 9 a.m.
Garufis has just returned from the Summit for Danny, an endurance hike through the Italian Dolomites that raises money and awareness for adolescent substance abuse treatment at the Daniel Bryant Youth & Family Center. Having hiked 80 miles in eight days ​— ​she'd never even backpacked previously ​— ​she is energized and fearlessly ready for my questions.
I dive right in, asking how she achieved success in a male-dominated industry. "The combination of fierceness and softness has been the balance," she answers without hesitation. "There was a lot of fierceness at the beginning. Allowing the softness has been the journey."
In the beginning, Garufis had to go "toe to toe" with men, though her ferocity had to be tempered ​— ​otherwise, she was just labeled "aggressive" or, worse, "a bitch." And her deep experience wasn't respected at all. "I believed a lot of the men I worked with felt intimidated by a woman who was deeply knowledgeable," she said. "The fact that I started at the bottom, as a bank teller, and earned my way, I knew how to manage risk the way they did not. Men were hired out of college and were trained to be lenders. They didn't learn about the bank. I learned the problem-solving techniques you learn by going up through the ranks."
She went back to college in 1973, first at Santa Monica College then at Cal State Northridge, but kept working at SPNB. Since she knew all of the jobs at the bank, she covered shifts at branches all over Los Angeles, though it was during the gas crisis. "I spent a lot of time in line at the gas station!" she laughed.
In the summer of 1975, Garufis was sent to Marina del Rey to fill in for a note teller going on a three-week vacation. On the first day, the branch manager said there was a problem in the note department that needed to be cleaned up before the employee returned. Garufis tackled the task and was offered a job at the office while she finished school.
Upon graduation in 1977, Garufis was only offered training in operations management, since the lending training was essentially reserved for men only. Though lending was the quick path to more lucrative opportunities, the operations track played to her long-term advantage: It covered the basics of banking, while the lending curriculum didn't address day-to-day management or customer service issues.
"Solving customer problems on a day-to-day basis helps you understand where things can go wrong," said Garufis, who learned to anticipate client needs, understand risks, and know when to bend the rules. "It gives you a more holistic picture of what happens in a bank." Three weeks into the nine-month training program, she was assigned to be branch operations supervisor at SPNB's Wilshire Westwood branch.
Soon after, her boyfriend, a lifeguard named Sam Bertolet, whom she'd met in a Shakespeare class at Santa Monica College in 1973, got a job with the Santa Barbara Harbor Patrol. She transferred north to an assistant manager job in Oxnard and commuted from Santa Barbara. "I was young and in love," said Garufis. They got married at Our Lady of Mount Carmel with a reception at the Gold Room of El Paseo, now part of Wine Cask.
When Bertolet got a new job in the Marina del Rey Harbor Patrol with the L.A. County Sheriff's Department, Garufis reluctantly moved back south. Bertolet soon realized he didn't like the law enforcement aspect of his job and went back to lifeguarding ​— ​which he did until his recent retirement ​— ​but Janet's job as operations officer at the Westwood Village branch was a turning point for her career.
The second largest branch in the SPNB system, Westwood was struggling to manage a huge volume of daily transactions. So Garufis streamlined the filing of checks and preparing of statements and was soon asked to do so for the whole bank system, which centralized the entire process.
She gave birth to her son Matt in December 1981 and son Adam in February 1984. That same year Garufis was allowed to begin loan training but only if she stayed on as branch operations manager. She completed banking school in 1986.
American banking went through big changes in the 1980s, and the combo of centralization and deregulation made it harder for small businesses to access capital. SPNB decided to organize a business banking division to address the problem, and Richard Davis, her friend from banking school who'd been promoted up the ranks, suggested Garufis should lead it.
"No male commercial banker would have taken the job making these small-business loans, for it would be demeaning to them," said Garufis. "I didn't have a big budget, and I had to be smart about it."
She developed a personal credit score, traveled to Princeton to create an algorithm to assess risk, and funded lots of small businesses. "We cobbled this together with chewing gum and wire," she recalled. "We tried to address what all small business was struggling with. The size of the portfolio was $750 million in loans."
Against the protests of small-business advocates, Bank of America (BofA) acquired SPNB in April 1992, which was one of the largest bank mergers in history at the time. A week later, when the Rodney King verdict triggered the L.A. riots, Garufis was in Oakland speaking to the Black Contractors Association. "I was the only white woman in the room," she said, remembering the 9-1-1 message she got on her pager announcing the riots.
Days later, BofA's chief credit officer called on Garufis to apply her loan formula to businesses in the riot zone. Suddenly, this former bank teller was playing a central role in the rebuilding of Los Angeles. Thousands of business owners applied, and that was the beginning of BofA's small-business lending program. It grew from $750 million to $4.5 billion in just five years on loans that averaged just $40,000. That's a lot of loans.
"Nobody in the organization was paying much attention to us until our revenues became too significant to ignore," said Garufis, who had to fend off the man from consumer lending who wanted to take over her division. "I fiercely believed in the mission, and the people that worked with me believed in it as well. The softer side is to understand the people and what they need."
When BofA eventually abandoned this system, community banks like Montecito Bank & Trust graciously filled the small-business void.
A Better Kind of Banking:
Third Session, August 22, 9 a.m.
On our last session, both Janet and I know that we still have a lot to discuss, from personal loss to perseverance.
We talk about her separation from Sam Bertolet in 1986, right when her career was taking off. "He was struggling with me being a working, successful woman," she said. "It wasn't his paradigm." Though not compatible as a couple, they raised their kids as a team.
Her boss around that time was Nick Garufis, whose wife died suddenly the night before her 50th birthday party. Devastated himself, he caught a glimpse of Janet at her most vulnerable one day. "I'd just gotten off the phone with my divorce lawyer, and Nick saw me crying, and I rarely do that," she said. "I'm not a crier. I'm a problem solver."
She had no intention of remarrying at that point, but Nick pursued her. "I wouldn't have considered dating him if we hadn't been good friends," she said. "It turned out to be one of the most significant relationships in my life." They married on December 31, 1987.
Fast-forward to 1998, when BofA was acquired by NationsBank. Garufis quickly learned that the military-like leadership did not value women in positions of power. Nick's condition had also worsened, so, in 2000, she took the early-retirement option. Chasing her lifelong dream to be a professor of literature, Garufis started a master's program in English at Northridge and graduated in 2002, when the couple decided to move to Santa Barbara. Two weeks later, she began pursuing a PhD at UCSB's Gevirtz Graduate School of Education.
Though she finished her UCSB coursework, her dissertation was derailed by Nick's disease. In 2004, her son Matt encouraged a return to banking. "It was the most practical thing to do," she agreed. "Nick had to be saved and taken care of. I didn't think about myself. My kids were home helping, but it was interrupting their lives. I wanted them to have a healthy life and not worry about their mom."
She considered a job at Santa Barbara Bank & Trust, but then applied to run the branch network at MB&T. She sent an application by fax, and five minutes later a call came, with an offer to have lunch with founder Michael Towbes.
"Mike and I had about an hour-and-a-half conversation," said Garufis. "I didn't know beforehand that he only spoke to people for 20 minutes. In retrospect, it was so shocking, for chatting wasn't his deal."
When Towbes asked her why she wanted to work at his bank, Garufis replied, "What matters to me is to show up at a place where I can make a difference, and I believe I can do that here." He offered her a job right on the spot as a vice president, and she was promoted to CEO and president two years later and this April became board chair, with George Leis taking over as president.
"I felt valued for the first time in a long time," said Garufis of Towbes, whom she came to consider both a mentor and a friend. "He didn't second-guess me. He really allowed me to run the bank."
But it was the philanthropic spirit of Towbes that moved Garufis most. He'd set up MB&T as an S corporation, which allowed him to give more money away to nonprofits. For many years, he gave grants to the top 10 organizations selected by his staff, and paid employees two hours per month to volunteer for their charity of choice. In 2003, he started the bank's Community Dividends program, giving $1 million away to dozens of nonprofits each year in Santa Barbara and Ventura counties during a luncheon at the Coral Casino on the Monday before Thanksgiving. (This year's is on November 20.)
"It was the DNA of the bank, the notion of giving back," said Garufis. "He loved that if the employees were passionate about an organization, then the bank would encourage their advocacy." But she recognizes that his shoes will be almost impossible to fill and that MB&T's challenge will be to continue setting the bar higher and higher in all regards.
"He gave me the opportunity to create a culture in the bank that will carry his expectations for excellence and for supporting the community," said Garufis. "This is bigger than Mike. It's bigger than me. This bank couldn't happen in any other place than Santa Barbara. Santa Barbara was the incubator. This community values its own. Any one individual feels that they can make a difference every day."
Janet's hard-earned reinvention happened without sacrificing any of her principles. As I see her now seated across from me — months after our first meeting, her arms gently crossed, confidently looking my way — I recognize a woman in the coveted position of doing what she's always meant to do.
"Everybody has a need to be valued and appreciated," she continued toward the end of our last conversation. "The banking business had become intolerable for me when all they valued was returns. I brought to MB&T the need for people to be treated with deep respect and enjoy what they are doing. If you're appreciated for what you're doing, that is the big rainbow."