News
Changes Are Coming to Immigration Practices at the Santa Barbara County Jail
Forum Debates the Pros and Cons of Working with ICE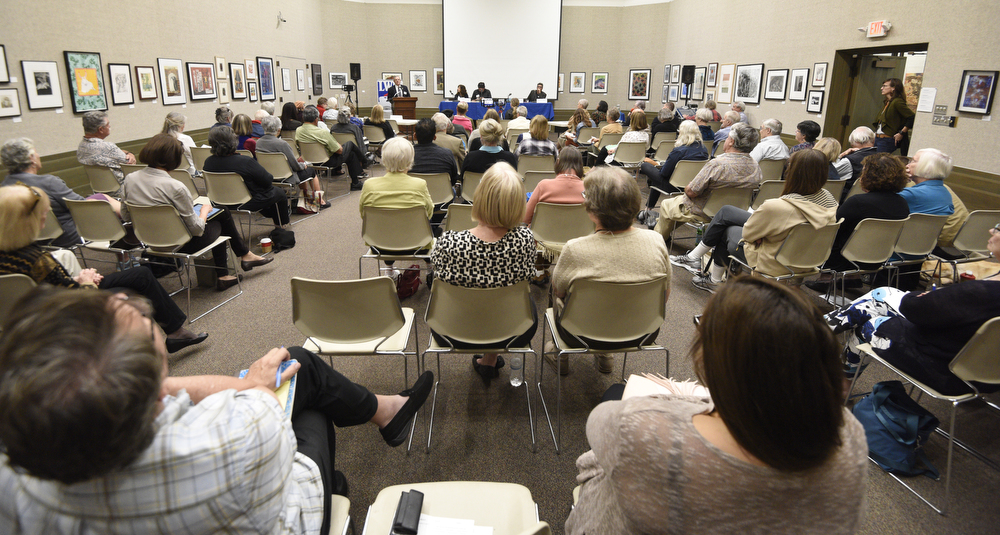 Nearly a year after President Donald Trump entered office and threatened to deport undocumented residents, immigrants' rights advocates have succeeded at essentially turning California into a sanctuary state. But the Santa Barbara County Sheriff's Office continues to grapple with how it is going to navigate new state laws and relationships it has maintained with federal immigration authorities.
A debate about this tension took place at a forum hosted by the League of Women Voters on Wednesday at the Santa Barbara Public Library. The league supported the so-called sanctuary state bill — Senate Bill 54 — which acted as California's symbolic middle finger to President Trump. As a practical matter, the law, effective January 1, will limit cooperation between sheriff's deputies and ICE (Immigration and Customs Enforcement) agents in detaining undocumented immigrants.
"It's going to put a lot more onto the plate of ICE to find these folks and take them into custody," said custody chief Vincent Wasilewski. Under the new law, ICE agents will have to vacate the office space they currently occupy in the jail. But they will still be able to talk to inmates who agree to an interview, he said.
Currently, 150 inmates in Santa Barbara County Jail have self-reported that they have an immigration number; that is 15 percent of the jail's total population, Wasilewski said. But their exact immigration status (green card, visa, etc.) is unclear. A majority of the jail's total inmates are awaiting trial, which raises a troubling question about undocumented defendants who have been arrested but not convicted of any crime.
Under current law, ICE asks to be notified by the Sheriff's Office when certain inmates are to be released so that immigration agents can wait at the jail's front entrance to detain them. The new law will prohibit sheriffs from notifying ICE unless the alleged crime falls into "serious" or "violent" categories, based on the three-strikes law. The exceptions are broader than the original form of the bill because Governor Jerry Brown struck a deal with the bill's author, Kevin de León, before he signed it.
But the Santa Barbara Sheriff's Office maintains the new law is bad policy. Standing in for Sheriff Bill Brown, Undersheriff Barney Melekian stressed on Wednesday that local law enforcement officers have never been involved in immigration enforcement because it would hurt their relationship with the community. He argued that one of the unintended consequences would be increased field operations in immigrant communities.
When asked after the forum, Melekian said he was referring to ICE Acting Director Tom Homan's statement after Governor Brown signed SB54: "ICE will have no choice but to conduct at-large arrests in local neighborhoods and at worksites, which will inevitably result in additional collateral arrests, instead of focusing on arrests at jails and prisons where transfers are safer for ICE officers and the community."
ICE does not notify the Sheriff's Office when agents plan to conduct enforcement operations in their areas, according to Melekian. The Santa Barbara Sheriff's Office has a good working relationship with regional ICE agents in the Camarillo and Santa Maria offices, and Melekian said Sheriff's deputies would continue to work with their federal counterparts "to the extent the law allows."
For their part, immigrants' rights advocates at the forum on Wednesday talked about efforts to assist the immigrant community. Frank Rodriguez of CAUSE (Central Coast Alliance United for a Sustainable Economy) said fears and uncertainties have pervaded Santa Barbara neighborhoods since President Trump entered office. The Neighborhood Clinics on the Eastside and Westside, for instance, have seen a substantial decrease in walk-in patients since the beginning of the year. Rodriguez went on to talk about efforts to debunk false rumors about ICE raids in immigrant communities.
Marcos Vargas of The Fund for Santa Barbara spoke about the fund's grants to immigrant legal assistance. Representing one recipient, Diane Martinez of Immigrant Hope told the crowd about emergency preparedness workshops she has hosted to advise undocumented residents about creating family plans should they be detained. They sought to maintain a balance between sounding the alarm — and saying immigration enforcement is only going to increase — and assuring undocumented residents they do not have to stay indoors.