Briefs
Evacuations Ordered for Parts of Montecito as Thomas Fire Rages West
Strong Overnight Winds Pushed the Blaze Further West; Carpinteria Buildings Threatened and Burned
[Update: Sunday, 1:35 p.m.] Firefighters are battling the Thomas Fire in the mountains above Carpinteria today, as the nearly week-old wildfire rages west toward Montecito. The morning attack saved numerous homes in the Shepard Mesa area, although at least one structure was destroyed. Dozer lines are being cut and helicopter drops are constant at the moment.
The fire is also burning on the backside of the mountains in the Santa Ynez River drainage, pushing west of Jameson Lake. It is slowing down a bit on the eastern edge near Ojai and Santa Paula.
The mandatory evacuation order has been extended to Hot Springs road, north of Highway 192, running east to the county line. The voluntary evacuation warning now includes parts of Mission Canyon and the Riviera of Santa Barbara. (See the latest order here.)
Emergency agencies will hold a community meeting on the current status of the Thomas Fire this afternoon at San Marcos High School, 4750 Hollister Avenue in Goleta. Incident representatives will give an operational meeting and take questions. The meeting starts promptly at 4 p.m.
"We had a very aggressive firefight on our hands this morning in Carpinteria, but at the same time this fire has established itself on the backside of the mountain, the backside of Camino Cielo," Captain David Zaniboni of Santa Barbara County Fire told KEYT at 1:10 p.m. "It's actively burning the Santa Ynez River right now. It's eating up thousands of acres right now, pretty much unchecked."
He said that was the source of much of the smoke clouding the skies above Santa Barbara and points north. Fire officials are hopeful that the fire doesn't reach the scar of the Rey Fire, which burned 32,000-plus acres of Santa Ynez River drainage southeast of Lake Cachuma in August 2016, but believe that, if it does, the Thomas Fire will slow considerably.
According to Richard Hadley, who works in fire management for the U.S. Fish & Wildlife Service, drone footage indicated that the fire was in the Jameson Lake area, where the "fuel load hasn't burned in a very long time . . . 50 years." Hadley also had news about the other side of the fire, explaining, "The [suppression] lines around Ojai are looking good and the fire is quieting down along [its eastern edge]."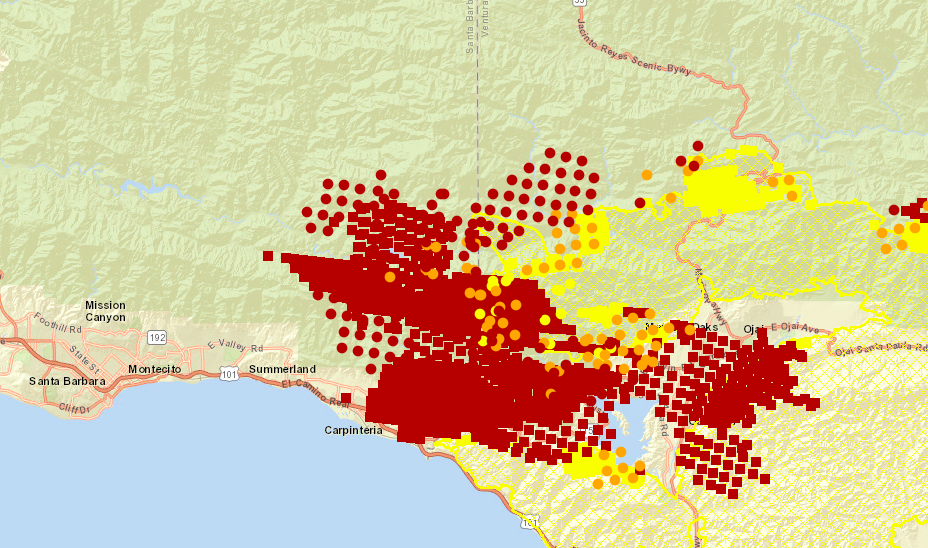 The weather remains hot and dry but the winds are expected to die down a bit. However, at Upper Village in Montecito, where a firefighter from Riverside was explaining evacuation zone to residents, officials expressed that, every night during the fire, the winds have been stronger than expected.
As to the expanded evacuation orders, Zaniboni explained, "That doesn't mean Montecito is in imminent threat of fire right now, but we're trying to stay ahead of the game." He emphasized taking the orders seriously. "If you're in a mandatory evacuation area, you really need to leave," he said. "If you are in a voluntary evacuation area, you really need to be ready to go."
School in Carpinteria has been cancelled until after the holidays. Goleta schools will be closed on Monday and Tuesday. Santa Barbara schools are closed on Monday for now.
[Original report: Sunday, 8:16 a.m.] Active overnight winds pushed the Thomas Fire further west and swelled it another 20,000 acres to over 173,000 acres. Containment remains at 15 percent.
Mandatory evacuations were ordered early Sunday morning for Carpinteria and areas of Montecito east of Buena Vista Drive and north of Highway 192. The Rincon Point area also remains under mandatory evacuation. Voluntary evacuation warnings were issued for Montecito east of San Ysidro Road and south of Highway 192.
The mandatory orders are affecting nearly 700 Santa Barbara County residents; 6,300 residents are under voluntary warnings. An evacuation shelter has been established at the UCSB Recreational Center at 516 Ocean Road.
Santa Ana winds gusted up to 45 mph Saturday night and are expected to continue blowing through Sunday afternoon, most heavily across the ridgetops and eastern sections of the fire. Warm and dry conditions will develop with temperatures 10-15 degrees above normal. Relative humidity will drop into the single digits. A Red Flag Warning will remain in effect for the area through 8 p.m. Sunday evening.
Incident commanders said over the next 24 hours firefighters will concentrate their efforts in the southeastern parts of Santa Barbara County, protecting buildings and digging lines in and around the City of Carpinteria. Nearly 4,400 firefighters are now battling the blaze, which is expected to move further into the county as its enters its seventh day.
The biggest threat at the moment is to Gobernador Mesa and Shepherd Mesa in Carpinteria. A handful of Gobernador structures have burned, but firefighters seem to have gotten the upper hand in both areas as winds died down between 5 a.m. and 7 a.m. Fire engines are now stationed at nearly every home on Shepherd Mesa, County Fire spokesperson Captain Dave Zaniboni told KEYT. Night-flying helicopters made a number of water drops and a refill base has been established down near the ocean.
Zaniboni said no formal briefings have taken place this morning but that he heard through radio chatter that the fire has reached Jameson Lake in the foothills above Montecito. An incident command spokesperson said no press conferences have been scheduled. The county's fire information media line has not been updated since 8 p.m. Saturday.
Power and Internet outages continue to plague much of the South Coast. A Southern California Edison spokesperson said Saturday night that intermittent flickering and other "minimal interruptions" are due to "voltage changes" and Edison's ongoing "rerouting efforts" as the fire threatens and damages transmission lines. More than 85,000 customers have been impacted.
According to a Thomas Fire Incident Status Summary (ICS) provided to fire officials Sunday morning, "Residual heat exposed to severe fire weather continues to threaten high voltage powerlines, oil resources in the Red Mountain and Sulphur Mountain areas as well high-pressure gas lines in the Barlow Canyon area. There is critical communication infrastructure on multiple peaks within the fire area that could affect public safety communications as well as cellular service. Agricultural crops of avocado and citrus orchards risk damage and large dollar loss with continued fire growth. The fire has reached Lake Casitas which is the watershed for Ojai and Ventura City and may affect water quality."
The report also noted that firefighting resources remain limited as multiple fires burn across Southern California. A summary of their status is below:
Lilac Fire, San Diego County
• 4,100 acres, 60% contained
Creek Fire, Los Angeles County
• 15,619 acres, 90% contained
Rye Fire, Los Angeles County
• 6,049 acres, 90% contained
Liberty Fire, Riverside County
• 300 acres, 100% contained
Skirball Fire, Los Angeles County
• 422 acres, 75% contained