Briefs
Firefighters Focused on Defending Carpinteria from Thomas Fire on Monday
Over 6,000 Fire Personnel Fight On; Voluntary Evacuations Stretch to Highway 154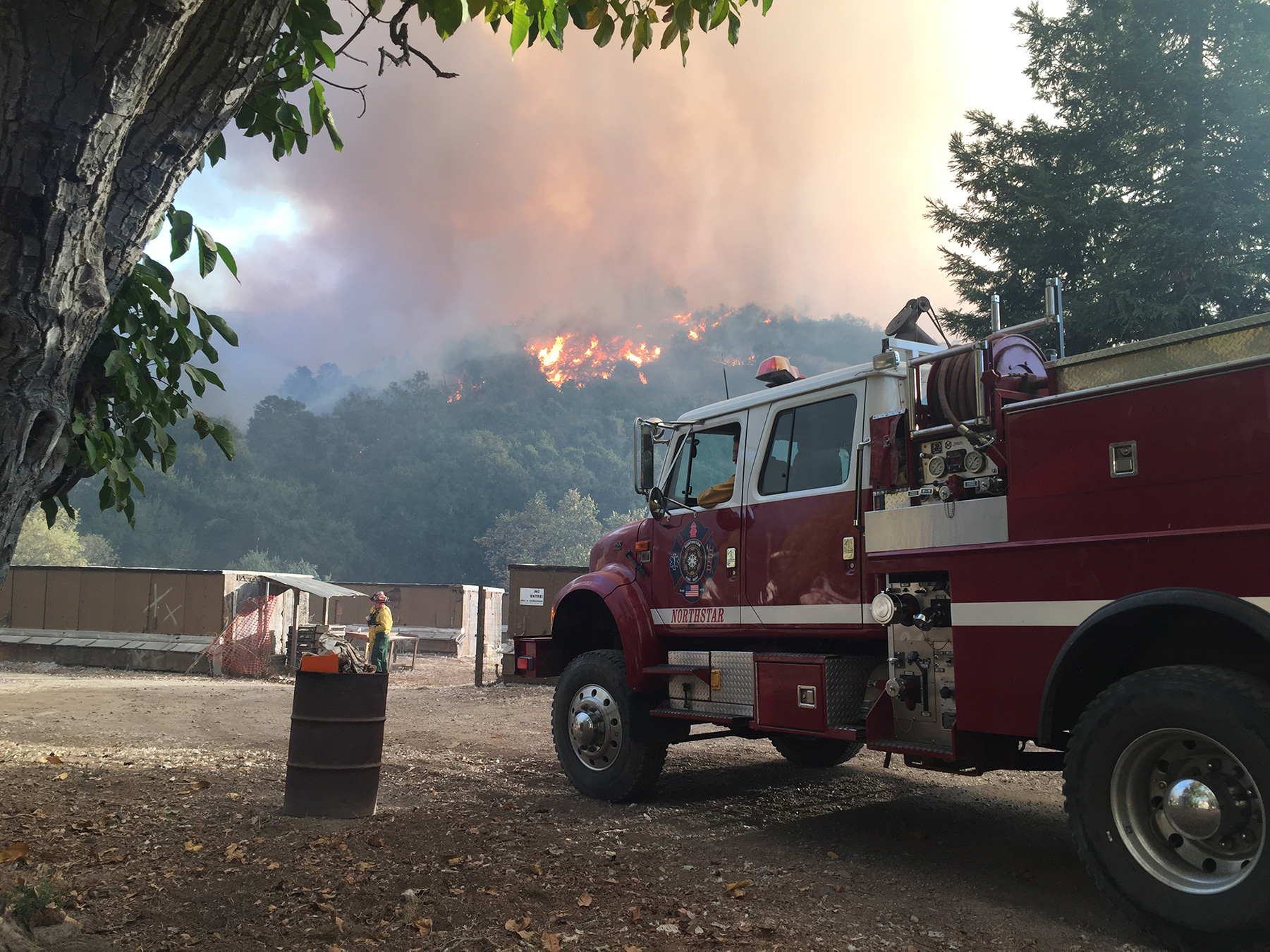 [Update: Dec. 11, 3:40 p.m.] As the western edge of the Thomas Fire, now about 2 miles to the northeast of Toro Canyon Park, continues to spread to the west, fire crews will begin using Westmont's campus as a staging ground for operations in the Montecito foothills, according to Westmont College Manager of Media Relations Scott Craig. About 500 firefighters and 100 engines will cycle through the campus as strike teams are assigned to defend structures throughout Montecito, north of Highway 192.
In the rugged terrain to the north and east, air tankers continue to work the ridges of the Santa Ynez Range. According to Incident Command public information office Dave Zaniboni, a Boeing 747 Supertanker and DC-10 were both on hand and flying out of Santa Maria, but radio chatter indicated that dense smoke at altitudes as high as 8,500 feet were hampering their ability to make drops in Toro Canyon, where incident commanders were hoping to hold or at least slow the growth of the blaze.
Much of the vegetation that the Thomas Fire is burning through on its western flank hasn't burned in upwards of 40 to 100 years. Winds are forecast to kick up again tonight, blowing out of the north and northeast—down canyons and downslope.
[Update: Dec. 11, 1:46 p.m.] A second community meeting will be held at 4 p.m. today at San Marcos High School Auditorium, 4750 Hollister Avenue. Like Sunday's meeting, incident commanders and the county will update on fire status, evacuations, and air quality, and take questions at the end. Simultaneous translation in Spanish will be available at this meeting.
[Update: Dec. 11, 8:30 a.m.]: Skies appeared slightly clearer early Monday morning in the Santa Barbara area due to onshore winds. But by 8:30 a.m., County Fire spokesperson Captain Dave Zaniboni said, "It seems like it is getting worse now."
Overnight, the fire burned in the foothills from the Santa Barbara County boundary to Summerland. Flames behind Summerland that were not visible on Sunday appeared prominent Monday morning. But fire officials were unsure if the smoke yesterday had masked the flames. In the dark early morning hours, when he was in Carpinteria, Zaniboni said all he could see "was a line of fire."
"The fire is kind of staying up on the hillside," he added. "Backside of the mountain it has really established itself in the Santa Ynez River drainage. Not really a lot of forward progress. As you get closer to Santa Barbara, the fire tends to go more north up toward the mountains."
The plan for Monday is to focus on Carpinteria and deploy fire engine companies to do structure protection. Santa Barbara Independent photographer Paul Wellman was near Casitas Pass Road where he saw firefighters stop a massive blaze coming down the hillside and prevent it from taking down the houses on a property below. "Very impressive," he said.
Whether or not fixed-wing planes will be able to fly depends on the density of the smoke. There are 27 helicopters currently combating the fire. Helicopters fly much lower and get below the smoke. There is not an updated acreage size available yet this morning, but Zaniboni said he expected it to increase from 230,500 acres. Containment grew to 15 percent from 10 from the evening prior.
The region has not had more than one-tenth of an inch of rain in 270 days. Making matters worse, this is the eleventh day that humidity has been below 20 percent.
[ORIGINAL STORY: Dec. 10, 7:28 p.m.] Authorities told residents in all southern parts of Santa Barbara County on Sunday evening to prepare to evacuate. "You need to have a plan," Santa Barbara County Sheriff Bill Brown told a packed auditorium at San Marcos High School.
In the last 12 hours, the Thomas Fire had ripped through six miles of terrain, moving west along the Santa Ynez Range. With the fire growing to 230,000 acres, containment dropped to 10 percent from 15 earlier today. "The fire outpaced us today," fire officials announced.
Mandatory evacuations extend north of Highway 192 from Highway 150 to Mission Canyon Road. See the map below for voluntary evacuation zones, including Summerland, Carpinteria, and the San Marcos foothills.
Calling the fire "menacing" and "rapidly moving," Brown warned residents that this fire would burn unpredictably and aggressively for days to come. "This is not going to end tonight or tomorrow," he said. The fire continues to burn to the north, east, and west.
Officials had presented a more optimistic tone in recent days, but Sunday evening's attitude was noticeably more cautionary. As of this evening, fire experts placed the Thomas Fire as the fifth largest fire to burn in California's recorded history, and said they expect it would move up the list — California's largest wildfire, the San Diego County Cedar Fire of 2003, burned over 273,000 acres.
Their ability to contain the Thomas Fire depends largely on the winds. It was cautiously noted that sundowner winds are not predicted for this week. But it is also worth noting that winds in recent days have been stronger than predicted. The National Weather Service shows winds to be 3 mph with gusts up to 8 mph in Montecito on Sunday night. Humidity is 8 to 15 percent. It's expected to drop Monday.
Dr. Charity Dean of Santa Barbara County encouraged people to leave the area, even for 4-6 hours. While ash has been visibly blowing throughout the South Coast, many particles are invisible, she said.
There was no shortage of praise for the nearly 6,000 firefighters, hailing from Portland to New Mexico to Montana, combating the blaze. The audience also generously applauded the many elected local officials in attendance, including Congressmember Salud Carbajal, State Senator Hannah-Beth Jackson, Assemblymember Monique Limón, Santa Barbara Mayor Helene Schneider, County Supervisor Janet Wolf, and others.
The tone at the San Marcos theater was concerned, but participants appeared organized. After all, they are not new at this. Many of them recalled living through a number of devastating fires in recent years. "This is an extremely fire-wise community," said Pat McElroy, fire chief for the City of Santa Barbara.
Elizabeth Brooks and Rick Wolf remembered the Jesusita Fire that came within about a mile of their San Roque home in 2009. But, they said, "This is the first time this has ever been this bad," referring to ash filling the air. Asked what they thought seemed different now, they said, without a doubt, global warming. They expressed a feeling of grimness driving around a totally empty downtown. They worried about small businesses. "It's the holiday season," Brooks said.
On Sunday afternoon, traffic on the roads through Carpinteria and Montecito was scarce, save for the countless fire trucks streaming through town. They refilled with water at Carpinteria High School. A private fire-fighting company, Mt. Adams Wildfire, from Northern California and reportedly contracted by Santa Barbara County, prepared to protect estates in Montecito. One of those Montecito residents is Ellen DeGeneres. She tweeted, "Our house is under threat of being burned. We just had to evacuate our pets. I'm praying for everyone in our community and thankful to all the incredible firefighters." So far, 790 structures in Ventura and Santa Barbara counties have been destroyed, and another 162 damaged.
While everyone is concerned about fire insurance policies, Tom Fayram, water expert for Santa Barbara County, was thinking two steps ahead. He warned about the impact of charred vegetation during winter rains. He noted that flood insurance takes 30 days to go into effect.
Santa Barbara and Goleta school districts cancelled school until after winter break.
In response to considerable pressure from UC Santa Barbara student leaders, university Chancellor Henry Yang canceled finals week, which were scheduled to begin Monday, December 11. Final exams will be rescheduled for the week of January 8, pushing back winter quarter until Tuesday, January 16. Yang cited fears about power outages, confusion around Santa Barbara County's "false late-night evacuation notice," and concerns about poor air quality and transportation. "Continuation of scheduled exams has become untenable," he wrote in a campus-wide email.