Living
Incident Commanders Look West After the Thomas Fire Jumps Toro Canyon
Fire Crews Prepare to Defend Montecito, Plan to Catch Blaze at Gibraltar
About this time Monday evening, fire commanders were hoping to hold the southwestern edge of the Thomas Fire at Toro Canyon. By dawn Tuesday morning, with flames licking up the sides of Romero Canyon almost two miles to the west and residents from Montecito to downtown Santa Barbara growing alarmed at the visible blaze, Plan B became the way forward.
At a now-daily town hall meeting on Tuesday at San Marcos High School, Chris Childers, battalion chief with Santa Barbara County Fire, reviewed the fire's daytime progress: "We only gained a few thousand acres, but we gained them in the wrong place." Thomas has grown another 6,000 acres since Monday, and the fire chiefs indicated that it was likely to overtake the Zaca Fire in size. Zaca burned more than 240,000 acres in the Santa Ynez Valley in 2007; Thomas is now at 236,000 acres, with containment at 25 percent. Almost all of the 701 structures burned thus far have been in Ventura County — just five have been in Santa Barbara County as of Tuesday evening.
"Toro and Romero canyons are one canyon too far. The intent now is to wall it off above Carpinteria, Montecito, and Summerland. If we can steer it to the northwest, it's gonna run into some stuff," said Los Padres Public Affairs Officer Andrew Madsen. Romero Canyon lies just over a mile north of Highway 192 in Montecito.
That "some stuff" is old burn areas and fire breaks. In the last decade alone, at least four major wildfires have burned near Thomas's western flank — Zaca to the north, Rey to the northwest, Jesusita and Tea to the west. "We've got the burn scars from the Zaca, and we blew out some fire breaks on the east side of the Rey Fire. There's a lot of Phos-Chek on either side of the Rey fuel break," Madsen said. Fire commanders are looking to the Zaca and Rey Fire burn areas to keep the fire out of the Santa Ynez River watershed and lessen its effect on the South Coast's water supply.
On the front side of the Santa Ynez Range, firefighters are counting on help from the old Tea and Jesusita burn areas plus Gibraltar Road's ribbon of pavement to halt Thomas's westward march. Childers said, "In the last decade, we've burned major portions of Santa Barbara County. What we're trying to do now is connect the dots and get the fire to there."
To the south, 7,200 Montecito, Summerland, and Santa Barbara residents were evacuated and 34,000 are under an evacuation warning, according to Undersheriff Bernard Melekian, who added that the evacuation orders are unchanged. Hundreds of firefighters and engines have amassed north of highway 192, organized in coordinated strike teams. "As strike teams pour in, they're checking in, getting their orders, and fanning out into the residential areas," said Madsen.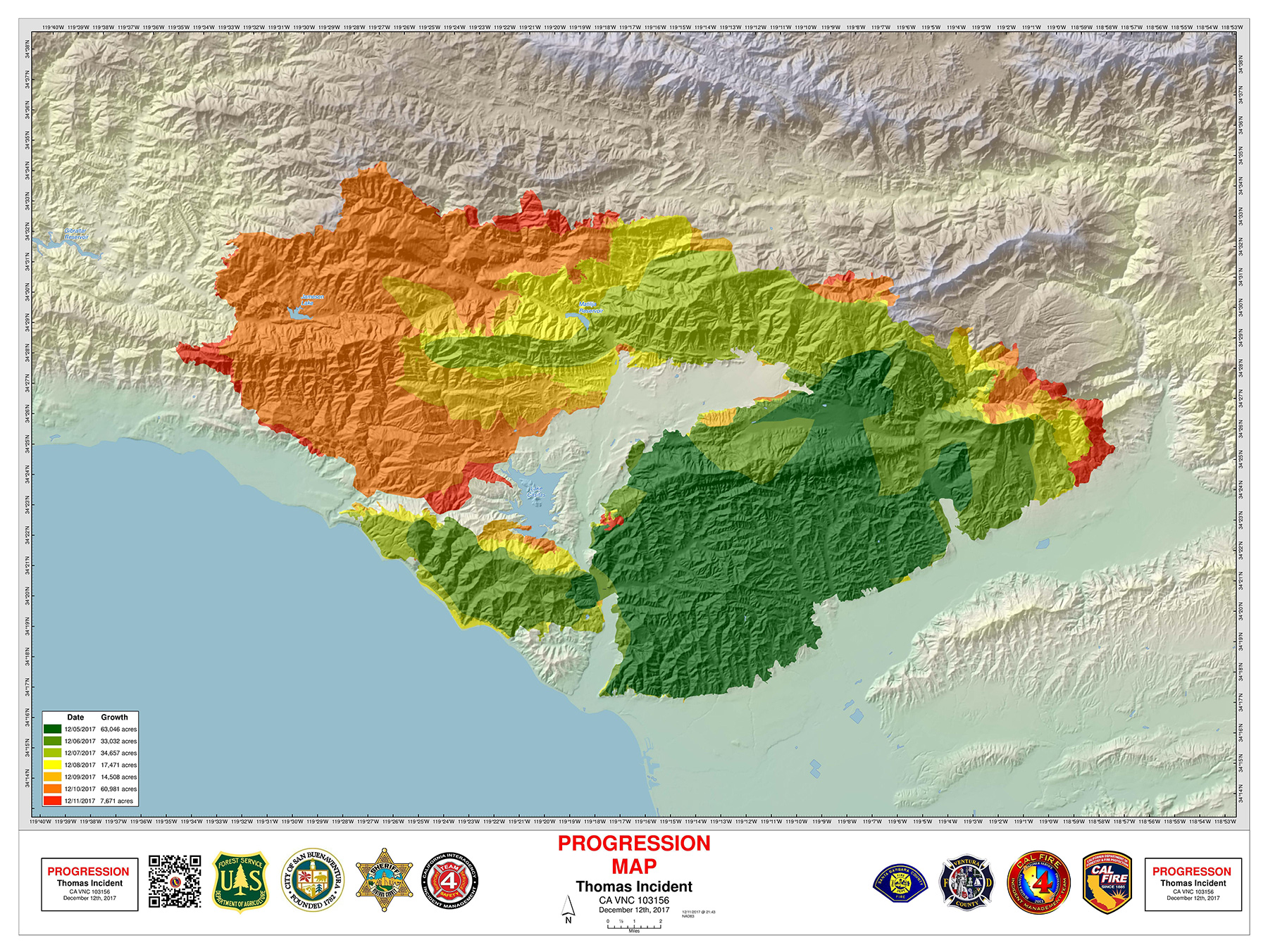 Crews will continue to confront poor fire conditions. The wind has slowed compared to Sunday when Thomas made a six-mile run in just 12 hours, but Santa Barbara County Fire Chief Eric Peterson opened Tuesday's meeting by announcing that humidity atop Montecito Peak registered just one percent this morning. Much of the area hasn't seen measurable rain in over 270 days. Winds are shifting and expected to pick up again by Friday and blow down canyon. An operations center has been established at Lake Cachuma which will serve personnel and equipment fighting the Thomas Fire in the Santa Barbara zone.
Steve Swindle, a Cal Fire Public Information Officer, said, "The main thrust now is direct suppression — hoses, helicopters, and tankers, all to knock it down." A mix of about 400 inmate firefighters working with engine crews from municipalities, counties, and states across the country have brought the tally up to nearly 8,000 fire personnel working the blaze. As Chief Peterson told the crowd, "You now have the nation's largest fire department working for you."
The town hall also brought officials out in full force to advise Santa Barbara county residents on public health issues. Kimberly Coley, executive director of American Red Cross Central Coast and Ventura County Chapters, listed the three active evacuation shelters in Ventura and Santa Barbara counties. On Monday night, the Oxnard College location hosted 30 people, UCSB's Multi-Activity Court held 67, and the largest, the Ventura County Fairgrounds, sheltered 191. Her comments were a reminder that the fire began December 4, about 40 miles away in Santa Paula.
Evacuees in need of a ride to a shelter can dial 2-1-1, and an operator will connect them to Easy Lift, a Goleta shuttle service offering rides for free. "We also have hundreds of folks, community members who are registered through the Red Cross shelter to come in and provide a variety of services," Coley said, including hot meals, snacks, water, and fire updates.
Air quality continues to fluctuate. The county has given out more than 300,000 N95 masks at locations in Carpinteria, Santa Barbara, Buellton, Santa Maria, and Lompoc in the past week. P100 masks also work to block particulates, said Dr. Charity Dean, Santa Barbara County's public health officer.
Dean told residents Tuesday afternoon to avoid clearing ash in the interim, as the fire continues to burn in South County. "Large amounts of wet ash on your skin can have a health effect, so you want to avoid that," she said. Residents should avoid using leaf blowers, which crumble ash into the air, and avoid using vacuums that lack a high-efficiency particulate air (HEPA) filter. HEPA filters can also be used to create a clean room; follow the unit's directions on the right-size space, Dean directed.
County updates and information about relief efforts are available in English and Spanish at the Thomas Fire website.