Living
Fighting Fire with Fire to Stop the Thomas Fire
Incident Command Announces Aggressive Contingency Plan to Launch Firing Operation Against Thomas
With strong down-slope winds predicted to hit the South Coast on Friday and Sunday, incident commanders on the Thomas Fire are weighing plans to take the fire to Thomas rather than waiting for Thomas to bring the fire to them.
The threat posed by the fully fueled force of 80-year-old forest above the communities of Carpinteria, Montecito, and Santa Barbara is not one that fire scientists are considering lightly. Acreage burned stands at 238,500 with 30 percent containment.
At Wednesday afternoon's community forum, Mark Brown — Operations Section Chief for the Thomas Fire — outlined an aggressive and audacious counter attack that he called Plan C. In this case, "C" stands for a "contingency plan" in which firefighters initiate a firing operation of their own that would engulf about 7,000 acres of heavily vegetated front country, roughly between the Cold Springs trailhead and San Ysidro Creek, in controlled flames. By so doing, commanders would create a fuel-free zone big enough to take the wind out of the Thomas Fire's sails.
On the residential side of the line, Brown said there would be fire lines established, hose laid, and about 400 fully staffed fire engines assembled to go mano a mano with the Thomas Fire if need be. With a line of fire set at the base of the ridge and a second line set at the top, the hope is to prevent the Thomas Fire from slopping over the crest at Camino Cielo, where it could run rampant in the backcountry.
According to Brown and Santa Barbara County Battalion Chief Chris Childers, this initiative could start as soon as Thursday morning, though both stressed no decision to initiate this approach has yet been made. Maybe not, but based on the evidence presented by the assembled men and women in public safety uniforms, it sure seemed like it.
A fire behavior specialist highlighted just how explosive the densely packed vegetation is in this area; the metrics by which experts measure the burn potential of the area's vegetation, he said, are off the charts. Much of the brush, he said, hadn't burned since 1932. The most recent fire alluded to — the Romero Canyon Fire — burned in 1971 and claimed the lives of four firefighters at once. Their crosses, he noted, had only recently been replaced atop a ridge were fire line was being cut just yesterday.
According to Battalion Chief Childers, Wednesday had been "a great day." The wind and smoke cooperated, and incident commanders were allowed to bombard the western flank of the fire with more air power than since the start of the fire on December 4. Six standard air tankers were joined by two supertankers to drop fire retardant, and they had pretty much all day over the fire. On Tuesday, by contrast, air tankers could only attack the flames for a couple of hours given smoke and wind conditions. Thirty-three helicopters continued their deployment, reaching deep ravines that the air tankers can't.
According to Brown, the primary plan — Plan A — would be to do more of the same: keep pummeling the fire from above, cooling it down enough that ground crews can attack with chain saws, axes, and hoses. Plan B is to wait for the fire to meander from where it is now, north of Highway 192 near San Ysidro Creek, at which point it would bump into the terrain pretty well consumed by the Jesusita and Tea fires, which burned eight and nine years ago. Fires don't just automatically extinguish themselves when they hit these recent burn zones; they just burn less brightly and with less heat, making them easier to put out.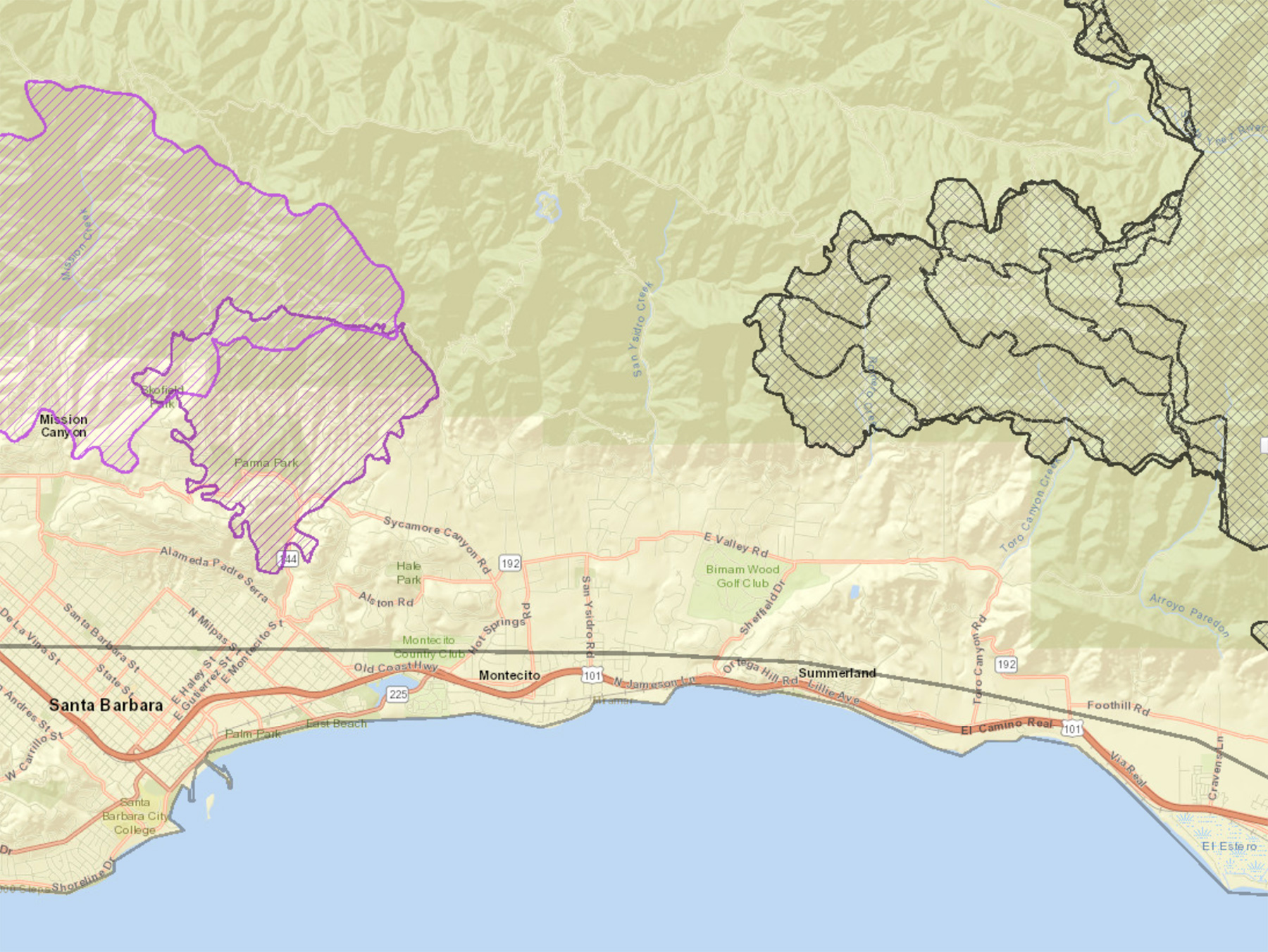 But here's the rub: Currently, the fire has been moving west at a pace of half a mile to a mile a day. At that rate, it would only be halfway to the past burn areas by Friday when the winds are expected to shift. At that point, those winds are expected to be running downhill, gusting up to 40 miles an hour. Anything over 30 miles an hour renders it unsafe for air tankers to fly.
Of the firing option — Plan C — Brown said, "It's going to put smoke in the air, but it's going to be us putting the smoke in the air. We want to do it under our own terms and our own conditions." Otherwise, he said, the army of 8,000 firefighters assembled to do battle with the Thomas Fire would have to confront the full power of the forest ablaze running downhill. And should something go wrong, the theory is, those 8,000 troops would be on hand and prepared to put things right.
In the meantime, it was announced that the 97 households near Rincon would be removed from the mandatory evacuation list, and its occupants allowed to move back in. That reintroduction is a rigidly choreographed process, and Undersheriff Bernard Melekian urged patience for those returning to their homes.
To the west, Highway 154 will now be blocked off between 5 and 9 a.m. to allow fire trucks, crews, and heavy equipment to move up and down the mountain to various staging areas. One of those spots is located about a mile up the road on a chunk of vacant land near the fabled "Bridge to Nowhere." At that spot, a helicopter loading station has been established, allowing pilots to reload a mixture of water and retardant mixed at the site.
Further up the 154, at Windy Gap, over a hundred inmate firefighters and a handful of dozers continue to shore up fire breaks, "connecting the dots" between East Camino Cielo and the 154. Should the Thomas Fire rage past incident command's contingencies to the east, they've got a backup plan for the backup plan — call it "Plan D."