News
Who's the Real Westsider?
Four Candidates Fight for Santa Barbara's District 3
In this new paradigm of district elections, issues tend to distill down to the hyper-local. During the last District 3 election, in 2015, candidates promised to clean up abandoned mattresses being dumped on city streets. This year, each of the four contenders has vowed to improve nighttime lighting. That's not to say their attention doesn't stretch beyond the Westside. Housing, State Street, the drought, the budget, and the challenge of representing a working-class and often disenfranchised neighborhood are topics for discussion and debate for them all.
Whoever is chosen during the June 5 special election will fill the seat left vacant by Cathy Murillo when she ascended to the mayor's throne in January. The winner will serve an 18-month term before the position goes up for grabs once again. That means he or she will hit the ground running with little time to settle in before the next campaign season begins, a challenge even for City Hall veterans, and especially so for these political greenhorns.
The race is significant in a number of ways. It has attracted the candidacies of three Mexican-American residents, suggesting that the idea behind district elections — to increase minority representation on the council — is working. It will also restore a critical seventh, swing vote to the council, which has limped along since January with only six members who often deadlock 3-3. And District 3 is a tricky jurisdiction to engage. It is highly dense, heavily residential, and home to a large population of immigrant and Spanish-speaking residents. Voter turnout is typically low — in 2015, 1,506 of the 4,927 registered voters cast ballots. Murillo won with just 941 votes in a three-way race.
As the four contenders ramp up their campaigns, we spoke with each of them about their backgrounds and platforms, and why each thinks he or she is the truest Westsider of the bunch.
Stepping Up: Oscar Gutierrez
It was happenstance that steered Oscar Gutierrez toward civic life. To complete his community service hours during his senior year of high school, Gutierrez signed up with LifeChronicles, a nonprofit group that videotapes the life stories of ill and elderly people. He was asked to film Larry Crandell, a giant of business and philanthropy affectionately known as Mr. Santa Barbara. The two immediately took a liking to each other, and Crandell's tireless passion for bettering the city he loved stuck with Gutierrez. "I learned a lot from Larry," he said.
After earning a film studies degree from UCSB, Gutierrez, 34, kept learning about community and local government, he said, with broadcast jobs at the City of Carpinteria's television station and TVSB, where he's won awards for his work. Gutierrez also started his own video production business and recently began filming lectures and tutorials for LinkedIn. "It's great," he said. "I get to meet and listen to CEOs and authors talk about how to be productive, proactive, and successful. I just sit there and soak it all in." Gutierrez said he's heard Santa Barbara described as the Athens of the United States. "And it's true — we have all these geniuses living here. We're also very hardworking. That's what I love about Santa Barbara — we live in a very special place."
This lifetime relationship with his hometown inspired Gutierrez to run for office, a decision he only grew more confident in after speaking with neighbors and meeting with other candidates. "I realized I would be the best representation of my district," he said. "I have the most intimate experience and greatest knowledge of this city." Gutierrez explained he's excited to pick up representing District 3 where Mayor Cathy Murillo left off, especially in engaging the area's Spanish-speaking residents who've historically felt alienated by City Hall. "I've been giving people my address and telling them they can come knock on my door anytime," he said. Gutierrez is heavily supported by Murillo and got the coveted County Democratic Central Committee endorsement.
Improving Westside street lighting and crosswalks around town are at the top of Gutierrez's to-do list. He referenced the two people recently struck and killed at intersections: "There's an issue." Housing takes precedence as well, he said. The city's Average Unit-Size Density program needs to be modified to produce truly affordable rental units for Santa Barbara's workforce. Gutierrez lamented that so many first responders who live out of the area struggled to get here during the Thomas Fire and debris flow. "That was a wake-up call," he said.
Gutierrez would like to see State Street reimagined with more living space to encourage foot traffic along the struggling commercial corridor. Downtown could also do with a greater sense of community and place, he said. Why not allow local merchants, like those who participate in the Cabrillo art fair, to set up temporary shop in open areas along State Street and De la Guerra Plaza? Or in vacant buildings? "If I knew my neighbor was selling their goods, I'd head downtown and check it out," Gutierrez said. "And while I'm there, I'll probably get something to eat." Tourists would dig it as well, he promised. "That's a way to get our economy going again." Homelessness is a big issue, Gutierrez acknowledged, but he's encouraged by the progress of the city's restorative court and policing programs that favor treatment and services over tickets and jail.
The Highway 101 widening project needs to happen right away, Gutierrez insisted. The desalination plant may keep us from going thirsty, but it's sucking up incredible amounts of electricity, he also explained. If elected, he said he'd explore the feasibility of building solar panels to offset its usage. City Hall's lengthy planning and permitting process needs to be smoothed out as well. "When I hear people tell me that they're trying to remodel their kitchen and it's taken two years, that's alarming," he said.
Circling back around to his Westside home, where he lives with his mother and girlfriend in the house he grew up in, Gutierrez wants to encourage more neighborhood events, like a two-day tamale festival along a closed stretch of San Andres Street. The challenge is finding other open spaces for such get-togethers. "I'm going to look into that," Gutierrez promised, "because we need places where people can come and hang out and get to know each other. That's critical for a community."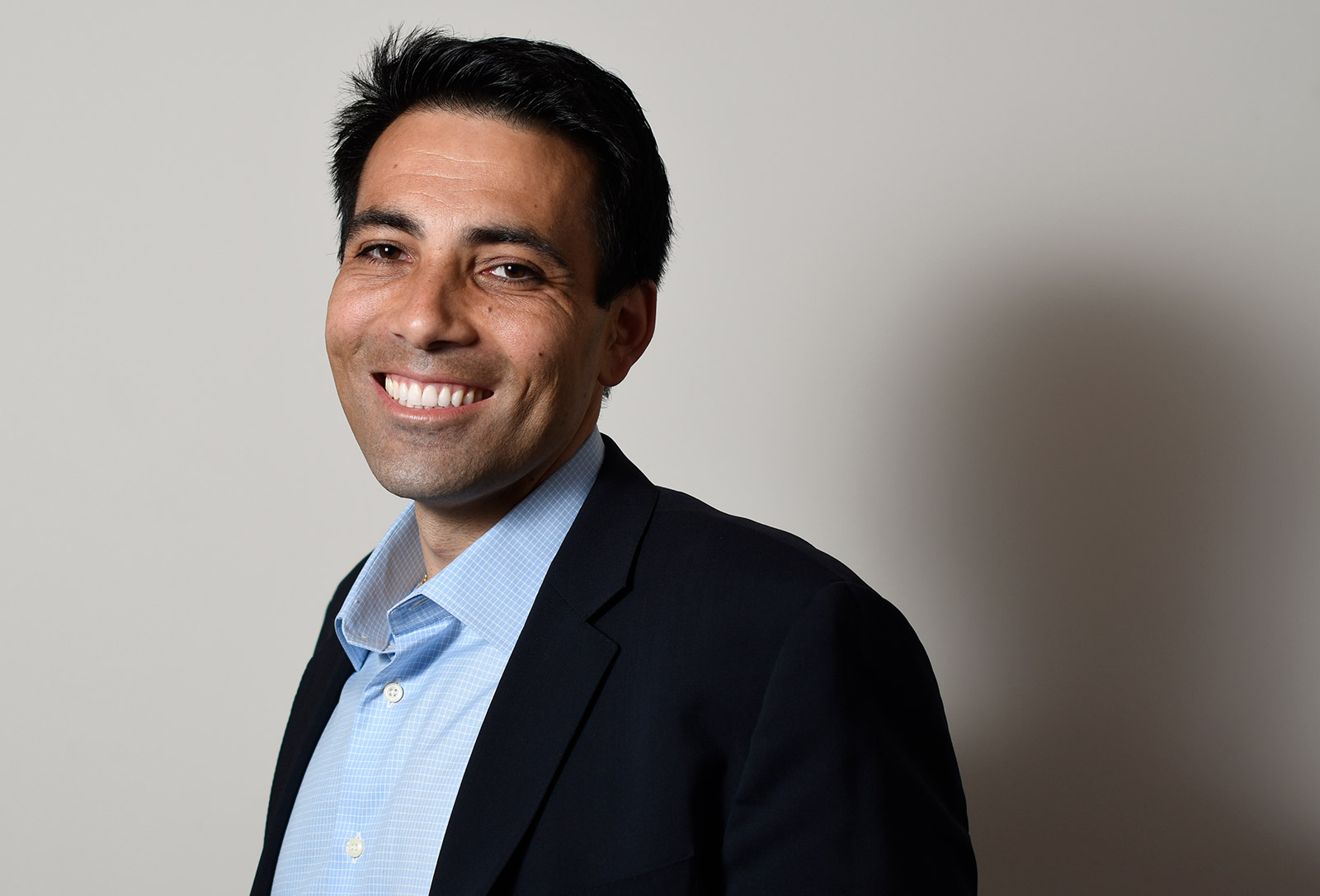 All Business: Michael Vidal
Every decision by the City Council should be made through a clear fiscal lens. That's the hard-held opinion of Michael Vidal, a former Wells Fargo district manager who runs his own wealth management firm and recently felt pulled toward public office. "A big part of what makes someone effective on the council is being able to compute financials," he said. "That's really important."
Vidal, 37, grew up in Fresno, graduated from UCSB, and has lived here since. He's heavily plugged into city business circles through the Chamber of Commerce and sits on the boards of the Santa Barbara County Employees' Retirement System and the Legal Aid Foundation. "I've always been in a role where I'm taking care of a team, and I've loved it," he said. "Public service is very similar to that kind of leadership."
Like candidates Oscar Gutierrez and Ken Rivas, Vidal's family comes from Mexico, and he speaks fluent Spanish. All three are passionate and engaged. But what sets Vidal apart, he said, is a deep well of private- and public-sector experience from which he would draw. "I'm bilingual, and my parents are immigrants," he said. "Those things make you better, but they don't make you good." Just as important, Vidal went on, is the ability to articulate the best interests of your constituents. "Words are powerful," he said, "and we have to make sure that whoever represents the people of District 3 is an effective communicator."
On the issue of housing and the city's controversial high-density incentive program, Vidal has ideas: collect impact fees from developers; shorten the permitting process; increase parking requirements from one to two spaces per unit; and do a better job of explaining to the public how and why building more, smaller apartments will eventually stabilize rent prices. Westside parking wars could also be abated with a combination of angled parking and one-way streets, Vidal continued. He vowed to reopen contract negotiations with Marborg to reduce sidewalk mattress dumping, as well as to continue community efforts to improve street lighting.
The drought is on his mind, too. Though Vidal lauded the city's decision to restart its desalination plant, calling it "a great example of us being more proactive in planning for the realities of climate change," he wondered about newer technologies that transform wastewater into drinking water, rather than siphoning supplies from the ocean. And finally, on the topic of State Street vacancies, Vidal said City Hall should encourage any and all businesses to move in. "Beggars can't be choosers," he said. "If someone wants to open a T-shirt shop, awesome. At least we've got one less vacant space." Let's look to the Funk Zone for examples of commercial attraction done right, Vidal emphasized, and sometimes prioritize walkability over the almighty automobile.
Without the Democratic endorsement that comes with a legion of campaign volunteers and coffers heavy with cash, Vidal has been hitting the pavement hard, canvassing the Westside early and often. Socially progressive, he earned a 100% rating on Planned Parenthood's Central Coast Action Fund questionnaire, and as a friend of the business community, locked up an endorsement from the Santa Barbara Association of Realtors. "I don't think the City Council needs another [Democratic Central Committee] rep," he said. "I think the council needs someone who is a friend of the DCC but is going to be friends with the other side as well."
Vidal's opponents are quick to point out that he has never voted in a city election and, according to Santa Barbara polling records, only registered to vote last year. How invested in the Westside could he be, they've asked? Vidal dismissed their criticism as "rumor" meant to detract from their own "deficiencies." He instead emphasized the years he's spent running his own company, serving on local boards, and volunteering with neighborhood groups, including the Page Youth Center and Rotary Club. "I hope that my experience, work ethic, and commitment to our community speaks to our voters," he said.
Captain Community: Ken Rivas
Ken Rivas, 57, has worked all sorts of jobs ​— ​campus security officer, neighborhood organizer, union rep, bus driver for seniors ​— ​but a common theme runs through them all. "I'm the kind of person who likes to help people," Rivas said. "When I see conflict, I like to get involved and smooth things over."
As chair of the Franklin Neighborhood Center Advisory Committee, Rivas helped merge the city's three separate community center advisory groups, which competed for City Hall's time and attention, into one joint council in 2010. And as a UCSB field organizer for the California School Employees Association for a decade, he regularly entered the lions' dens of Republican legislators unsympathetic to organized labor. "Some of it was pretty intense," Rivas recalled. "But it was great experience, and I got to see both sides." He recently secured the endorsement of Service Employees International Union Local 620.
While some of his opponents cite public safety as their reason for running, Rivas noted crime rates are down on the Westside, especially gang crime. He credits a savvy, multipronged approach by the city and its education partners that included truancy and youth apprenticeship programs, as well as the outreach efforts of nonprofits like the Boys & Girls Club and YStrive. Early intervention with at-risk youth always works better than more beat cops, he said. However, Rivas does worry about traffic safety and lighting in District 3 and vowed to make Westside infrastructure a focus if elected.
Rivas's top priority is family and workforce housing. "People are getting pushed out as the rents increase," he said, citing an encroachment of Santa Barbara City College students into formerly affordable apartments. "That's a major concern." He also talked about a need to improve on-street parking and wondered about the status of a new city initiative ​— ​SNAP (Student Neighborhood Assistance Program) ​— ​to reduce unruly behavior and noise complaints among SBCC renters. "I'm not sure how well that's working. I'd like to look into it." To encourage civic engagement among the Westside's heavily Latino population, Rivas said he'd make sure all City Hall literature was translated into Spanish and council meetings were interpreted in real time.
Though he's a lifelong Democrat ​— ​having campaigned for Jack O'Connell, Hannah-Beth Jackson, and other progressives ​— ​Rivas said he'd "like to get along with everybody" up on the dais, regardless of their political leanings. "I don't want to pick sides," he said. "My vote is always going to be based on what's best for the community." He sees an absence of big-ticket campaign contributions as an asset. "I don't want to be beholden to some organization because they gave me five grand," he said. "I want to be beholden to the people."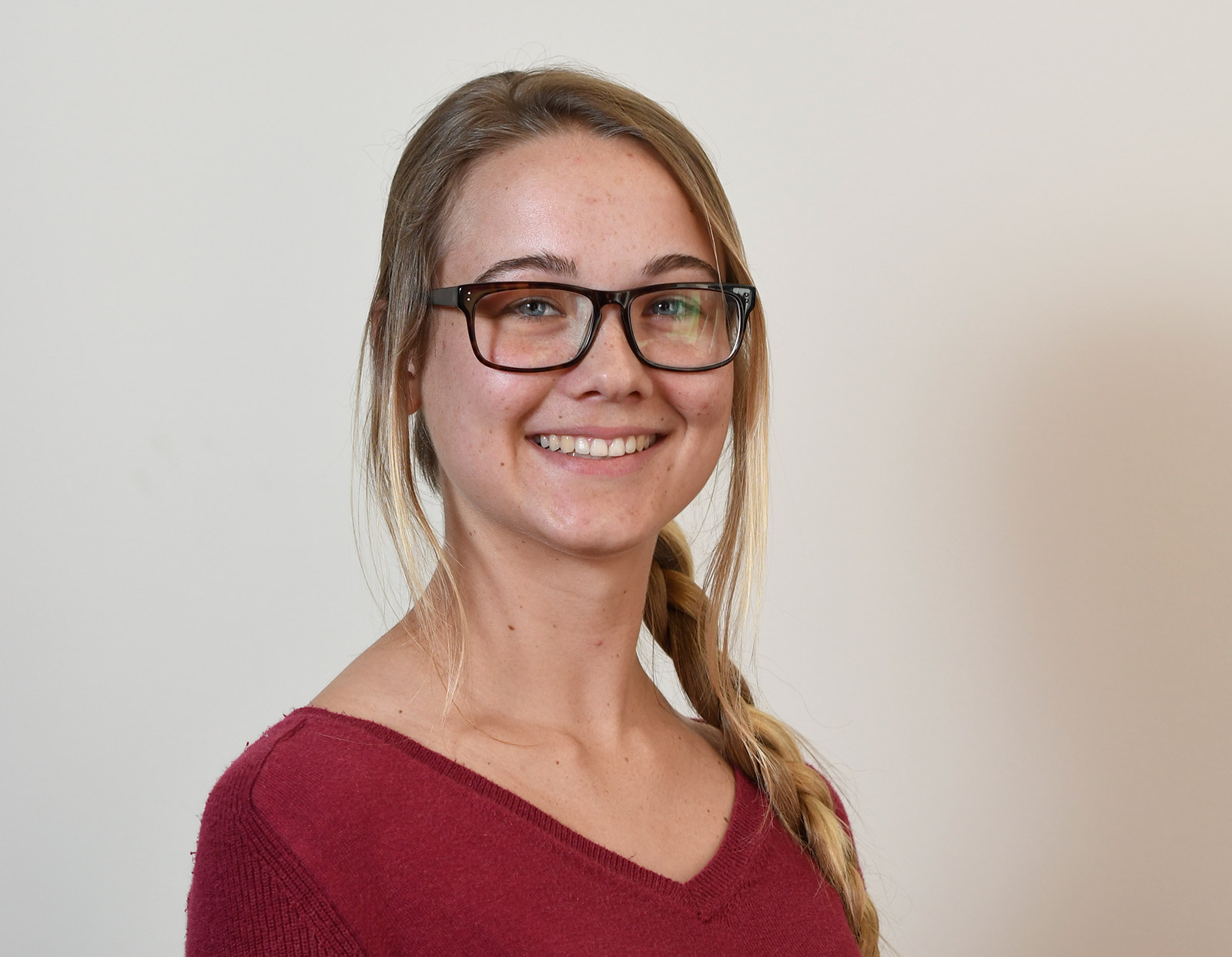 The Young Gun: Elizabeth Hunter
An environmental studies major and self-described fiscal conservative, Santa Barbara City College student Elizabeth Hunter defies easy political classification. "I don't fully identify as either a Democrat or a Republican," she said. "I'm more interested in what's best for Santa Barbara."
Born and raised in District 3, Hunter, 22, acknowledged she's the greenest of the four candidates, but she insisted it's time the council was injected with a more youthful perspective. "I'm impassioned, and I think I can make a difference," she said. "I'm going to make the most of this opportunity."
City Hall, Hunter said, could do "a lot better" managing its budget. "They just keep increasing and increasing taxes on the people, and I don't think that's necessarily a sustainable way to go." If elected, Hunter said she would reassess the council's income schemes and revenue streams to ensure every dollar is properly spent. One avenue she'd like to explore is the permitting and taxation of medical and recreational marijuana businesses. Santa Barbara ought to allow a greater number of storefronts, she said, and make the approval process much easier. "That way, we can generate a lot of money that will go back into law enforcement, schools, and road repairs," she explained. "We can do all that without raising taxes again."
Hunter said that in her conversations with neighbors, the subject of spiking rents comes up often. "We need to look at options like developing more Section 8 housing or imposing some kind of rent control," she said, emphasizing rent control would be a "last resort." Just as important as creating fair housing opportunities for working families is ensuring the city doesn't overextend its limited water supply, Hunter went on. She advocated for mandatory citywide rationing and strict regulations for new building developments.
To revitalize downtown, Hunter said she would encourage mom-and-pop businesses to move back in, and she'd support ways of attracting tourists, like siting more bars and cannabis shops along State Street. On the council, Hunter predicted she'd see eye-to-eye with SBCC science instructor Kristen Sneddon on most issues. "I feel like we'd definitely get along." She's also excited about the opportunity to lend another female voice to the chamber.
The campaign, at times, has been daunting, Hunter admitted. "It can be intimidating to be a fresh face without a lot of political experience." Luckily, she said, she's got the unwavering support of her father and campaign manager, attorney John Henry Hunter, as well as a tight crew of friends. "It's not just me in this," Hunter said. "I have a lot of people I can delegate work to and who will back me up in the whole process." Hunter and her dad like her chances, and regardless the outcome, she's grateful for the experience. "I've already learned a lot," she said.