News
Is High-Density Housing Project Too Big for the Neighborhood?
Son of 'the Marc' Comes Downtown to Anapamu Street
It was a long hot, afternoon for developer Greg Reitz as he doubled down on Santa Barbara's love-it-or-hate-it experiment to create new rental housing in the heart of downtown Santa Barbara. Reitz is proposing to raze most of the eight lots bounded by Anapamu, Garden, and Figueroa streets to build 52 apartments ​— ​with mechanically stacked underground parking ​— ​plus new office space. At last Thursday's Santa Barbara City Planning Commission meeting, opponents outnumbered project supporters three to one. As political theatrics, it was an exuberant defense of the existing neighborhood, a collection of old wooden apartment buildings, charming bungalows, a couple of Queen Annes, and some utilitarian offices.
In denouncing Reitz's plans, words like "monstrosity," "ludicrous," and "unfathomable" were tossed about. French Festival promoter Steve Hoegerman, leading the resistance, broke into a few stanzas of Joni Mitchell's slow-growth anthem "Big Yellow Taxi." If Reitz is an excitable guy, he didn't show it. Even the day after, he seemed unfazed. "People are passionate about what it means to live in Santa Barbara," he said. "I've heard it before." Reitz was referring to the seven hearings his project has received before the Historic Landmarks Commission (HLC) over the past 18 months. Members of the HLC don't much care for Reitz's project either. Only one, the venerable Bill Mahan, testified the project could get to an approvable design. Fellow HLC member Steve Hausz accused Reitz of "swinging for the fences" by seeking the very maximum allowable density possible under the city's controversial bonus density plan, known colloquially as Average Unit-Size Density or AUD: 63 units per acre. That's nearly twice what could otherwise be allowed. Hausz noted that Reitz was seeking the maximum possible height of 45 feet.
Reitz converted to become a full-time Santa Barbara resident three years ago after building The Marc rental housing development on upper State Street. The Marc ​— ​89 units of contemporary industrial chic with firepits ​— ​remains the first and only major AUD development to be built and occupied. Its high rents ​— ​$4,000 a month for a fourth-story two-bedroom ​— ​make a lightning rod for people who believe the AUD program is destroying the city's character without providing affordable housing in return. Reitz's downtown proposal is neither so audaciously designed ​— ​he's proposing five separate buildings utilizing four different architectural styles to break up the mass and monotony ​— ​nor expensive. It's still hardly affordable. Studios, he said, will start at $1,750; one-bedrooms will range from $1,890 to $2,500; and two-bedrooms will top out at $3,500.
Reitz preached the gospel of sustainability. His project's residents wouldn't need a car at all, he explained; they could take a bus to do their shopping at Ralphs. A single mom could still live within the enrollment boundary of highly desirable Roosevelt Elementary School even if she couldn't pony up the $2.25 million needed to buy her own home. His rents may not be capital A affordable, he conceded, but still within grasp for those making 120 to 200 percent of the area median income. (For one person, that's $67,000 to $111,000 a year; for a family of four it's $95,000 to $171,000.) That happens to be the demographic targeted by the City Council, he argued, when it voted to create the AUD program several years ago. And by creating 87 bedrooms worth of rental housing where there are now only 20, Reitz argued, he's creating new space in an otherwise constricted market.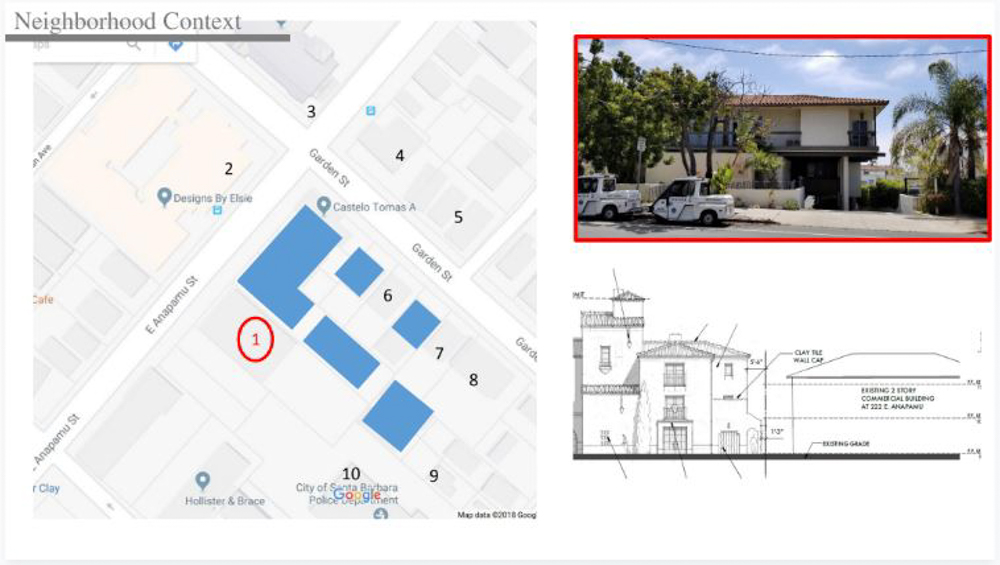 His critics weren't buying it. No one making 200 percent the median income, one speaker observed, was likely to tool around town in an MTD bus. Another pointed out that some cars are too big or heavy to be parked by the mechanical stacking machines proposed, and others questioned how residents could get out with their cars in an emergency.
The Planning Commission voted to continue the meeting to August 9 so that its members could weigh in on what one called the most complex AUD proposal she's seen in eight years. But under the rules of the AUD game, commissioners lack the discretionary authority to reject, approve, or even condition the proposed development. They can only share their thoughts: Is the proposal too big for the neighborhood? Does it fit in?
Commissioner Michael Jordan asked about imposing affordability requirements on a percentage of all AUD units built. Last November a City Council subcommittee embraced that very idea. That recommendation, however, has never been voted on by the council, and the commission isn't expected to deliberate on it for several more months.
Reitz made it clear that any such conditions would kill the project economically. He expressed a willingness to make 10 to 20 percent of the units more affordable, but only if he was allowed to build another floor up. And that idea, everyone agreed, was dead on arrival.