Sports
High School Football Preview 2018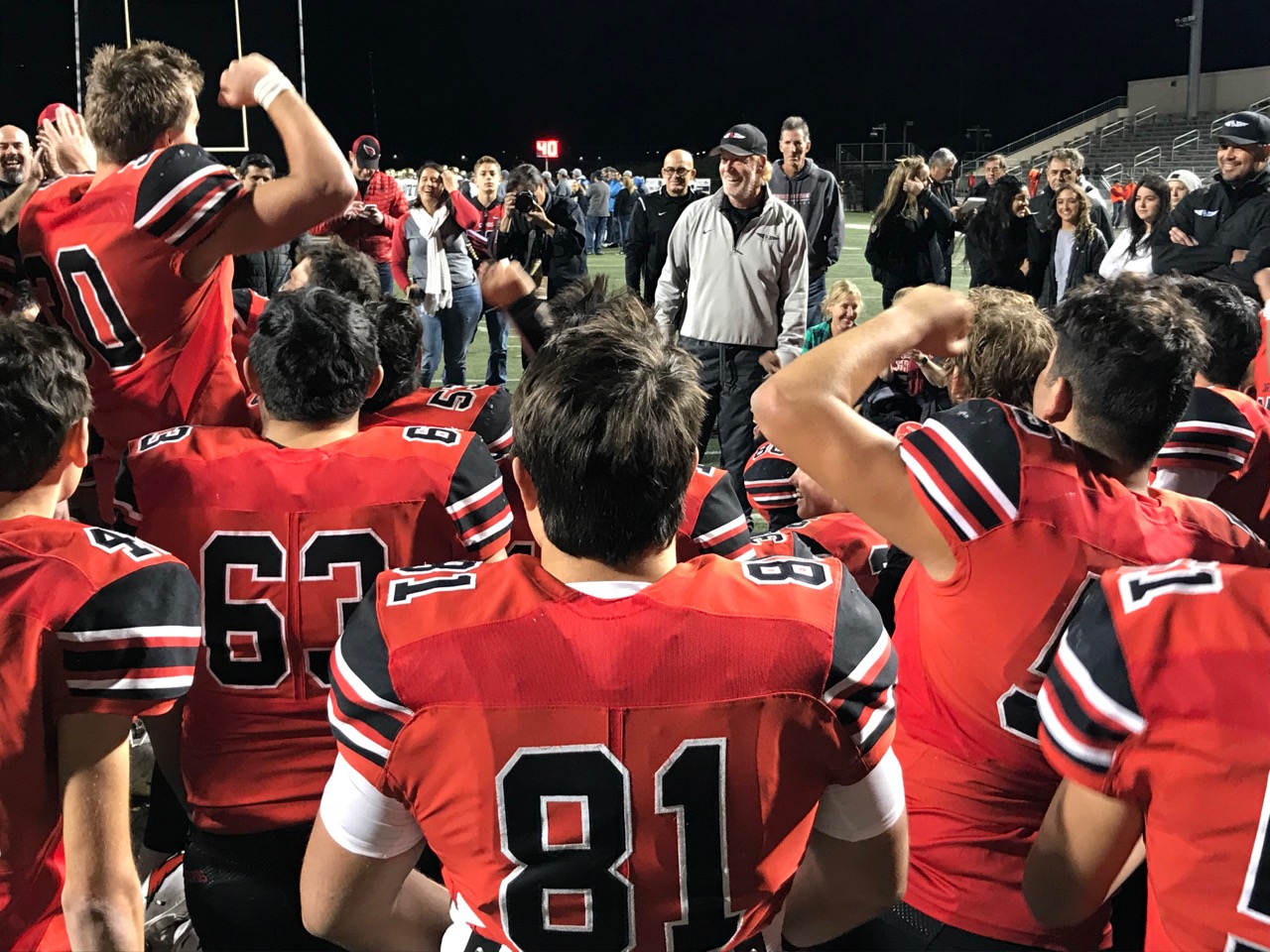 Bishop Diego Cardinals
Key Returners: QB Jake Engel, RB/LB Adrian Soracco, FB/DE Chris Mesipam, WR/S Luke Knightley, TE Mark Vehslage.
Coming off a CIF-Southern Section Division 6 Championship and a CIF Division 3AA State Championship last season, the Bishop Diego High football team has been elevated to CIF-SS Division 4 and assigned to the ultra-competitive Camino League along with powerhouse programs Camarillo, Grace Brethren, Moorpark and Thousand Oaks.
The Cardinals are the first Santa Barbara County school to win a state championship in football since those games were introduced in 2006. Bishop Diego must now replace 23 seniors from last year's team, including some of the best players in program history, and reload on the fly against improved competition.
"On our roster, 40-percent or more of the kids will be freshman and sophomores," Bishop coach Tom Crawford said. "It's going to be important for us to have a fast learning curve for those guys." The Cardinals did garner a lot of experience from last year's 16-game season, Crawford acknowledged, "So maybe we are more experienced than our class level would show on the roster, but still we've got a lot of big pieces to replace."
Despite their youth, the Cardinals are stacked with talented players all over the field. Adrian Soracco returns at running back after backing up CIF Division 6 player of the year John Harris over the past two seasons. Soracco possesses a rare blend of size and speed at 6'1", 215 pounds, and will headline a Bishop running game that has been dominant over the past several seasons. In addition to his exploits running the ball, Soracco is a standout outside linebacker, who brings elite athleticism to the position.
Soracco said he learned a lot as Harris's understudy last year. "Now, getting more touches, I've been working hard this summer and I think I'm ready to carry a big load this season," Soracco said. "With the recent [college] camps and all the stuff I've been doing this summer, I feel like my speed is way faster and I have much more power. I've gained 25 pounds since last season."
Senior quarterback Jake Engel returns after splitting the job with David Gladish last season. Engel has assumed more of a leadership role this season and his knowledge of the offense will allow the Bishop Diego coaches to open up the playbook. Another emerging playmaker on both sides of the ball is 6'2", 180-pound sophomore WR/DB Luke Knightley, who has the potential to be a blue-chip college prospect in the class of 2021. Knightley was invited to the Notre Dame Elite skills camp over the summer and is receiving interest already from some of the top college programs.
At 6'1", 225 pounds, Chris Mesipam is one of the more imposing athletes on the Bishop Diego roster and his versatility from the fullback position gives the Cardinals a dynamic weapon on offense. Mesipam will also see time at defensive end where he figures to create havoc in opposing backfields.
The Cardinals must replace their entire offensive line from last season, but what they lack in experience they more than make up for in size and talent. Crawford projects that they will start three sophomores and two juniors on the offensive line, led by 5'10", 285-pound sophomore center Toby Pouso'o, who took over for an injured Chris Jablonka in the state regional and finals last season.
"A key for us is how quickly those guys can develop and gain continuity," said Crawford of the offensive line. "Fortunately they're big. We've got good size up there, but we don't have quite then numbers that we've had in the past."
In addition to the tough league schedule, the Cardinals will take on Lompoc in a non-league play in what figures to be the matchup of the year in Santa Barbara County.
The Bishop Diego-Lompoc game on August 31 at La Playa Stadium will be known as "Team Cheek Night" to raise childhood cancer awareness and encourage adults to join the national bone marrow registry. There will be a cheek swab station, and local kids battling cancer will be on the field prior to the game as honorary captains. The inspiration for the event is 6-year-old Ludreas Peeters, who was diagnosed with leukemia last year. He is the son of Bishop Diego athletic director Dan Peeters.
Dos Pueblos Chargers
Key Returners: OL Angel Flores, RB Eric Lopez, WR/DB Dillon Roberts, WR Baylor Huyck.
A breakthrough 2017 season ended in heartbreak for the Dos Pueblos High football team as the Chargers were stopped inches short of the goal line for what would have been the go-ahead touchdown as time expired in the CIF-SS Division 10 Championship Game against Quartz Hill.
Former Santa Barbara High head coach and last season's defensive coordinator, Doug Caines, will take over the program after Anthony Mendoza stepped down this offseason. However, the Chargers plan to stick to the same hard-hitting style of play and will once again rely on their punishing rushing attack.
"Coach Mendoza set the foundation of toughness, commitment, work and sacrifice, and I'm definitely trying to carry that stuff on," Caines said. " We made a commitment to the weight room and we made a commitment to the team in terms of staying together as a unit."
The Chargers must replace some special lineman in Erick Nisich, who signed with Cal, as well as Nathan Beveridge and Justin Padilla, who were first-team All-CIF selections. Fortunately, the Chargers return 6'6", 345-pound tackle Angel Flores to anchor the offensive line.
Flores missed the first 10 games of last season recovering from a knee injury and is eager to make up for lost time. His work on the camp circuit this summer has brought a lot of college interest his way. The three-star recruit has an offer from San Jose State and is in contact with several Pac-12 schools. The college recruiting will only pick up for Flores once he's able to perform in pads injury free.
"It was a rough year because it was a big year for recruiting and I missed 10 out 14 games," Flores said. "I wish I could have played with my brothers, but I'm happy the recovery was fast and I got to play the last few games."
In addition to Flores, the Chargers will have a couple more 300-pounders on the offensive line with juniors Roberto Vargas and Jesus Aguilar. Add in returning starter Sunny Graybill at guard, and you have the recipe for a dominant unit up front.
Erick Lopez was a first-team All-Channel League running back last season and figures to build on that performance with another imposing offensive line in front of him. Udy Loza Jr. and Connor Lee will also receive some carries to create what Caines described as a loaded backfield.
At receiver, Dos Pueblos will feature 6'5" junior Baylor Huyck, who was up on varsity last season as a sophomore. Dillon Roberts will also contribute at receiver in addition to manning the safety position. Connor Lee will be also be involved as running back and receiver.
The Chargers are in the midst of a three-way battle for the quarterback position between Mason Boelter, David Leon and Albert Alvarado.
Dos Pueblos will open the season at home against Foothill out of Orange County on August 17. The non-league schedule will also include former Channel League rivals Ventura and Buena. The Chargers made one of the biggest jumps in all of the southern section from Division 10 to Division 5 as a result of their recent success.
Santa Barbara Dons
Key Returners: QB Frankie Gamberdella, S Jacob Forney, WR/DB Jackson Gonzalez, RB/DE Jeremiah Phillips, WR/DB Dakota Hill.
The Santa Barbara High football team went into the final game of the 2017 regular season needing a victory over Buena to clinch a playoff berth. The visiting Bulldogs jumped all over the Dons early and held on late for a 33-19 victory creating a three-way tie for second place in Channel League play. The league principals voted Buena into the playoffs leaving the Dons behind to observe the postseason from afar.
The 2018 season will feature a new-look Channel League with Santa Barbara, San Marcos and Dos Pueblos joining Cabrillo, Lompoc and Santa Ynez.
On Friday, August 17, Santa Barbara travels to Buena for a non-league contest in its season opener, and many of the same players who walked of the La Playa Stadium turf in defeat last November will be suiting up for the Dons again.
"The first game is against Buena and obviously we have a chip on our shoulder, so we're going to come out strong against them," said Santa Barbara three-year starting quarterback Frankie Gamberdella, who completed 38 of 52 passes for 467 yards and two touchdowns in the loss to Buena last season.
The Dons return a good chunk of players from last season, especially on offense. The biggest loss is wide receiver/defensive back Natani Drati, who signed with Fordham. Drati's production will be missed, but Jackson Gonzalez and Dakota Hill were major contributors to the passing game as sophomores last season. Add in sophomore speedster Jake Knecht ,and Gamberdella will have no shortage of options in the passing game.
Santa Barbara also returns four of five starters on the offensive line led by led by the 6', 290-pound Bobby Estrada. If the line displays a natural progression from last season expect Gamberdella to improve on the 2,879 yards and 24 touchdowns he racked up last season in coach J.T. Stone's wide-open spread attack.
At running back, Santa Barbara is likely to use the committee approach. Sophomores Robert Boynton and Ty Montgomery are poised to break into the rotation, and Jeremiah Phillips will add a veteran presence to the position.
Defensively, it all starts with strong safety Jacob Forney, who was a heat-seeking missile at times last season. Forney will also be a major contributor at running back this season. Sahid Pincheira is an up-and-coming player at the linebacker position, and Phillips will spearhead the defensive line after a strong junior season at the position. Sophomore Noach Wood has displayed the ability to hold his own at the point of attack from his nose tackle position.
"This might be the best defensive line we've had in the five years I've been here," Stone said. "We're definitely expecting more production from the defensive line."
San Marcos Royals
Key Returners: RB Tommy Schaeffer, QB Ben Partee, TE/DE Andrew Aragon, WR Josh Brown,
Injuries were a major setback for the San Marcos High football team last season, especially at the quarterback position. If the Royals stay healthy, the opportunity is there to make their mark in the new Channel League this season.
An injury to starting quarterback Jacob Villarreal sent the Royals into a tailspin last season. Villarreal was injured in a victory over Morro Bay that snapped a 17-game San Marcos losing streak. Ben Partee was pulled up from the junior varsity to take over, but a hand injury ended his season prematurely leaving the Royals without a solid option at the position.
Partee benefited from his limited experience last season and looks to take command of the offense in 2018.
"It's definitely a new experience taking on a bigger leadership role, but I think I've handled it pretty well," Partee said. "I think our offense has definitely improved a lot last year and we are taking a step forward for this program."
Running back Tommy Schaeffer was the heart and soul of the San Marcos offense, as he eclipsed 800 yards rushing. As a senior his leadership will be key if the Royals are to improve upon the one win they captured last season.
"Last year I felt like one of the leaders on this team, but there was still the seniors," Schaeffer said. "Now that those seniors have graduated me and my fellow seniors feel like we're going to lead this team to a lot of success."
Non-league home games against a rebuilding Santa Maria team and San Luis Obispo give San Marcos an opportunity to build confidence going into Channel League play.
Carpinteria Warriors
Key Returners: QB Vance Keiser, WR/SS Brady Sturdivan, CB Chris Ramirez, RB Jacob Macias, FB/LB Isaac De Alba.
It's the 50th season coaching football for Carpinteria High head coach Rick Candaele. He began his coaching career as a graduate assistant at College of Idaho in 1968. Candaele took over for his second stint coaching Carpinteria last season, and the Warriors earned a berth into the CIF-SS Division 13 playoffs, finished with a 6-5 overall record, and claimed second place in the Frontier League.
With the return of three-year starting quarterback Vance Keiser, a first-team all-league selection last season, the Warriors will now compete in the newly formed Citrus Coast League along with Fillmore, Malibu, Nordhoff, Santa Clara and Santa Paula.
Noticeably absent from the Carpinteria's schedule is Bishop Diego, as the two schools will not meet on the football field for the first time since 1957. Bishop Diego was bumped up to Division 4 this season. Carpinteria is in Division 12.
"We're playing who we should be playing, and they're playing who they should be playing," said Candaele in reference to the end of one of Santa Barbara County's oldest and most tradition- rich football rivalries.
In addition to Keiser, key returners for Carpinteria include fullback/linebacker Isaac De Alba, first-team All-Frontier League corner back Chris Ramirez, first-team all-league receiver Brady Sturdivan, and junior running back Jacob Macia. De Alba was out due to injury for the final seven games last season. Ramirez is a ball hawk in the secondary as evidenced by his team-high five interceptions. Sturdivan came up with some big catches down the field last season and will likely factor into the running game as a part of an increased role. Macias will also receive some carries after getting his feet wet as a sophomore.
"The four guys I mentioned are here every day. I don't think they've missed anything in the years I've been here," Candaele said. "That's the biggest thing about them. You know they are going to be here."
One of the biggest question marks for Carpinteria this season will be the offensive line, where the Warriors must replace all five starters.
The move to the Citrus Coast League brings with it a six-game league schedule. Carpinteria will open the season at home against Rancho Alamitos in non-league play on August 17 before traveling to Santa Ynez for what will likely be the toughest matchup of the season on August 24. The Warriors conclude non-league play with home games against Capistrano Valley Christian and Viewpoint of Calabasas on September 7 and 14.