S.B. Questionnaire
The S.B. Questionnaire: Andrea O'Donnell
Talking Liverpool and Desire with the President of Fashion Lifestyle at Deckers Brands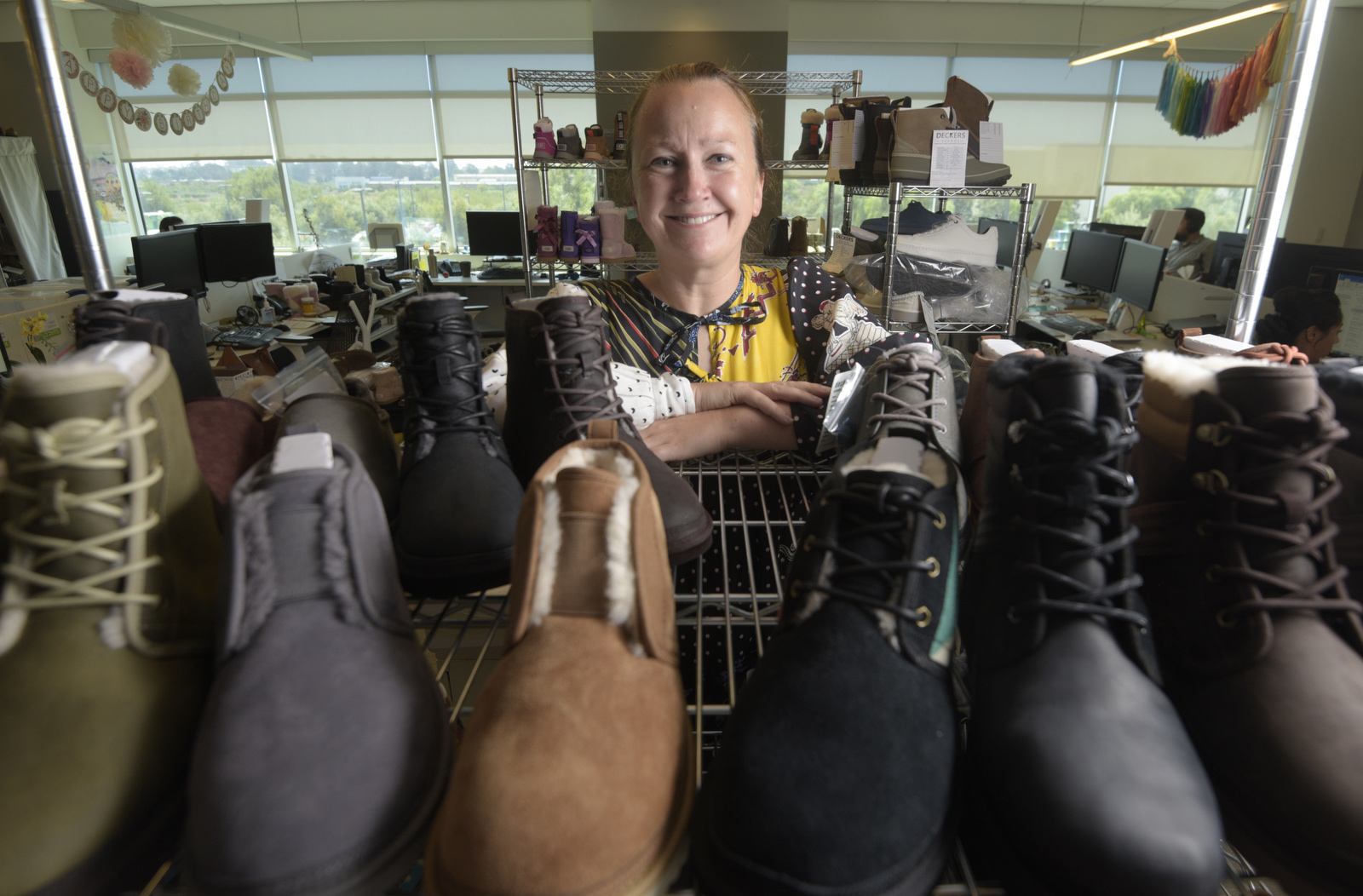 "The most important skill now and in the future is creativity," says Andrea O'Donnell decisively. She's the president of fashion lifestyle at Deckers Brands, which is headquartered in Goleta.
Prior to joining Deckers, O'Donnell was the president and merchandising manager of DFS Group Ltd., a multibillion-dollar retailer based in Hong Kong. Before that, she was executive director of luxury retailer Lane Crawford, where she managed projects in marketing, merchandising, and store planning.
She was hired by Deckers in 2016 to, among other things, reinvigorate the UGG brand. "Unless you're feeding desire instead of need, you're not going to be successful," says Andrea. "You need to rely on the creativity of your designers, and give them enough oxygen and space to create."
I have known Andrea since she came to town, as UGG is a presenting sponsor of the Santa Barbara International Film Festival. She's got an incredible and enviable sense of style, often mixing bold colors and patterns. We hit it off right away over a shared love of hearty laughs powered by classic cocktails — Old Fashioneds and Dry Martinis specifically — and through our mutual admiration of The Beatles.
That's in her blood, as Andrea was born and raised in Liverpool. "My grandma owned a jazz club," she tells me, "and she turned them [the Beatles] down, for they were too expensive." She fondly describes growing up in the famous town. "There's a kind of emotion in the people of Liverpool," she explains. "It's a place of high emotion. They live for the weekend."
Andrea's family was working class. Dad tarred roads, and encouraged his kids to get an education. He wanted them to grow up and be accountants, lawyers, or doctors. So she decided to get a degree from the London School of Economics.
But while most of her schoolmates went into banking, she applied for an entry-level clerk position for a retail brand. "Where do you go next?" she'd asked herself. "I had no idea. I didn't know what I wanted to do."
She worked her way up in the merchandising world, and also earned an MBA from the London Business School. "You get better at knowing what you like and what you don't like, knowing what you're good at and what you're not good at," she says introspectively. "Making good decisions require you to distance yourself from your ego. It's never about you but about the brand."
When she came to UGG, the company was considered to be mature with low-growth potential. O'Donnell saw it differently. "I saw it as a California lifestyle brand," she says. "I've focused on telling that story and focused on its creativity and beauty. Nobody needs more stuff. Unless you're feeding desire instead of 'need,' you're not going to be successful. Nobody needs anything. People want experiences. Beautiful products are a way to create a connection. Fashion is about desire."
Andrea O'Donnell answers the Proust Questionnaire.
What is your greatest fear?
I try to avoid that emotion.
What is your most marked characteristic?
My unwillingness to take no for an answer.
Who makes you laugh the most?
Me, because I often do the most ridiculous things.
What is your motto?
It is to do amazing things with amazing people.
Which historical figure do you most identify with?
I don't really identify with historical figures.
What is your greatest extravagance?
Beautiful things. Unfortunately, I don't discriminate by category so it's not just shoes, it's also furniture, homewares, cars, etc., etc.
What do you like most about your job?
The ability to do amazing things with amazing people.
What is your idea of perfect happiness?
My family and friends laughing together.
Who do you most admire?
My mum and dad.
What is your current state of mind?
Cautiously optimistic.
What is the quality you most like in people?
Confidence combined with humility. I don't like self-important people. The kind of people that think they are better than other people.
What is the quality you most dislike in people?
A lack of integrity.
What do you most value in friends?
Friendship.
Which words or phrases do you most overuse?
Brilliant or don't tell me no.
Which talent would you most like to have?
To be able to sing.
If you could change one thing about yourself, what would it be?
I would love to be able to sleep restfully.
What do you consider your greatest achievement?
My two kids.
Where would you most like to live?
In a treehouse.
What is your most treasured possession?
My two kids although I won't own them for much longer.
On what occasion do you lie?
I don't really lie.