Voices
Democracy: Then and Now
The 1968 Democratic Convention in Context
Fifty years ago this month, I was embedded in Chicago's Lincoln Park. The 1968 Democratic Convention was convening 10 or so miles away, but I — a 23-year-old underground newspaper editor and futile permit negotiator — was more interested in birthing a peace, love, and chemistry counterculture than watching delegates dither over a war I thought unconscionable.
Each night, my fellow communards and I were swept away by a tidal wave of cursing cops. Over the week, I chronicled the exodus, checking out casualties at local hospitals. The exclamation point came when the police shot out my paper's windows while we worked on the next issue.
Recently, I thought my demonstration days were declining. But "business" is suddenly good. The Women's March. Separated families. Black Lives Matter. Parents and Friends of Gays and Lesbians. The Trump Years are a giant game of Chutes & Ladders, with decades of gains threatening to slip away.
Perhaps Convention Week can resonate as I try to get back to the future.
The Politics of Culture
In the 18 months before the convention, I went from being a graduate student to a social worker to an army reservist to a longish-haired demonstrator on the steps of the Pentagon to talking about a groovy, outrageous Festival of Life that would take place in one of the city's largest parks.
I was a "member" of the Youth International Party — the Yippies — one of a spectrum of protesting groups. Our anarchistic street theater challenged an in-all-senses straight culture through guerilla-theater acts such as throwing money off the balcony of the New York Stock Exchange. Yippie called out to hip-strip longhairs who ignored even New Left politics. "Abandon the Creeping Meatball!" Run Pigasus, an actual pig, for president! "Chicago" was to express the Politics of Ecstasy — a new society constructed on the ashes of the old. Those in power don't cede it voluntarily — if we couldn't topple them, we could make them laughable.
It may sound fragile, drug-addled, outrageous in 2018. But at our best, we engaged the power of the imagination. As the brilliant folk-protest singer cum Yippie Phil Ochs said back then, "A demonstration should turn you on, not off." Even as Donald Trump manipulates the power of spectacle, here's to pussy hats and Trump-baby balloons.
Skepticism and Filter Bubbles
President Lyndon Johnson knew the Vietnam War wouldn't be won — a years-long cover-up later unmasked by the Pentagon Papers. Candidate Richard Nixon catered to racist congressmembers while masquerading as a healer. President Trump thrives on social-media chaos — we need to probe beyond the distracting dog whistles.
During Convention Week, television networks and print reporters — whose own colleagues had been beaten — aired street carnage and cries of "the whole world is watching." Surely the country would turn against official violence, whether in Chicago or Vietnam.
But Mayor Richard Daley's mail ran as much as five to one in favor of authority, and the local press soon ran his White(wash) Paper. Segregationist George Wallace scored nearly 14 percent of the presidential vote. And Nixon — dirty tricks and all — successfully exploited a pledge noted by historian Rick Perlstein in his terrific book, Nixonland: "Make America quiet again." The Silent Majority came to dislike the war — but they disliked protesters more.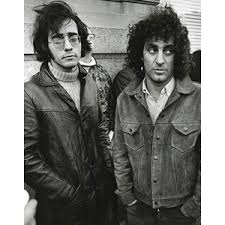 Daily papers could dig deep but also color within mass-culture lines. Underground papers had not yet descended into rhetorical korrectness, at their best espousing an honest subjectivity around actual reporting. They debated tactics and transparency concerning Chicago — were the Yippies a fresh take on protest, or were they luring people on false pretenses to ensure a crowd too large to hassle, or, failing that, to vivify the violence in Vietnam through official overreaction?
Now we are awash in media. Yet that can include far-right tales of pedophile pizza parlors or high school parents supposedly creating hoaxes about their own children's deaths. And even if we avoid those UFOs, we all often search for agreement. We shouldn't turn our brains to one-hand other-hand mush. But you can't change opposing minds without knowing what's in them.
We Have Come a Long Way, Baby
"Convention Week" was largely a straight-white-male event. Chicago's black areas were reeling from Martin Luther King Jr.'s murder and the risings after his death. Women's Liberation was just a-bornin'. Gayness was in the closet.
Post-convention, many causes came to the fore, from gender rights to environmentalism. Even the Democratic (Party) process became, well, more democratic, less boss driven, more diverse. In Chicago, a reform movement (and a surge by inner-city voters) eventually elected a black mayor. It also fostered the coming of age of a certain large-eared president.
But a caution from across the decades. A year after the convention, I watched Students for a Democratic Society, the largest '60's radical student organization, founder over holier-than-thou-ism. Here's hoping today's progressive movements can stick to principle without foundering on purity. Indivisible — a counter–Tea Party movement for grassroots advocacy — nails it: no circular firing squads.
At the same time, successful protest needs to include and unify a cornucopia of voices, not just those with the most privilege or loudest bullhorn. As Charlene Carruthers, the black, queer, feminist author of the forthcoming book Unapologetic, puts it: "A set of incomplete stories leads to a set of incomplete solutions."
Abe Peck recently curated a series on The Media and the 1968 Chicago Democratic Convention at the Medill School of Journalism, Northwestern University, where he is a professor emeritus in service. He is the author of Uncovering the Sixties: The Life and Times of the Underground Press and a former editor of the Chicago Seed and at Rolling Stone.
4·1·1
Abe Peck will join Dick Flacks on KCSB (91.9 FM) to play and discuss the music surrounding the 1968 Democratic Convention Thursday, August 23, 6 p.m.