Sports
Dons Fade Late Against Lompoc
Santa Barbara Drops Channel League Contest to First Place Lompoc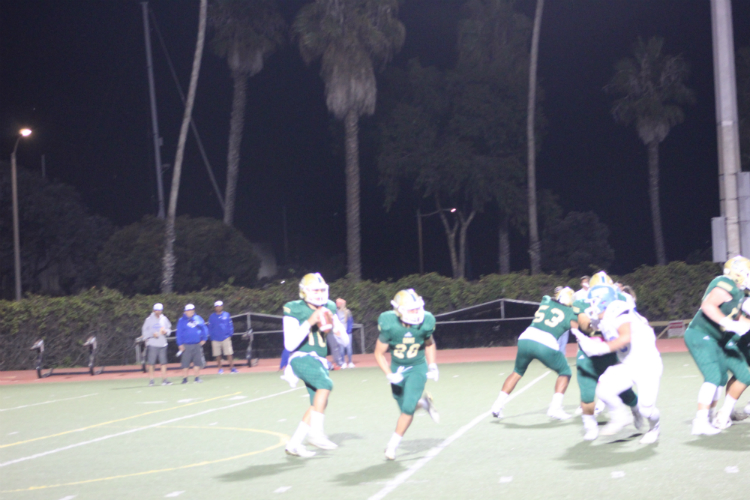 For three consecutive weeks Channel League opponents have given Lompoc their best shot, but the Braves have found a way to emerge victorious.
This time it was Santa Barbara High that emptied the chamber in hopes of knocking off Lompoc. Despite the Dons' best efforts, the Braves pulled away in the second half for a 28-11 victory on Saturday night at La Playa Stadium.
"We know we're going to get everyone's best shot and so we have to kind of weather the storm obviously," said Lompoc coach Andrew Jones. "Everyone we've faced is giving us a little bit of a different look to try to give us their best shot and we just got to adjust."
The Dons (4-4 overall, 1-2 Channel League) started sophomore quarterback Deacon Hill for the first time this season and moved three-year starting quarterback Frankie Gamberdella to receiver.
Hill has the size, arm strength and accuracy to pick apart a defense through the air and Gamberdella has always possessed dynamic athleticism so for Santa Barbara coach J.T. Stone it was just a matter of getting his best players on the field against perhaps the best opponent on the schedule.
"Frankie is our starter. We just figured we needed to put all our guys out there to compete. Frankie actually did pretty well as we were moving him around," Stone said, "There's no quarterback controversy. We just felt like this was the best way for us to compete this week and I thought it went well. We just had some missed opportunities in the red zone as usual."
Both defenses stood strong early, which resulted in a scoreless first quarter. Santa Barbara opened the scoring with 10:25 remaining in the second quarter on a 29-yard field goal by Ty Montgomery to take a 3-0 lead. The six-play drive included a 32-yard pass from Hill to Gamberdella.
Lompoc responded immediately with an eight-play, 77-yard drive. Quarterback Cameron Iribarren reversed field on a 36-yard run down to the three-yard line and punched it in two plays later with a two-yard dive into the end zone, giving the Braves a 7-3 lead with 5:52 remaining in the second quarter. Iribarren finished with 110 yards on 21 carries.
In the second half Hill tossed three interceptions all to Andrew Galindo on three consecutive possessions, which resulted in three Lompoc touchdowns at the end of short scoring drives. Iribarren, Leondre Coleman and Drew Williams capped off scoring drives with touchdown runs of eleven yards, 17 yards and eleven yards respectively.
"We watched a lot of film and that's definitely what helped us," said Galindo of his three interceptions.
Coleman finished with a game-high 130 yards on 21 carries and Williams chipped in 78 yards on 10 carries. Lompoc only completed two passes for 12 yards, but rushed for 342 yards overall.
Santa Barbara put together a five-pay, 70-yard drive late in the game as Hill Connected with Gamberdella on a 40-yard pass down the sideline to the 13-yard line. Hill capped off the drive with a two-yard touchdown run two plays later cutting the Santa Barbara deficit to 28-11 after a successful two-point conversion with 5:28 remaining in the game.
Gamberdella hauled in five catches for 97 yards and Dakota Hill added four catches for 68 yards. Hill completed 13-of-29 passes for 200 yards with the three costly interceptions.
Santa Barbara will host Cabrillo next week at Warkentin Stadium while Lompoc (6-2 overall, 3-0 Channel League) will host San Marcos.