News
Meet Channel Islands National Park's New Leader
Incoming Superintendent Ethan McKinley Talks Hopes and Challenges
Last year, when Ethan McKinley got a phone call from his East Coast office informing him that he'd be the interim superintendent at Channel Islands National Park, the Colorado-born, career National Park Service employee was actually on a boat returning from a vacation to Santa Cruz Island.
"I was just elated," said McKinley, who stepped in last July when Russell Galipeau retired after 15 years as superintendent. "We all jumped up and down."
That happiness solidified on January 31, when, after a nationwide search, McKinley was appointed as the park's permanent superintendent following his seven temporary months on the job. At just 37 years old, he's one of the younger superintendents in the entire system. But with a strong background in leveraging private-sector partnerships to further the Park Service's dual goals of resource conservation and public access, he's a natural fit for the Channel Islands. The archipelago is an international hotbed for endangered species recovery efforts while relying on third-party concessionaires, consultants, and nonprofit organizations for almost every aspect of the park's enhancement and enjoyment.
McKinley readily admits that he initially wondered whether he had enough experience for the job. "But the more I understood about the park," he explained, "the more I realized that the management team is extremely strong, the park is positioned extremely well, and, with the strategic partnership experience I have, I think we can make a good difference in the coming years."
Onward, Eagle Scout
McKinley's career began near his home in Colorado. "I'm an Eagle Scout, so I spent a lot of time outside and in the mountains. But I had a business degree, and I wasn't quite sure what to do about that," he explained last week. "I approached the National Park Service just out of pure passion and love, and they put me to work with that business degree. I started out in strategic partnerships and working with the private sector on things like hotels, restaurants, and tour guides, trying to match what the parks needed with strong partners."
In 2008, he moved to Philadelphia to tackle, among other things, a fading private-public concessionaire agreement in Shenandoah National Park. After many regional projects, McKinley took specific national park assignments at Glacier, Gettysburg, Mount Rainier ​— ​helping three climbing concessionaires to get along ​— ​and Yosemite, where he served as the acting chief of business and revenue management, working with that park's extensive hotel and restaurant system. "That was really an eye-opening experience in my career and made me think of wanting to work toward being a superintendent," said McKinley.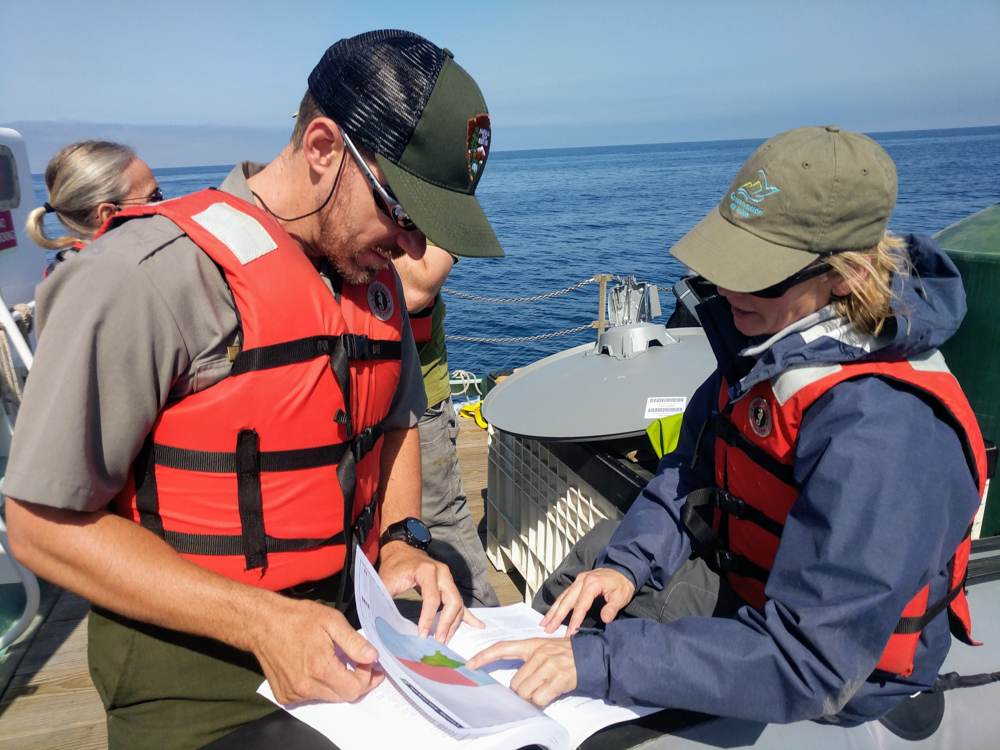 That chance came while he was sipping on a recently pressed cup of coffee as the sun rose over a state park in Malibu: The NPS wanted him to create a new National Historic Park called First State in Delaware. "I couldn't pass that opportunity up," said McKinley, who spent the next four years building up the staff, cultivating community networks, and establishing sites.
"Ethan is one of the few National Park Service superintendents who has experience building a new national park from the ground up," said Stan Austin, regional director for the National Park Service's Pacific West Region, in the press release announcing the new superintendent post. "I am confident he is the right fit for Channel Islands."
Island Love
McKinley recalls highlighting the Channel Islands National Park on the brochure he received as a young ranger, hoping to one day visit or work there. But he learned more about the islands about a decade ago through his friend Greg Jarvis, who spent many years working on the park's management plan.
"He told me about these islands and the incredible endangered species recovery project with the island fox, and he told me about secluded beaches and cliffs where you could be all alone, and the incredible night sky and scuba diving and snorkeling around the islands," recalled McKinley, whose first visit included hiking from Scorpion Bay to Prisoner's Harbor and camping at Del Norte. "I was absolutely sold."
Westward Bound
With the job officially starting at the end of February, McKinley and his wife, Zoe McKinley, hope to be settled in Ventura with their English bulldog within the next month or so. He's amped up to start in earnest.
"What they're looking for is someone to come in with energy and drive, really embrace the staff, and move things forward to make sure there is strong wind in the sails of the Channel Island," said McKinley. "I'm gonna do my best to get there."
Park Priorities
As superintendent, McKinley will uphold the protection of natural resources, and he also hopes to better spread the word about the islands' vast human history, increase opportunities for public access, and ensure that the employees are well treated. Here's a rundown of his goals:
Endangered Species: Though the island fox success story is "monumental in the annals of environmental and conservation history" as the "gold standard of ecosystem restoration and recovery," its deserved buzz is dying down. "We need a renewed charge on that front," said McKinley. "A lot of that program is tapering off as the fund that supported recovery is beginning to be depleted, but we still have so much good work to do on the restoration and recovery on the island. We need to circle the wagons with natural resource programs and make sure we're identifying all of the partnerships that are out there to move us forward."
Cultural Resources: "We have more human history on the islands than we know of anywhere else in North America," said McKinley. "It's quite a responsibility to facilitate and steward those relationships with the past. We're going to do a lot more storytelling." And that will be both about the deep, ancient history as well as the more contemporary ranching sagas. "It's all part of the overarching story of the Channel Islands," he said.
Aging infrastructure: Though Channel Islands National Park is relatively young — established on March 5, 1980 — the sea takes a toll. McKinley is excited to start refurbishing the Scorpion Bay pier, the cranes on Anacapa Island, the public access points to Santa Barbara Island, and employee housing on Santa Cruz Island.
Santa Rosa Island: The management plan released in 2015 identifies many potential changes for Santa Rosa Island, from a small inn and food services at the main ranch house (whose restoration is nearly complete) and a larger campground nearby to possible shuttle service to distant parts of the island and a more permanent home for the CSU Channel Islands research station. (San Miguel Island may also get more airplane service as well as extended guided trip opportunities.) "The Park Service is trying to provide accessibility to people of all different mobility levels, maybe people who are a bit older, maybe people who are a little less mobile," he said, explaining that national parks aren't just for those who can backpack many miles. "The island has tremendous potential to be a world-class visitor experience, and the main ranch gives us land and buildings that are already constructed, so we don't have to disturb the landscape."
Government shutdowns: Operating under the current administration presents unique challenges, but McKinley happily reports that Island Packers and Channel Islands Adventure Company both inked deals to keep visitors coming despite the shutdown, including bathroom cleaning duties usually handled by rangers. "We're doing everything we can to keep those parks open and protected for the American people and operating with the knowledge that the budget system is out of our hands," said McKinley.
Staffing: With budget constraints reducing the number of full-time employees at the park, McKinley will embark on strategic planning efforts to ensure reasonable expectations of his staff, not just pile on new duties when they can no longer afford a position. It's all about keeping his employees happy. Said McKinley, "There's really no reason anyone shouldn't enjoy working at Channel Islands National Park."
See nps.gov/chis.