The Home Page
The Home Page | History & Greenery for Homes & Gardens
Visiting Big Sur, Lotusland & El Presidio from Our Armchairs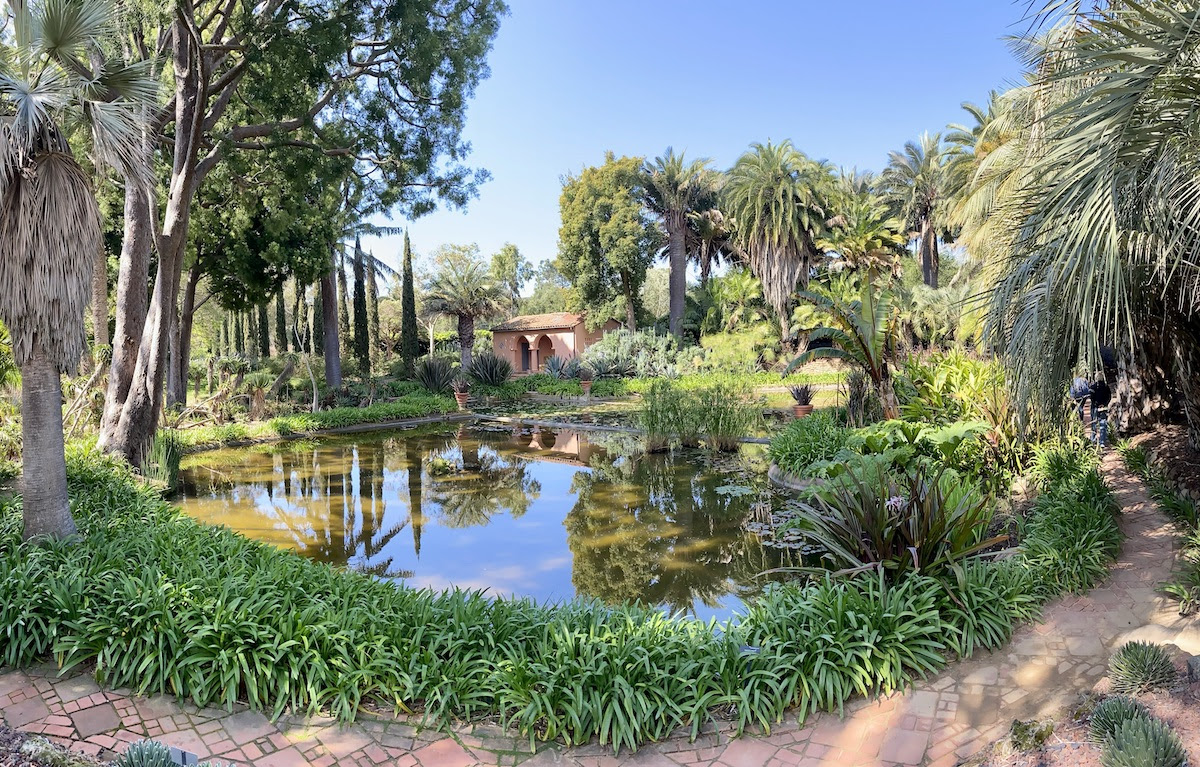 This edition of The Home Page was originally emailed to subscribers on May 22, 2022. To receive Sarah Sinclair's real estate newsletter in your inbox each Sunday, sign up at independent.com/newsletters.
LEAFING THROUGH LOTUSLAND
This week's Independent presents our annual Home & Garden issue, full of content that is right up our alley here at The Home Page. The cover features Ganna Walska's Lotusland — specifically, a new coffee-table book all about the garden and its future. My friend Carole and I visited Lotusland last month, and I'm already itching to go back again soon. The scene shown above was just one of the many mesmerizing settings we admired. Get a taste by flipping through this week's issue. You'll also find tons of design inspiration, gardening tips, and more.
ON TIME TRENDS
Now that we're moving toward summer, I'm enjoying the warmer days and later sunsets. I think this is my favorite time of year, though it's possible I say that every season. Regardless, I smiled when I ran across this article of Etsy's top design trends of 2022. These lists usually come out before or at the beginning of the year, but they chose to publish it now. No matter what month, this one contains some fun topics. My favorites include travel-inspired decor and happy accents. Both certainly have their place in my home, and they boost my mood all year 'round.
---
Sign up for Indy Today to receive fresh news from Independent.com, in your inbox, every morning.
---
SIPPING AT EL PRESIDIO
The culmination of the Santa Barbara Culinary Experience happens this afternoon with the first-ever Taste of Santa Barbara Wines at El Presidio de Santa Bárbara State Park from 1-4 p.m. El Presidio is an amazing historic venue, where you'll be able to sip Santa Barbara County wines while you hear from top local winemakers. The Indy's own enophile and senior editor Matt Kettmann will lead some of the panel conversations. Check out this inaugural event, likely to be an annual highlight of the Taste of Santa Barbara, so you can say you were there from the start.
OPEN HOUSE EXPERIENCE
We've seen more open-house action in recent weeks than we have the past two years. If you're out and about this afternoon and feel like visiting a few homes, check out this week's issue for the full listing of today's open-house options. Our pick: "La Mirage," a three-bedroom, two-bath estate set on two-thirds of an acre in the Mountain View School District. This home gives off a Big Sur vibe with meandering pathways, a 20-year garden, a pond with a waterfall, and a wraparound deck that gives plenty of indoor-outdoor entertaining space. It's offered by Chase Enright for $3,250,000 and is open 1-4 p.m. today at 1086 Via Los Padres.
Whether you're up in Big Sur or just channeling it from your backyard lounge chair, enjoy your Sunday!
---
Support the Santa Barbara Independent through a long-term or a single contribution.
---