Public Safety
All Evacuation Orders Lifted for Santa Barbara County Burn Scar Areas
Hundreds of Homes Near Thomas, Alisal, and Cave Fire Burn Scars Had Been Ordered to Evacuate Wednesday Afternoon Ahead of Major Storm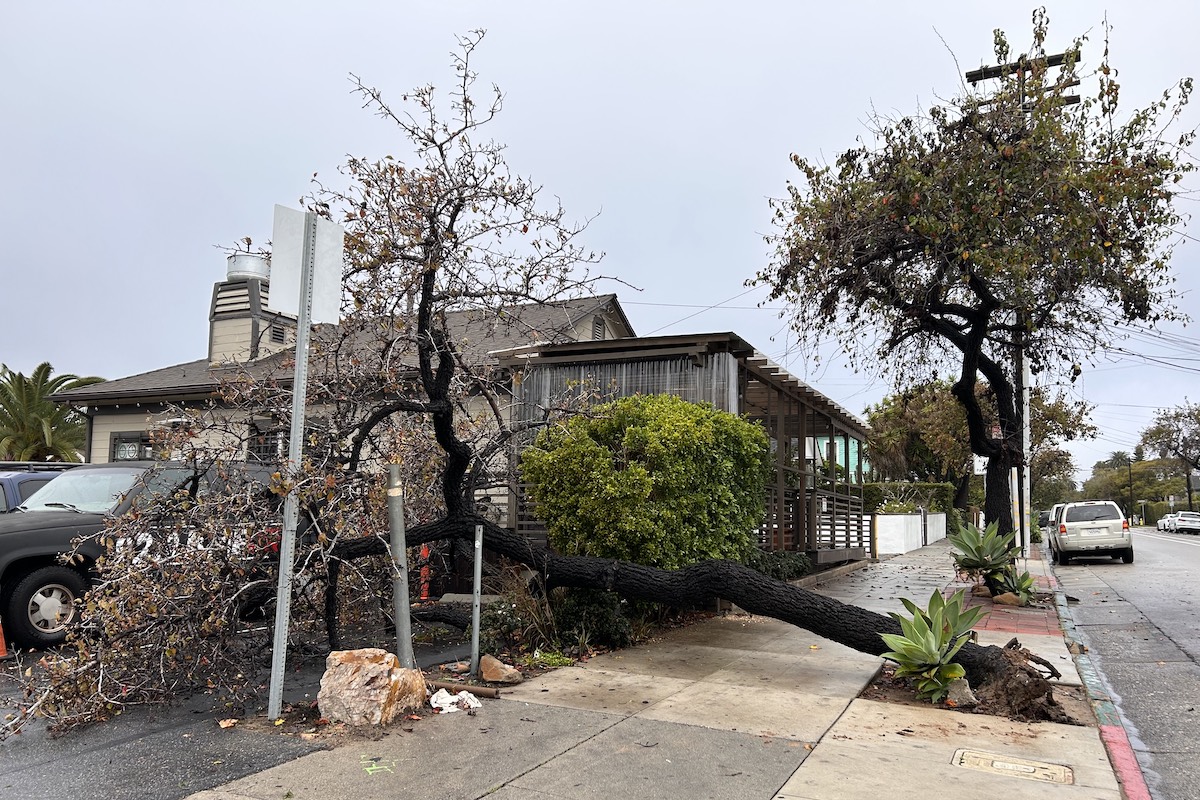 [Update: January 5, 2023, 4:15 p.m.] State Route 154 reopened Thursday afternoon after storm-triggered rockslides had closed the highway for several hours. Caltrans tweeted that both sides of the highway had reopened as of 3 p.m. Thursday.
[Original Story] All evacuation orders have been lifted for the Thomas, Alisal, and Cave fire burn areas in Santa Barbara County as of 9:30 a.m. Thursday, following the major storm that began Wednesday evening.
Areas placed under evacuation order as of Wednesday at 3 p.m. included vulnerable sections of the Thomas Fire and Cave Fire burn scar areas, and the entire Alisal Fire burn scar area.
"While we are able to allow residents to return home, we remind everyone that this was a serious storm that caused impacts around the county," officials said in a press release Thursday morning. "Please be aware of loose and falling rocks, minor landslides, wet road conditions, down trees and lines."
Refugio Road is closed at this time due to flooding. Highway 154 is closed in both directions due to rock slides, from the 246 to the 192. According to county officials, there is currently no estimated time for reopening. Officials are advising residents "that areas affected by road closures may not be able to repopulate yet." Residents can check with ReadySBC, CHP and CalTrans for the latest road closure information.
The Santa Barbara County Type 3 All-Hazard Incident Management Team, dispatched by the County Fire Department, has remained engaged and will be actively mitigating incidents that occurred as a result of the storm, officials said.
The National Weather Service has advised that the heaviest rains and high winds associated with the current storm have passed through Santa Barbara County. Showers are forecast to continue through Thursday with the possibility of thunderstorms producing short, heavy downpours. However, any additional rainfall is not anticipated to reach critical levels to cause debris flows, as it was Wednesday night through Thursday morning.
Another weather system is expected to move through the South Coast Sunday through Tuesday. County officials say that "all residents who were asked to evacuate for this most recent storm should remain vigilant and continue to monitor the weather closely."
They advise residents to stay alert to changing conditions and not to wait for an alert to evacuate if you feel threatened at any time but to leave and get somewhere safe.
For those who evacuated before Wednesday night's storm, officials say to take caution when returning home, as heavy rainfall may have resulted in movement of debris and road flooding. Residents with homes in evacuation zones should expect flooding, slick roads, and debris in the area.
County response crews are continuing cleanup, repair efforts, and assessments, officials said.
"We understand that evacuation orders are burdensome and we appreciate the community's cooperation in following the guidance to leave yesterday before the more intense rain," they said.
The evacuation center at Wake Center will be closed. If there are questions concerning animal sheltering, call (805) 681-4332. Officials are asking that if residents have not yet registered for emergency alerts, to please do so at ReadySBC.org. Click on the red icon to register to receive emergency alerts via text, phone call, and email. For updated and detailed information, visit ReadySBC.org or call Santa Barbara County's Emergency Call Center at (833) 688-5551 or 2-1-1.
---
Support the Santa Barbara Independent through a long-term or a single contribution.
---