News
Cachuma Fills and Flood Gates to Open
Lake Cachuma Near Capacity, but Drought Is 'Far from Over'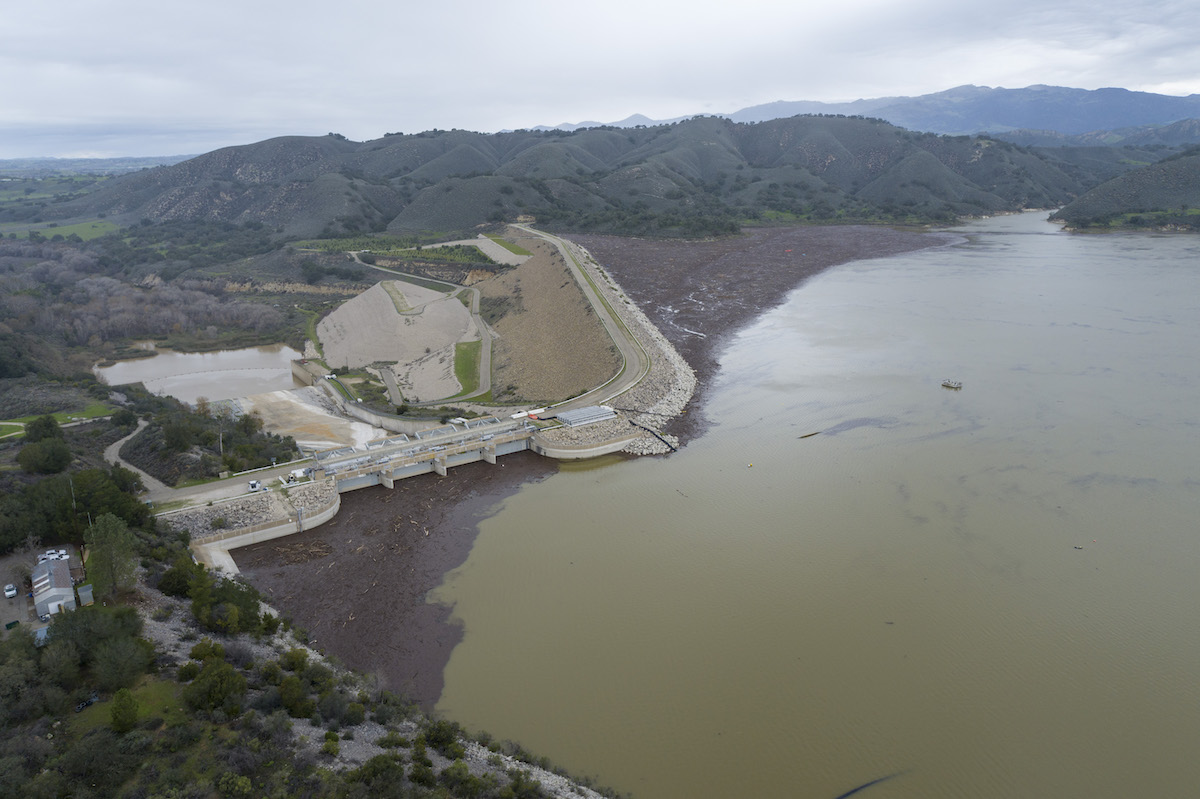 In the wake of this year's string of winter storms, Lake Cachuma is brimming and Santa Barbara County water officials are breathing a momentary sigh of relief that things are looking up for local water supplies. For the first time in 12 years, Cachuma is nearing full capacity, and a release is planned to avoid a spill over Bradbury Dam.
"The last time Cachuma spilled, many of my staff did not yet work for the city, making this impending spill both significant and memorable," said Joshua Haggmark, water manager for the City of Santa Barbara's Public Works Division.
As of Friday evening, Lake Cachuma was at nearly 87 percent capacity, having risen by more than 50 percent since this year's round of storms began. The U.S. Bureau of Reclamation, which oversees the lake's operations and maintenance, is expected to open the dam's gates for eight days and release 2,000 cubic feet of water per second beginning at 10 a.m. Saturday morning.
Matt Young, the manager of the county Water Agency, said that the bureau's goal was to make "a little space" in Cachuma's reservoir ahead of this weekend's storm. The end goal is to balance the water going into the lake with the water being released and aim for a full reservoir when the storm is over.
From the dam, as the water flows through the Santa Ynez River system, it will contribute to replenishing groundwater supplies and can be diverted by downstream water users until it ultimately reaches the ocean.
Fourth District Supervisor Bob Nelson expressed concern about potential consequences if the water was released too fast and in too high volumes, a concern shared by many within downstream communities. However, the bureau says its planning to release flows that are "far lower than what Monday's storm sent down the river," which was around 20,000 cubic feet of water per second at its peak.
"USBR [U.S. Bureau of Reclamation] is managing the reservoir to maximize water supply while protecting communities downstream from flooding," said Lael Wageneck of County Flood Control. "It's still very early in the rainy season, our three rainiest months are ahead of us, and now we are coming into those months with a full reservoir. The USBR is vigilant about the storms coming in and trying to ensure they don't lead to flooding downstream."
The weekend's rains are not expected to be "anything close to what occurred early in the week," said meteorologist Eric Boldt, which was the result of a hodgepodge of weather conditions including a west to east jet stream originating near Japan. The jet "brought the constant conveyor belt of low pressure systems, each with a tap of the atmospheric river that often leads to flooding in the state," said Boldt, the Warning Coordination Meteorologist with the National Weather Service out of Oxnard.
"However, we know that the ground is saturated and there is a lower capacity for material in catch basins and how much rain can be absorbed," Boldt said. "We feel that these storms are more typical for this time of the year and will not generate major impacts, mainly urban and small stream flooding at times. Surf conditions also remain very elevated along the Central Coast and in Ventura County through much of next week."
Haggmark called the recent storms a "game-changer" for the City of Santa Barbara's water supply security. "We were prepared to increase our water shortage condition and implement extraordinary conservation requirements this spring to stretch our supplies even further if this winter was dry," Haggmark said. "With Gibraltar spilling and Cachuma quickly approaching a spill, the city has plenty of water to meet demands past our three-year planning horizon and will not need to implement any mandatory conservation this spring and summer."
With all this liquid, the City of Santa Barbara can also begin to pay off its water debt. In previous years, the city had borrowed much-needed water from other jurisdictions, racking up quite the water "bill," according to Santa Barbara City Councilmember Eric Friedman. Cutbacks in allocations from the California State Water Project in the dry years have prevented Santa Barbara from returning the water it had borrowed.
"But now, this allows us to use our state water that we have to repay that water debt that is owed," Friedman explained. "In addition, it means that we will, most likely — till it's official I can't say — get an increase in our annual state water allocation … Because of that, we are able to really look at the water debt that we owe to other jurisdictions and pay that down significantly over the coming months and year."
The water in Cachuma Lake, on a molecular level, is all the same, but on paper, it's a jigsaw of accounting. According to Wageneck and Young, for the hundreds of thousands of people served by the five agencies that take water from Cachuma — stretching from Santa Ynez to Carpinteria — the filling of the lake is incredibly beneficial.
"Last year, no new water was allocated to them from Cachuma," Wageneck said. "The lake was down to 30 percent full, and things looked rather dire. So obviously, filling the lake makes a big difference in the short-term water supply for those agencies."
---
Sign up for Indy Today to receive fresh news from Independent.com, in your inbox, every morning.
---
In terms of drought, the increased rainfall and water supplies mean a decreased intensity of drought. Since early January, swaths of California went from "exceptional" and "extreme" drought to "severe" and "moderate" on the state drought monitor's four-tier category system. Santa Barbara County's drought intensity has gone from "extreme" to "moderate" since last November.
But that's just the surface of the drought problem. Santa Barbara is still at the mercy of Southern California's dry climate, and Lake Cachuma is just a drop in a pretty dry bucket. As much as Mother Nature loves to give, she loves just as much to taketh away.
Wageneck, who called the drought "far from over," said many reservoirs in the Central Valley are not full. Significantly, groundwater basins, which are the county's largest source of water, "take far more than one rain event to recharge." For those essential, and significantly overdrawn, county-wide bathtubs, it will take "several years of above-average rainfall to recharge and fill back up," he said.
"So while this rain has been helpful and helps the short-term water supply by improving the surface water storage," Wageneck continued, "it does not mean our statewide drought is over."
And then there's what is called "weather whiplash." Wageneck explained, "Cachuma spilled in 2011, then in 2016, the lake capacity was down to 6 percent. … Recently we've had average rain years, and now we are back at full capacity. So not only is the drought not over, but even with this rain, this lake could be back to single-digit capacity in five years."
The city's Haggmark, who has a desalination plant to back up his water resources, had more of a "glass half full" perspective on the drought, but agreed it was premature to say it's over.
"The big reservoirs on the State Water Project are at about 40 percent of capacity, which is significantly higher than average for this time of year," he said. "If the rain continues this winter, those reservoirs should fill up and maybe even spill." He noted that several of the bigger reservoirs relied on snow melt to fill them in early summer. "Currently snowpack is at 200 percent of normal at some sites, which is really promising. But it is early in the winter, and the rain could dry up, and the snow could melt early; so I think the California Department of Water Resources will wait to make big changes to the State Water Project allocation."
Nonetheless, Haggmark's staff intends to recommend that the City Council roll back Santa Barbara's supply shortage condition and associated conservation measures in the next few months. "Rolling back our water supply condition would mean the city is officially out of the drought for the time being," he said, but cautioned it may take longer for California to roll back its State of Emergency.
Each region in the county bears the weight of the drought differently, depending on the capacity of groundwater basins and also the water deals made between the various water agencies. Carpinteria, for instance, the county's Matt Young said, was "at stage three with mandatory conservation, Solvang was at a higher stage of mandatory conservation earlier, so it just kind of depends on where you are."
[Update: Jan. 15, 2023, 11 a.m.] Public Works stated the release was postponed to Sunday, but a release is as yet unconfirmed. Cachuma looks to be about 8 feet short of the spillway, according to the county's reservoir summary for Sunday.
---
Support the Santa Barbara Independent through a long-term or a single contribution.
---